[caption id="attachment_1451" align="aligncenter" width="1024"]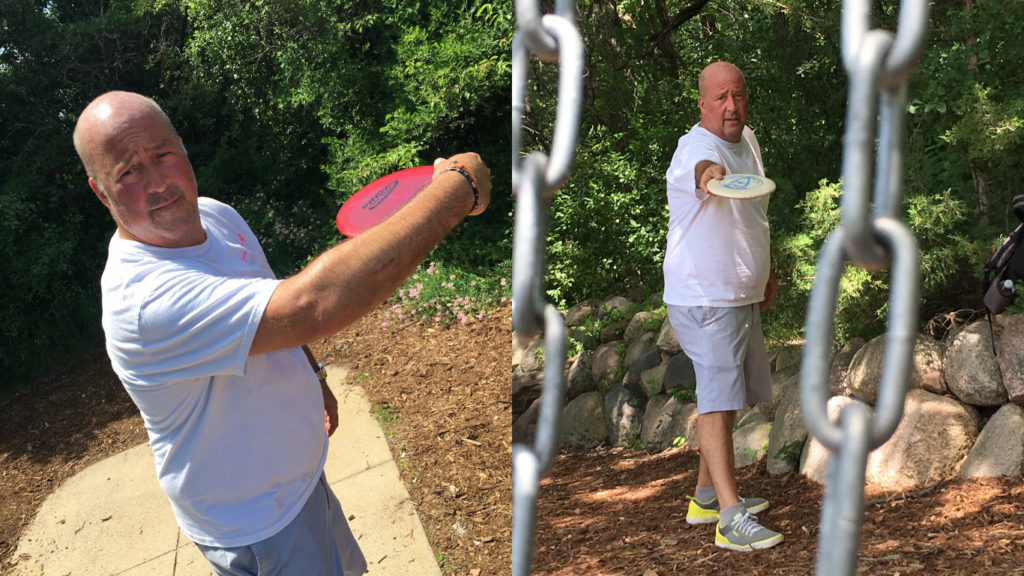 Travel Channel celebrity Andrew Zimmern has had a long-standing passion for disc golf.[/caption]
If you look at the social media posts of Andrew Zimmern, the host of the long-running Travel Channel series Bizarre Foods, you'll be treated to nicely-plated meals and photos of the celebrity chef with his friends. A closer dive, though, shows another surprise: Pictures of Zimmern playing disc golf.
As it turns out, Zimmern is not just a recreational player who gets out to the course on occasion. He is a full-blown disc golfer who boasts more than 100 discs, multiple bags, and his own course bucket list.
We caught up with Zimmern for an extensive interview and found a man who truly loves the sport and has been playing since the early 1990s, when he discovered it as he recovered from a crippling drug addiction. He lives in the disc golf hotbed of Minnesota, plays numerous times a week, and even plans out disc golf road trips with his friends.
In a candid conversation, he tells us his plans to help bring more attention to disc golf, what's in his bag, and how his love of the game ruined a trip to Sweden. His new show, Driven By Food, premieres August 16 on the Travel Channel.
What's your disc golf story? How did you discover the sport?
In 1991 - really for all of 1991 - I was homeless, living in abandoned buildings in New York City. I had been an active addict and alcoholic for 13 years at that point, 14 years at that point, and I had hit rock bottom. And I wanted to die, and I felt hopeless. I wound up being rescued by some friends and being given a one-way plane ticket to Minnesota, where I went to Hazelden, which is a treatment center here in Chisago [City], Minnesota. I ended up matriculating to the Fellowship Club halfway house in St. Paul.
While I was there, it was suggested to me to find hobbies and try new things. Part of my psychology of addiction that I was trying to change was the addiction - amongst other things - to perfectionism, which included only doing things that I was good at so that my frustration level was low. There's a whole psychology of emotional sobriety that plays into this discovery for me.
While I was living in in the halfway house, I had two friends who were trying to introduce me to new sports. A young lady who passed away recently introduced me to snowboarding, which was extremely painful to learn. There was a lot of falling involved. And then one of my oldest and best friends - who coincidentally was a lawyer here in the Twin Cities - named John Levy said, 'Why don't you come out? I play this new sport called disc golf with some friends once or twice a week.' And so a bunch of us who all knew each other would gather and play, and I was god awful terrible. I sucked. But I went to a local gas station that was across the street from the Highland Park course in St. Paul, and they sold all the early Innova discs. So, you know, a Cheetah and a Leopard - whatever else, hard plastic - and I got my little starter kit that I put together myself and went out on the course.
This is summer of '92. So I probably played 10 times a year for the first 15, 18, 20 years. I was busy with work, I was busy with family, I was busy with lots of things. And about four, five years ago I started playing a little bit more, maybe 15, 20 times a year. And about three years ago I found a couple other friends who – oh my god, people [who] play disc golf, especially old people, do it in secret almost, it's the weirdest kind of thing – so I found a couple of friends, young and old, that really enjoyed it, and now the last two years I try to play every other day.
I am most at peace in my own head walking the course… It's a yoga for me. It gets me outdoors… I have three very large, successful companies, I have a very public career in television, I'm a husband, I'm a father. Sometimes I need to escape and do my yoga. And what takes me outdoors, and what makes me think about interacting with nature and how I'm going to break down a course shot by shot, gets me focused the same way that I love cooking, where all I'm focusing on is how I'm cutting the string beans, when I'm adding the onions to the pot, when I'm seasoning, what I'm browning. I'm building layers of things symphonically.
Really playing disc golf – you can get out and walk the course and play, or you can start to get to the point where you know what time you get tired, what the courses do, what wind does to the course, what elevation does to the course, where you can be aggressive and go for it, what discs you can throw and why - and when you get to that point - which in disc golf can happen relatively soon if you really commit to it as a sport - I think gives you an opportunity to not only have fun, but it reduces stress and anxiety, and for me it's my therapy. It's my yoga.
There was a great article that came out on Tim Ferris' website about a month ago on stress and anxiety, and a very famous stress and anxiety expert said that for busy, Type-A 50-year-olds – basically describing me – if you can find a sport that gets you outdoors where you keep score, it actually lowers your stress and anxiety.
I love the sport so much, I probably have 100 discs and four bags in the back of my car from April through November. They're just in my car so that at any moment I can play wherever I am.
Going back to that time in the '90s, do you feel like disc golf played a role in overcoming your addiction?
Very much so. And in this sense: When you're an addict and alcoholic, and you take away the drugs and alcohol, you have some huge, gaping holes left in your life. The most important one is that drugs and alcohol have become - when you're a real addict or alcoholic – they become your higher power. It controls every aspect of your life. It's the thing you have faith in, it's what your life revolves around. So the most important thing that you do when you take away the drugs and alcohol is you find some sort of spiritual system for yourself that works.
The next thing that you have to figure out is how to make friends and how to spend time, because real alcoholics and addicts spend all their time getting high. You're thinking about getting high, planning on getting high, procuring the things to get high, actually getting high, being high, and then recovering from being high. And that's why, at a certain point, you become unemployable and your life craters, because everything is about that experience. So when I sobered up, what I needed to do was find replacements. And disc golf, over the course of my 25 years of sobriety, has become one of my yogas. There's several others, but it is a passion point for me as a sport because it gave me peace of mind, helped me connect with friends, helped reinforce my spiritual system. Walking a golf course – it's why I also love conventional golf – sets aside a couple hours to focus on a very difficult sport, share it with a bunch of friends, give each other a ton of shit, and have a good time
I was expecting you to be a recreational player. You're full into it.
I'm beyond full into it. My home course that is a mile and a half from where I live is one of the country's Top 100 courses. I'm very lucky. That's Bryant Lake [Park in Eden Prairie], so I play that the most often. I'm going to play it today at 4:30.
They have this big parking lot, and it's part of the state parks system. And I'm always trying to figure out ways to grow things that I love and make a difference in the world, so I started thinking that I wanted to do a celebrity pro-am disc golf event. Have 2,000 attendees, get some bands on the stage, get the Surly Brewery beer truck out there and put a couple other food trucks in the parking lot and have a monster event. Have a disc golf company there with a tent and discs and lessons for beginners, and have some kind of tournament that day and dedicate a couple of holes to people who just want to learn to throw.
There's a lot of people that play once a week that don't even know that there's a Professional Disc Golf Association. The camera work now, with drones and other capabilities – our technology is finally allowing the casual fan to see a world-class player drive off of the tee and follow the disc and see where it lands. I look at some video that does a good job of it, and some video that does a bad job of it. I think that, once the right people understand how to make video of disc golf so that you can bring the casual fan onto the course at a major event – it's unbelievable watching the world's best players play.
Do you have a regular group you go and play with?
I have five or six friends that we rotate in and out and play with. It's fun.
I should point out, half the time, I play alone. When you really get into it, it moves faster – I can run out in the middle of the day and play. But what I've found is that if I go to certain good courses, I find other good players better than me. I'm not very good – I play a lot, but I'm not very good. I find players I can hook up with and learn from.
You're playing through a pair of guys, and…they're the kind who play tournaments, and they're very good, and they say, 'Hey, you can play through.' And I'm wearing my baseball cap and sunglasses, and then I usually start talking to them - usually I just say 'Thank you, appreciate it'- and then they look at me and go 'Wait a second, you're not – ' and I say 'Yes I am.' If they're really good players, like serious players, I will often times say, 'Hey, maybe you'll let me join you for a couple holes,' because I learn more that way than any other way. I can practice putting all I want, but when I'm talking to a player who is a tournament level player and he happens to be at Kaposia or Bryant Lake Park or some of the other courses where I like to go play alone, it's extremely valuable to me.
So fans you run into are usually pretty cool about it?
Some are, some aren't. It's just like any other population. There are some people who think it's an automatic pass to get their questions in, then there are other people who are like, 'I know you get this all the time, let's just play together but I've got to ask you one question.' They're respectful, and it's great. Then there are some people – the ones I like the best – who just don't give a shit. They just want to give me crap about my drive, and me about theirs, and we have a lot of fun.
Do you ever work in a round while you're traveling?
Absolutely.
What's the best place you've played in a far-flung location?
When we've been overseas, in Europe and Asia, I've not been able to play because our time [is limited]. It's so expensive to fly 12 people over there, make our show. We shoot 15, 16 hours a day, it's just not possible
I will tell you that one of my dreams is to play Järva in Stockholm. And I was in Stockholm, in spring with 80 degree, cloudless days. And I knew that 18 miles over that building was a place that I've wanted to go for a decade, and it fucking killed me. Literally, it ruined my trip that I couldn't go.
When I go to give a speech somewhere, I will oftentimes fly into the location in the morning as opposed to the afternoon, play a round, and move on. I actually really enjoy going to San Diego because I love going to Balboa Park [to play Morley Field]. It's really nice.
Selfishly, one of the reasons that I really like going public with this and finding out that the disc golf community is like, 'Oh my gosh, were amazed that you play disc golf,' is that I'm hoping the opportunity now raises itself for me to get involved a little more and provide some more opportunity for me to check out some courses I've always wanted to, and play with some players that I've always wanted to, and it'll be fun.
Which professional disc golfer would you want to play a round with the most?
Um, oh gosh. [Paul] McBeth. You know, you've got to pick one. There are some really young players on the tour that I started following on Instagram who I'd love to connect with because I'd love to pick their brains about some of their stuff. McBeth is a transitional player, I think, in terms of age. I'm 55, he's what, in his mid-30s?
He's 26 actually.
Really? Still young then. I'll keep him with the young players. There are a lot of players in their 30s that are playing I would love to connect with. There's no one that I would turn down a round with that is better than me. I'd just love to go out and throw with them.
Of the other Travel Channel personalities that you know, who would be pretty good at disc golf?
Bert Kreischer [Bert The Conqueror] and Adam Richman [Man v. Food] are both very good athletes. I think they'd both make good disc golfers. Josh Gates [Expedition Unknown] is good at whatever he turns his attention to, so I'll throw him in there too.
Who would be the worst?
Anthony Melchiorri [Hotel Impossible] is one of my better friends, but it would be impossible for him to disc golf in those beautiful suits of his.
You have a new show coming out, Driven By Food, where a local driver takes you into the scene.
We wanted to do a real verite show about the way in which I see a place. I get out of an airport, I throw my bags in the back of a cab, so we said 'Let's do that.'
And you just go see everything at the whim of whoever picks you up?
Yep. That's so travel.
Would you ever pitch a disc golf show to the Travel Channel?
I would. I would imagine that they feel – a lot of networks, you know, niche sports and things like that [might not work]. I'm very excited about bringing our production company, Intuitive Content, into the world. I think it's fascinating, and from a business standpoint I'm dying to create a documentary about the history of the sport and where it's at right now.
So is that in the cards when you have some down time?
It's not a matter of down time. I have a production company, I don't need to be in the show. I just think it's a fascinating way to look at sport and culture, by profiling the birth and rise of a sport that you can actually trace back to a specific time in America in its not so distant past.
You're known for bringing the underlying culture of different places – the less mainstream, more niche stuff – to the surface. There's definitely a parallel there with you playing disc golf, right?
Correct. Look, a boneless, skinless chicken breast in the supermarket is boring food. It's commodity food. It doesn't have flavor, it's made in a factory. It's mainstream, everyone participates in it and I couldn't give two shits about it. But put me in a jungle somewhere with a group of people that eat a certain species of wild birds that's all around, and [learn] how that bird has sustained these people for a long time, and the culture, the symbolism – you start to get into that, that's a really interesting story.
Stories from the fringe that people haven't told before are more interesting than mainstream stories that have been told over and over. The disc golf story, I think, is fantastic.
What's in your bag? What do you throw on a regular basis?
I drive most typically – and obviously there are weather issues – but I really love the Colossus and the Tern and the Star Beast, which are all Innova discs. I'm blanking on the name of the company, I have the Octane and the Nitro [from MVP Disc Sports], it's a bright color with a black rim. I really like those discs. They perform really well for me, as well.
To approach, I throw two of the oldest discs in my bag. They've been there for 25 years. I have my Moray. I know what it does. Everyone says, 'Well ,there are all these other new discs,' but I throw that, I know where it goes. I think it's Lightning that makes the #1 Slice and the #3 Hook. I love those discs. I cannot play [without] my Shark, my Roc. I have a lot of Innova midrange stuff. The Shark I've thrown since day one. I can't play a round without it.
Putt and approach, I have a couple of [DGA] Gumbputts. I carry six or eight putters. Innova sent me a whole bunch of different Aviars, and they've got some really interesting ones that all have different beading, different plastic, different plastics in the grip. And so I'm really getting into – it's the first time I've opened my eyes [to different putters and] it's improved my putting because I'm forced to learn to throw a different way, which is really, really important.
You can have a 20 foot putt in our sport and if you're going uphill or downhill, our body is going to release and react differently. If it's through trees, or whether it's a clean, wide open look - if I have a clean, wide open 20 foot look at a hole on even ground, I flick it into the basket the way you flick a playing card into a garbage can from 20 feet away. Kind of at an angle, sideways, it does a nice arcing loop, and comes from the outside right into the left every single time. But that's because if I have that look, I use it. It's my most dependable putting shot. But I only get that nine times a round, right? And there's some holes that are designed so you don't get a clean look, so then you better develop other putting styles. So with different putters in my bag I'm able to learn. It forces me to learn straight with a snap release backhand and take the risk I'm going to go past the hole, but my accuracy is much improved.
What is your favorite course?
I love Bryant Lake Park. I consider it my home course – I'm an endless pimp for Minnesota. I'm also at that age where running away with my friends to play for a weekend is a dream of mine, because there's so many places here in the Midwest – especially a whole range of private courses in the Top 20 – that I've never played, so that's my goal for next summer.
What are those courses on your disc golf bucket list, besides Järva?
I can tell you right now, because I keep a list. I keep a list, because I'm trying to figure out a week that I can put some friends in a car and we can just go play. Michigan has a ton of amazing ones, right? Everyone knows about Flip City and BlueGill. I'm dying to get to Kentucky, they have a couple there – there's one, Burlington, and I'm blanking on the other one in Kentucky that's on my list.
Georgia has the IDGC, they have three 18-hole courses there in Appling that I'm dying to check out. I love wooded courses, but I like there to be a lot of diversity and range. I don't like ones that are all big, long, and grassy. I don't like ones that are all wooded. It's why I think Bryant Lake Park is such a beautiful, beautiful park to play. I've heard great things about some of the courses in Colorado because of the elevation. There's a course there called Bucksnort that I'm dying to go and play.
You've done your research, for sure.
Well, I'm trying to figure out this trip, so if I can do the Michigan area, then go down into the Kentucky, Virginia area, I get the most number of really good courses. That doesn't mean that I don't want to play Buxton Woods in Oregon, or some of the other West Coast courses. It doesn't mean that I'm ignoring the Florida courses – Tom Brown Park has a 24-hole in Tallahassee. So, you know, that's great stuff. I'm just trying to figure out my next trip.
I don't know if you're aware, but they are hosting Worlds next June at the IDGC. I would imagine that they would welcome you with open arms.
Ooh fantastic. Yeah, we're going to have to figure that out.
Someone of your stature who wants to be an ambassador for disc golf, people are going to be knocking down your door.
When we do this in other places that happens, so I can only imagine that will be the case.
And you embrace that? You're OK with the extra push from something like that?
Well, like everything else, people are going to have to understand the word no. But yeah.
What's been the highlight of your disc golf career so far?
Highlight of my disc golf career was breaking my personal best two Sundays ago at BLP. Playing a lot, and playing consistent, is great… There are a couple holes that I've almost aced, and I'm looking forward to that.
To me, the world is not made up of food, it's not made up of sports. It's made up of people. And so, if you had to pin me down to one great moment, it's introducing other people to the sport and watching them catch the bug the way that I did.
I have a couple musician friends who are young twins. One of my latest Instagram posts is of my friend Ezra's drive off of 17 at Bryant Lake Park, and they'd never played really until I took them out. And now they're – they're worse than I am – but we play very regularly. Seeing other people catch that fire is dynamite.
So you're OK with the headline being Andrew Zimmern is a disc golf nerd like me and you?
Oh yeah, it's fine. I'm a ridiculous disc golf nerd.

Originally published at: http://discgolf.ultiworld.com/2016/07/28/bizarre-foods-andrew-zimmern-disc-golf-nerd-just-like/