[caption id="attachment_46437" align="aligncenter" width="800"]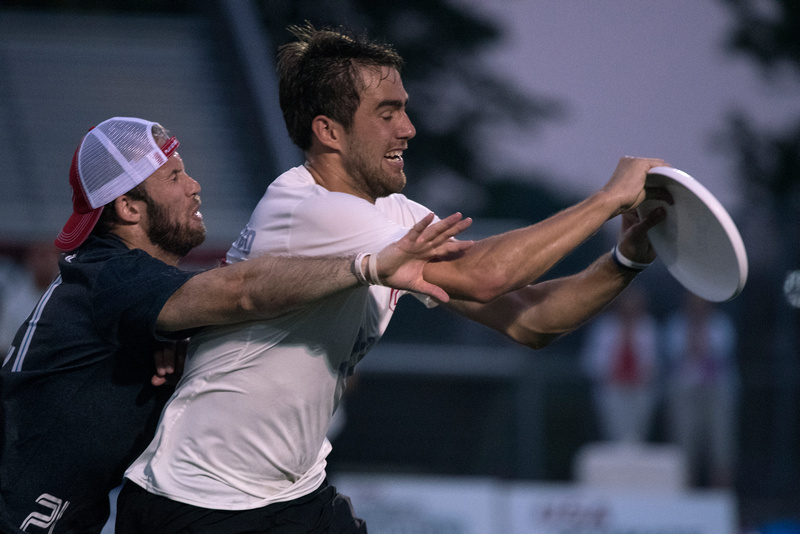 Geoff Powell of the Toronto Rush, seen here applying pressure to Jimmy Mickle at the 2015 US Open while competing with Toronto GOAT. Photo: Jolie J Lang –
UltiPhotos.com
[/caption]
Geoff Powell of the Toronto Rush has been suspended for the semifinal round of the AUDL Championship Weekend following a play featuring "excessive contact" during Saturday's East Division Final in Toronto.
Midway through the second quarter of the playoff game, Powell chased down the DC Breeze's Markham Shofner on a huck and barreled into him in the endzone on an attempt to make a block. A common foul was called and Shofner was awarded a goal. Offsetting unsportsmanlike conduct penalties were also assessed to the pair, as Shofner and Powell jawed at each other following the collision.
After reviewing the play early this week, the league announced today that it would hand down a one-game suspension to Powell for the play, which he is set to serve during Toronto's semifinal matchup against the Dallas Roughnecks on August 6th in Madison. He would be eligible to return for the AUDL Championship game the following afternoon should the Rush advance to that game.
"Our job is to try to differentiate between plays that should be considered appropriate and acceptable, and those that put other players at undue ris," said AUDL Commissioner Steve Gordon in the official league statement. "In our opinion, while we are confident that Geoff had no intent to injure, his bid put Markham Shofner of the DC Breeze at undue risk."
The statement went on to say, "We believe the play warrants a game misconduct that was not assessed at the time of the incident."
This is the first player suspension this season. The only other suspension this year was handed down to the head coach of the Jacksonville Cannons, Tuba Benson-Jaja, who made contact with a referee after last season's playoff loss and was suspended for the 2016 season opener.
Today's decision follows closely on the heels of the league taking criticism for how it handled a similar bid two weeks ago. After dangerously bidding through the back of an opponent, Jacksonville's Andrew Carleton was ejected from a regular season game against the Atlanta Hustle. In the ensuing days, he and the play were defended by the team and the league chose not to pursue any additional punishment. Only after a discussion with Gordon did the Cannons acknowledge that the play overstepped league rules. Both the Cannons and the AUDL were heavily criticized on social media for not taking a harder line on the infraction or labeling such play as worthy of suspension.
In this instance, it appears as though the Rush were much more proactive. Gordon's statement today said, "On behalf of the league, I want to commend the Toronto Rush leadership and organization for immediately bringing this play to our attention after the game. Their immediate cooperation and willingness to accept scrutiny allowed us to reach a proper conclusion."
This latest incident involving Powell has already reopened the discussion about dangerous play in the AUDL, both for the league office and within the wider ultimate community. It has generated heated discussion and backlash on social media, and Gordon noted that the league would be "further analyzing and evaluating how physical play is defined and treated heading into the 2017 offseason."
Powell has a reputation for overly physical play, both across the AUDL and USAU club competitions. This is not the first time he has been singled out for aggressive play.

Originally published at: http://ultiworld.com/2016/07/26/geoff-powell-suspended-for-audl-semifinal-after-dangerous-bid/