[caption id="attachment_47439" align="aligncenter" width="800"]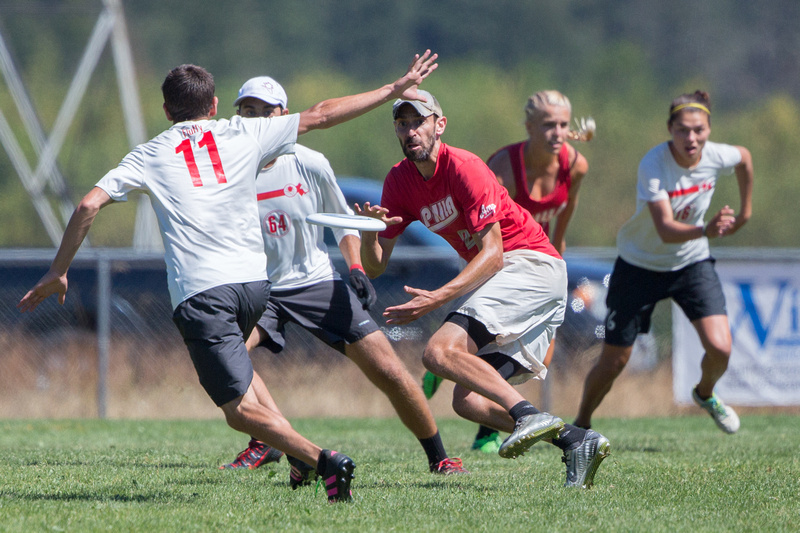 AMP v. Slow White in the Pro Flight Finale's finale. Photo: Rodney Chen –
UltiPhotos.com
[/caption]
Here are Ultiworld's seeding predictions (and associated pools) for the Mixed Division at the 2016 USA Ultimate National Championships:
[table id=643 /]
Here is the basic reasoning for the seedings presented above, based heavily on the latest USA Ultimate rankings that include postseason performance so far:
1. Philadelphia AMP - Overall USAU #1 ranking, wins over Slow White, Drag'N, Mixtape
2. Boston Slow White - USAU #2, US Open champion over Mixtape, H2H over Drag'N Thrust
3. Minneapolis Drag'N Thrust - USAU #3, defending National Champion
4. Seattle Mixtape - USAU #4, clear pool #1 seed (could go higher)
5. Fort Collins shame. - Say what you want, but this team smashed everyone at Regionals. You have to lean on the algorithm here.
6. San Francisco Mischief - USAU #6, H2H win over Alloy, SW Champions
7. Cincinnati Steamboat - USAU #7, H2H win over Alloy
8. Pittsburgh Alloy - USAU #8, Mid-Atlantic Champs
9. New York Metro North - USAU #11, Northeast Champs, losses to most top teams
10. Madison NOISE - USAU #13, few results vs. nearby teams
11. Boulder Love Tractor - USAU #14, up-and-down season, H2H win over Metro North tempered by finishing third at Regionals
12. San Francisco Blackbird - H2H win over Ambiguous Grey
13. Washington DC Ambiguous Grey - USAU #17
14. Dallas Public Enemy - USAU #24
15. Minneapolis No Touching! - USAU #28
16. Gainesville G-Unit - USAU #31
***
Discussion
Because of the extremely volatile results at Regionals, there is far more uncertainty about how Mixed will be seeded than the other Divisions. As usual, we leaned heavily on the algorithm's rankings, which have traditionally been USA Ultimate's go-to when upsets happen at Regionals. Last year, for example, Sockeye lost to Rhino at Regionals in a pretty big upset, but Sockeye was seeded third and Rhino seventh. That was tied closely to the algorithm. With little other information about what USAU will do when many top teams (including the top two seeds in our predicted seedings) lose at Regionals, we choose to fall back on the algorithm, as we expect USAU will do the same.

That said, you could make a case for seeding Mixtape or Drag'N #1 overall. Mixtape has a H2H win over Drag'N, but finished clearly below Minneapolis in the rankings (by about 70 points). And Drag'N has the track record at Nationals, of course. It wouldn't be unreasonable to do that, but it's also hard to ignore AMP's extremely impressive Pro Flight Finale results, where they stomped all of the other #1 seeds.

shame. at #5 is sure to turn some heads, but remember that their resume includes the same number of games against Nationals qualifiers as Mischief. They lost once all season, by one, to Love Tractor…in June. The algorithm likes teams that win a lot. It's hard to argue they should go lower unless you are hand-waving about their schedule.

Again, if you tried to seed Mixed by looking more closely at Regionals results, things get hairy fast. How do you account for AMP's losses to Alloy? Maybe just a bad matchup for them. Other than that, they have been dominant since the US Open. Can you really seed them below Alloy? No. You just can't.

Originally published at: https://ultiworld.com/2016/09/15/2016-national-championships-seeding-predictions-mixed-division/