[caption id="attachment_49480" align="aligncenter" width="800"]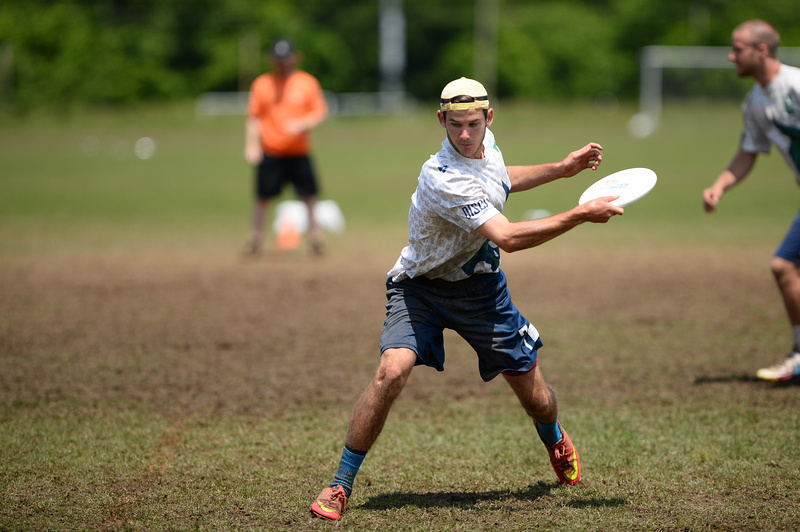 Georgia College's Nathan Vickroy at the 2016 DIII College Championships. Photo: Sean Carpenter –
UltiPhotos.com
[/caption]
We are excited to present the first iteration of our 2017 DIII College Power Rankings in the Men's Division! These rankings are based holistically on a number of factors: fall results, roster composition, conversations with players and coaches, the "eye test," and assorted other factors.
25. Oberlin
After losing 16-15 to Messiah in the semifinals of an underrated Ohio Valley Regionals last year, expect the Flying Horsecows to be in contention for a spot at Nationals again this year. A strong freshman class and a deep returning roster should, over time, be able to sufficiently replace their departed All-Region talents, Conrad Schloer and Jason Freedman.
24. Bentley
After a National championship in 2014, it has been two down years away from the Big Show for Icehouse. Despite a win over eventual national runner-up Brandeis at Regionals, Bentley missed out on a bid yet again last season. A solid showing at Lobster Pot this fall indicates that Bentley should be back in contention for a Nationals spot this year.
23. Elon
It was a surprise to see Big Fat Bomb, a perennial contender, miss out on Nationals last year, especially considering All-Region selections Alexander Taylor and Brian Szymanski were in their senior year. With that loaded senior class gone, look for Jeremy Lonnman, Connor Scofield, and returning All-Freshman team member Connor Whiffen to pick up the slack.
22. High Point
The Bagheera had an up-and-down 2016 season, showing their potential with a second place finish at Conferences before underwhelming at Regionals. All-Region second team members Michael Ball and Cam Bellando, as well as 5th year Luis Royo, return from a club season with Durham Turbine. Add in returning All-Freshman team member Michael Sellers, and the Bagheera should be right in the mix in another competitive year in the Atlantic Coast.
21. Indiana Wesleyan
It's pretty obvious to say that this is a rebuilding year for Huck Dynasty. They graduated Great Lakes POTY Travis Carpenter, as well as star cutter Clint Carson, both of which did a lot of heavy lifting when IWU had the disc in seasons past. However, getting a trip to Nationals last year was a huge experience for this team. Look for graduate student Nik Evans and junior Jon Clark to lead the way in trying to repeat that feat.
20. Alabama-Huntsville
Last year, the Nightmares came up short in the game-to-go to Nationals in the Southeast, losing to eventual national champions Georgia College. However, UAH brings back 16 players from last season's roster, and many of those players got a healthy dose of club experience this summer. Huntsville Method teammates Wes Seat and Danny Yates return to anchor the O-line, and Huntsville Freaks Uv Nature standout Tannon Hedges returns to anchor the D-line. Led by head coach Tom Radcliffe and training coach Tim Hoggard, UAH will be looking to earn a strength bid for the typical 1-bid Southeast and punch their own ticket to Nationals this year.
19. Williams
The 2016 season ended in frustration for WUFO. A very impressive regular season sent them into the postseason as the 10th-ranked team in the country. However, a disappointing Regionals saw Williams losing in the backdoor bracket and missing out on Nationals. This fall season has been about development for WUFO, focusing on getting as many reps for their younger players as possible. A one point loss to Messiah at Fall Brawl shows the potential this traditional NE powerhouse has yet again this season.
18. Mary Washington
One of last year's most up-and-down teams, Mother of George has shown yet again this fall a tendency to play to the level of their opponent, notching an 11-9 win over Richmond but only an 11-10 win over Christopher Newport. Zach Norrbom (DC Current, Ambiguously Grey) returns for his senior season as a candidate for Atlantic Coast Regional POTY. Look for Robbie Pratt, Joseph Richards, and Robert Blake to help Norrbom take this team to national relevance.
17. Messiah
The Falcons came up just short of Nationals last year, losing to Franciscan in the finals of a 1-bid Ohio Valley Regionals. Despite losing All-Region stud Christian Becker, Messiah has established a program and will be in the Nationals mix this year as well. They return All-Region cutter Peter Burt, as well as All-Freshman cutter Aaron Olney. Injuries last spring forced some of their younger players to develop ahead of schedule and coach Charlie Hoppes (also of Philadelphia Patrol and Philadelphia Spinners) expects that development to pay dividends this year.
16. Brandeis
It's pretty rare to see the defending national runners-up drop all the way to the fringe of the Nationals picture; then again, it's also rare to graduate as much talent as Brandeis had last year. Brandeis graduated three out of four captains, their top four assist throwers – who collectively accounted for a total of 74% of their assists thrown at Nationals – and three of their top six goal scorers. On top of all of that, they are also replacing all three of their coaches from last year. Tron is an established program at this point and will need returners like Mike Humbert to step up to have a big season. But a poor performance at Lobster Pot points towards a big step backwards for Brandeis this season.
15. Davidson
Last year, DUFF missed out on earning a crucial third bid for the Atlantic Coast by one spot in the rankings and were unable to get by Richmond or UNC-Asheville at Regionals. Despite graduating All-Region team members Robbie Kuster and Kyle Taylor, expect Davidson to be in the hunt again. Coach Ken Porter provides the team with a level head and sound strategy. Look for Ben Whitefield and Henry Siebentritt to step up in the handler space and Chris Johnson to dominate downfield. Freshman Andrew Roy (YCC DC Foggy Bottom Boys) should also make an immediate impact in the handler space.
14. St. Johns
Imagine having a 20-3 record, a point differential of +40 at Regionals, finishing 10th in the final rankings, but not going to Nationals. That was the reality of the 2016 season for BAM. A victim of a one-bid region last year, St. John's will be led by returning Regional POTY Charlie Schuweiler and should be on the fringe of earning a strength bid for the North Central this year.
13. UNC-Asheville
Last year was a peak season for the Bulldogs, one that started with their impressive showing at QCTU and ended with their first trip to Nationals. The foundation of their success was a solid, near-unbreakable O-line, anchored by first team All-Region handler Clint McSherry. While UNCA didn't lose much from last year's squad, McSherry did graduate, and replacing him will be the key to their success in 2017. They'll lean heavily on the handling of All-Freshman Ethan Cole and second team All-Region Cory Oskardmay, as well as the downfield threats of Charlie Bridger and incoming freshman Dean Merritt. Cole and Merritt are both coming off of a national championship with the Triangle Triforce YCC team, so it will be interesting to see if those younger players translate that experience to the rest of the roster. Ending their fall season with a loss to UNC's B team is a little concerning, but the Bulldogs still managed a 6-2 record at Jungle Fever in a very windy weekend.
12. Lewis and Clark
Bacchus is consistently one of the most difficult teams to rank each year. Isolated a bit in the Northwest region, it's hard for other teams to gain connectivity with L&C. They were dominant at Nationals last spring, going undefeated before losing to Brandeis in the semis. Their success this year is going to be dependent on replacing Ben Whitenack. At Nationals, Whitenack had an incredible stat line of 22 goals, 16 assists, and 9 Ds to go along with only 6 turnovers; fellow 1st team All-Region players Will Beck and Leland Rege-Colt will look to replace those numbers. Expect Bacchus to be the class of the Northwest again this year.
11. Middlebury
Another traditional powerhouse in the division, the Pranksters were a very young team last year and lost in the backdoor bracket of Regionals. They've proven this fall that their young team has grown up a lot since last year, with an impressive second place finish at Lobster Pot and a first place finish at Northeast Classic, picking up a huge win over then DI #25 Vermont. Look for returning All-Freshman team member Dylan Salzman to lead the Pranksters back to Nationals.
10. Wheaton
The Mastodons came out of nowhere last year to earn their region a bid to Nationals, then followed it up by retaining that bid and finishing tied for 9th in Winston-Salem. Wheaton should be able to build on that success, as they only graduated one player who played with them at Nationals last spring. Their class of returning players is headlined by Luke Rynbrandt (22 assists at Nationals) and Jonah Karls (18 goals). One thing to note: Wheaton only attended two tournaments last year and ended up with just 10 sanctioned games. We hope they'll get outside of their region this year to see where they stack up against other top teams during the regular season.
9. Carleton
Carleton was easily a top contender for the semifinals last year, but a red hot Air Force squad ended those hopes in a quarterfinal upset. The high profile returner this year for GOP is undoubtedly Abe Eichner, whose game IQ and creativity with his throws place him alongside other potential POTY candidates. GOP's offensive systems will likely keep them in the mix as a top ten team.
8. Claremont
Claremont's somewhat underwhelming performance in 2016 nonetheless paved the way for a strong returning class of players. At first glance, the name Jordon Lim raises some eyebrows. Hill Balliet and Philip DiGiacomo will be captaining the Braineaters this year and will be looking to keep the Southwest locked down in 2017. It is unlikely that Claremont will be unseated as the reigning regional champion.
7. John Brown
JBU Ironfist has a huge returning piece with POTY Ethan Penner coming back for a 5th year. His return alongside Ironfist's other receivers give them one of the best cutting corps in the country. While there are still many question marks about who will carry the load as handlers, John Brown should once again secure a bid for the South Central with their strong returning roster.
6. Franciscan
Calling a 5th place finish at Nationals "disappointing" is crazy, but with the expectations going into last year, that's what you'd have to call Fatal's season. While they lose the incredibly talented Tommy Koch, Fatal returns All-Region players Jay Ratajczak and John Paul Bort in addition to defending Ohio Valley POTY Dominic Schuster. These guys will be loaded up for another run at a title.
5. Colorado College
Wasabi was a powerful team during the regular season in 2016, competing in Division III for the first time since 2011. This year Wasabi look to be the second team in the South Central behind Air Force. Their results at MLC don't represent the team's true potential. Joel Fisher-Katz and Grant Mitchell missed out and will both be big contributors down the road. Senior captain Phil Korolog's playmaking athleticism as a cutter will be something to look out for in the POTY conversation. Veteran talent and history of playing up against good teams may very well carry Wasabi into the title conversation. 2017 will certainly feature great games against Air Force.
4. Richmond
Missing out of the bracket at Nationals after tough losses to very good teams in pool play will add a tremendous amount of fire to the reigning Atlantic Coast champion. Returning Henry Babcock is obviously huge – he might be the best thrower in the division – and he will be joined by Chris Selwood as another high profile returner for the Spider Monkeys. The addition of several YCC rookies and an athletic pickup in Xavier McCormick will continue to give Richmond an edge through their depth. Richmond has set the standard for consistent excellence in the Atlantic Coast and just dominated all weekend at Jungle Fever. Unless their regional rivals in North Carolina can find a way to overcome Richmond's deep bench, they will likely remain the best team in the Atlantic Coast and one of the best in the country.
3. Air Force
Last year, Air Force was a surprise team that clawed their way to the semis at Nationals with an athletic roster. This year, they will be surprising no one. Outperforming teams with their athletic depth is a trademark that many DIII teams find difficult to stop. Alan Villanueva was a huge playmaker at MLC and his versatility as a handler and cutter make him a brutal matchup. Matthew Moshea was a goal leader at Nationals and will continue to be a key downfield target. Air Force are in the process of locking themselves into the title conversation. Their 14th place, 5-3 result at MLC was a good start.
2. Bryant
Craze has qualified for Nationals in each of the last three years and it doesn't look like that run will come to an end this year. The New England powerhouse looked to be in good form already on their way to a dominant title at Lobster Pot. All-Region team members Jacob Garfinkel and Austin Kelson are both back for their senior year and will be looking to make it four straight trips to the Big Dance. It is important to note that in each of the last two years, Bryant has failed to play 10 regular season games and, to the frustration of their whole region, has advanced to Nationals with a bid earned by another team. It will be interesting to see if they make an effort to travel this season in order to hit the minimum to get ranked.
1. Georgia College
To be the best, you have to beat the best. Defending national champions Georgia College come into the season ranked first in the country after bringing back most of their championship crew. Nathan Vickroy was the best player at Nationals last year, doing everything and playing almost every point for Disconnected. He'll be losing his favorite target, Josh Bush, but expect Jacques Perivier to pick up some of the throwing slack to allow Vickroy to head downfield. GC have a history of not traveling outside of their region for regular season tournaments, but hopefully we'll see them cross paths with some national contenders at some point before Nationals.

Editors Note: A previous version of this article misstated that Caleb Shorthouse would be returning for Georgia College; he has graduated. Similarly, Gabriel Goldstein of Brandeis will be abroad this spring and not competing with the team, as originally reported.

Originally published at: https://ultiworld.com/2016/11/21/2017-college-diii-power-rankings-mens-division/