[caption id="attachment_46152" align="aligncenter" width="960"]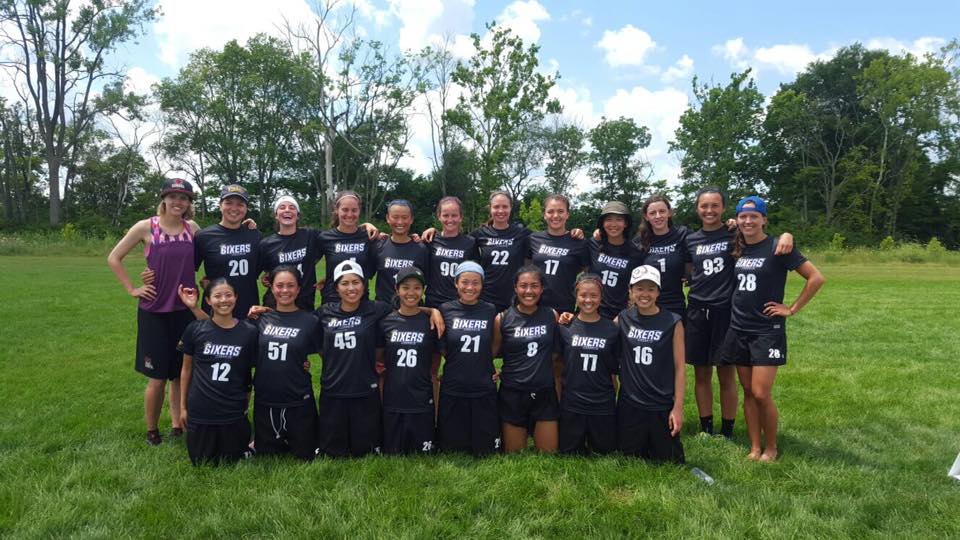 Toronto 6ixers.[/caption]
COLUMBUS – Running through the 6ix with some golds.
The new Toronto women's club, 6ixers, showed off the talent from the North at the Elite-Select Challenge, taking home the title with a 13-8 win over Portland Schwa in the final.
The 6ixers used, appropriately, a 6-0 run to close out the game, blowing it open after trailing 8-7 with increasingly intense defense. "It was just a matter of time before [we] got one break," said 6ixers coach Kaitlyn Lovatt. "And the second [we] had one, we were able to push with the next."
Despite Toronto outplaying Portland in the first half, flashing smoother offense and generating more defensive turnovers, they couldn't find that break. Portland made a switch from a forehand force to a backhand one after getting beaten badly by arounds and started to create some pressure. They got the only break of the first half to go into halftime up 7-6.
But the second half was all Toronto. Multiple Schwa turnovers ended up yielding a layout score from Laura Kinoshita for a break out of half to tie it at seven. Jenna McLeod got going in the second half, scoring three goals for Toronto as they piled up the breaks.
"We were forcing some throws, shoving it up the sideline," said Schwa captain Emily Flanders.
Both teams featured some superb rising talent. The 6ixers rose from the ashes of the Capitals, the long-time top Toronto women's team. Nine players – many of them younger, like standout Jordan Meron – carry over from the Caps era, but the rest of the roster is filled with younger U20 and U24 players.
Schwa, too, has a youth movement this season, perhaps exemplified by 17-year old Clea Poklemba, who was impressive in her Triple Crown Tour debut. Flanders spoke highly of the young players that have had to step into bigger roles after the departure of many top Portland players like Jesse Shofner and Bethany Kaylor. "They've really helped to shape our identity in a lot of ways," she said.
It was an unexpected final pairing; more established programs like Phoenix and Ozone were thought the favorites to take home the title this weekend. Both teams' leadership were thrilled to see the strong performances from their respective teams.
"These girls exceeded my expectations far beyond what I thought was possible with them," said Lovatt.
Flanders said that it was particularly important to Schwa to make the final in order to qualify for the Pro Flight Finale, which will take place in mid-August in Vancouver, Washington, just outside of their home city of Portland.
The 6ixers also earned a bid, but have not yet decided whether to accept it. They are currently scheduled to attend the Select Flight Invite in Indianapolis later this month.
For both teams, the Elite-Select Challenge was a building block towards future success, but also an affirmation of the quality they already have on the roster. They'll get a chance to see how the views are from the top, at least for a couple of weeks.

Originally published at: https://ultiworld.com/2016/07/12/6ixers-take-care-schwa-strong-second-half-esc-final/