[caption id="attachment_46926" align="aligncenter" width="800"]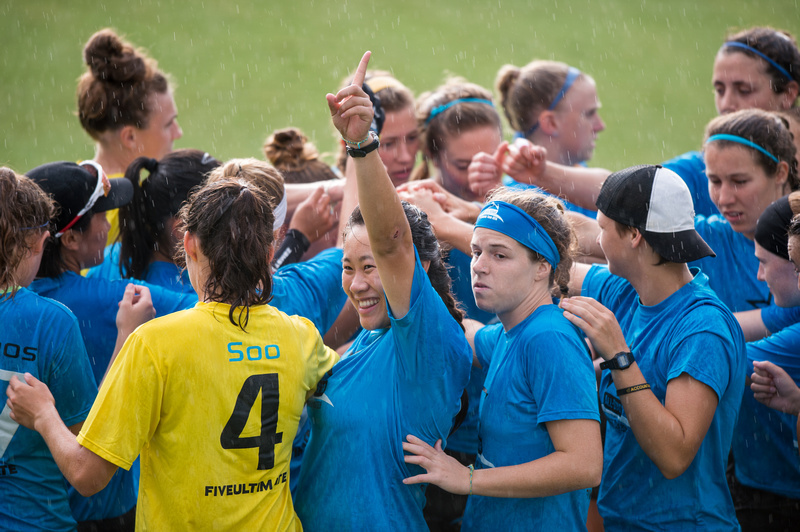 Jenny Wei and the All-Stars were not deterred by the rain in Raleigh. Photo: Taylor Nguyen –
UltiPhotos.com
[/caption]
This article was written by guest author Hugo Sowder of Seven on the Line Productions.
Despite uncertainty over weather conditions to start the game and technical difficulties with the live stream, the All-Stars prevailed handily over Raleigh Phoenix with a convincing 15-10 win at WakeMed Soccer Park on Friday night. The conditions in Cary were classically North Carolinian: humid, wet, and unpredictable. Lightning halted both teams' warmups and forced players to retreat back to the locker rooms. The lightning did not significantly affect the start time of 7PM however, and as the pull went up, the teams were rewarded with a reasonably clear sky and an ever-growing crowd.
"We only had about five minutes to throw before we retreated to the locker rooms before the game," the All-Stars' Stevie Miller said postgame. "I think it worked out to our benefit. We messed around, sang songs, danced around, and did what we do best to have fun and stay loose."
Coming into the game, head coach Rohre Titcomb preached intensity and focus in the huddle. Her mantra was simple: forget the conditions and delays, be in the moment, and play for each other.
"We went into this game with a little more intensity than we have in the past few games," Miller said.
All-Star and Triangle-native Jenny Wei agreed, commenting after the game, "It was very much getting in our optimal zone of performance… Which is all up here."
The emphasis on an intense start to the game showed immediately. Starting on defense, the All-Stars put up a 5-0 run to kick off the first half. The susceptibility of both teams to the wet conditions and their short warm-ups showed during the first few points. Phoenix's handler stalwarts Jessi Jones, Michelle Ng and Kyra Catabay struggled to hit their receivers in stride and the All-Stars were able to clamp down on unders to force high-stall resets. Claire Revere and Sarah Edwards registered hand blocks on flat marks against the Phoenix handlers. Jenny Wei led the All-Stars in goals during the first half.
"I was definitely way more nervous than at any other stop we'd made, but it was really fun to see familiar faces and having my friends cheering me on really fired me up," Wei said after the game.
Down big early, Phoenix used two timeouts to refocus and retool their lines. Energized sidelines, a large home crowd, and several big plays by first year players Simone Whale and Kate Travaglini allowed Phoenix to claw their way onto the scoreboard and put on a small 3-point run of their own. After trading holds, Phoenix earned another break to make it 6-5 off an incredible sequence of play as a Phoenix defender hand-blocked a throw from Wei into the hands of All-Star Au-Yeung whose subsequent huck to Ogawa was ripped out of the sky by Jenna Dahl.
It would be as close as Phoenix would get to tying the game. With the hosts unable to capitalize on another All-Star turnover, the Tour held with an easy flip from Kaylor to Donaldson and then added a break to take half 8-5 with a layout goal by Shofner.
The second half featured more spark-plug offense from both teams, with Shofner earning two more goals on All-Star holds and Wei earning her third of the game to break 11-6. At 11-8, the All-Stars faced a long gritty offensive point against a determined Phoenix D-Line. Travaglini and Shofner battle each other for several possessions in the endzone in the most exciting matchup of the game. Phoenix was unable to convert on two blocks generated by Travaglini and, after calling a timeout to get back in their offensive set, Shofner bombed an inside-out forehand into the endzone to Claire Revere for a full horizontal layout goal. It was the play of the game.
The All-Stars held off another small Phoenix run before going on their own 3-0 run to take the game 15-10.
Despite difficulties with the livestream and foreboding weather in the hour leading up to the opening pull, the All-Stars were pleased by their experience and reception in Raleigh.
"We weren't really sure what to expect," Miller said postgame. "It's one of the stops [the All-Star Tour] had never been to before so there was a little bit of unknown we came here."
The grass fields of WakeMed Soccer Park were a much appreciated change from the turf the Tour had been playing on in other recent exhibitions.
For Phoenix, the Tour offered an opportunity they are rarely afforded at tournaments during the club season.
"We just don't get many chances to play in front of our friends and family," said Michelle Ng. "It's awesome to come out here and have a couple hundred people watch us. Huge thanks to Qxhna and the crew for bringing the Tour here."
The stands, which appeared deceptively empty due to the inclement weather in the minutes preceding the opening pull, filled up with Triangle ultimate notables from all divisions and age groups. The heckling that is such a trademark of North Carolina and Southeast ultimate was in full force during a game that featured impressive play from both teams.
For Wei, it was a sweet homecoming as she was swarmed by fans from the teams she has coached in the Triangle. Thinking reflectively on the Tour as it enters it's home stretch, Wei expressed gratitude and excitement about the opportunity to compete with the All Stars this summer.
"I'm very excited for DC and Boston. I'm sad this is going to end, but it's been such an awesome time and a very rewarding experience. I'm very glad I got to be a part of it!"

Originally published at: http://ultiworld.com/2016/08/08/stars-grind-big-win-raleigh-phoenix/