Originally published at: https://discgolf.ultiworld.com/2023/05/03/cash-line-what-the-jomez-acquisition-means-for-the-future/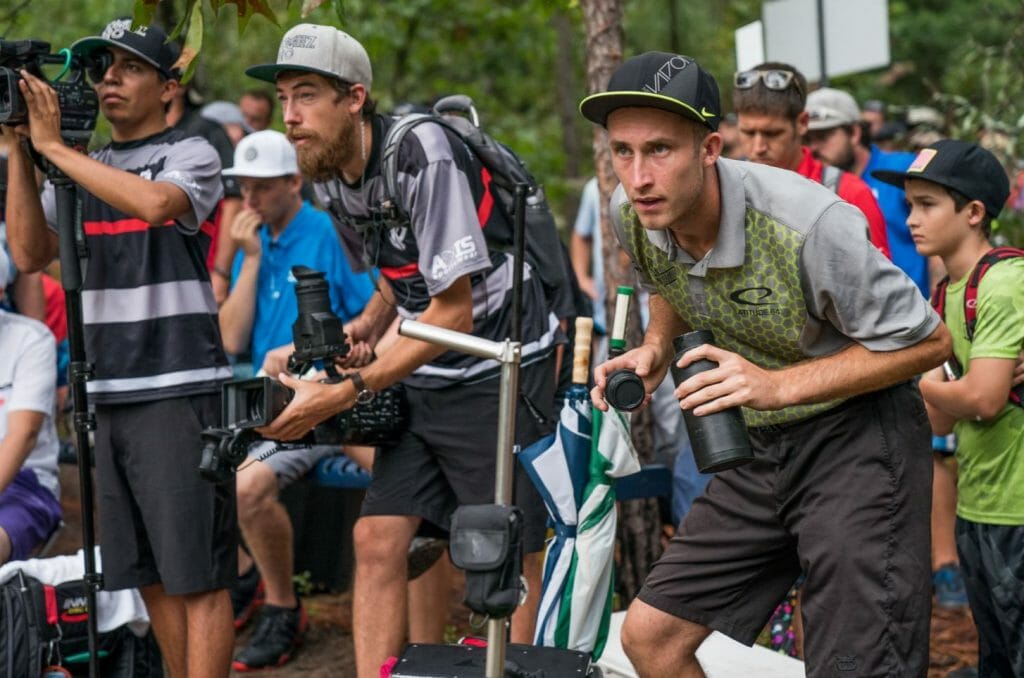 Jerry Gomez and Jonathan Gomez (from left) of Jomez Productions. Ricky Wysocki at right. Photo: Stu Mullenberg, The Flight Record
For years, disc golfers have debated the best way to enjoy watching the professional side of the sport: live or post? While the conversation will undoubtedly continue, there's been a fundamental shift in what it really means. The Disc Golf Pro Tour owns it all.
The news about the DGPT acquiring Jomez Pro, the 800 pound gorilla of post-production round coverage, shouldn't come as an earth-shattering surprise. Because the DGPT firmly holds the cards around which media companies get access to content, it was inevitable that the tour was going to "in house" a post-pro company at some point. But did anybody expect it to be Jomez — or expect it to be this suddenly? There are significant implications behind the Jomez acquisition, not only for the future of media in disc golf but also for what it means about where the overall industry is right now.
The Big Picture
The Disc Golf Pro Tour has now consolidated its media power even further. They will be able to have complete control over advertising — on the live broadcast, at events, and on its most-watched platform, YouTube. It's easy to imagine useful Jomez assets — like the sharp drone overheads including landing zone graphics — now finding their way onto the Disc Golf Network's live coverage. There are also operational efficiencies, with Jomez's post-production camera operators also serving as live cam ops, a vision first laid out by DGPT founder Steve Dodge years ago.
The DGPT also has more control over how post-production content gets distributed. For now, the Tour is saying that Jomez will continue to operate as normal, with same/next day coverage coming out for free on YouTube with no discernible differences to how things operated earlier this season. But the future could certainly shift towards post-pro coming out behind the DGN paywall first before later getting released on YouTube. This model is already used for some key majors: the USDGC and European Open. It could also mean post-production of each round, rather than each card — something more akin to a cut-down version of the live broadcast, without showing every single shot from a single card and instead focusing on telling the story of the round. Don't expect that before 2024, though.
For Jomez, this is a chance for the creatives to work unencumbered by the additional stresses of running a business. Jonathan Gomez and his crew have pioneered the high quality look and feel of pro disc golf, and Jomez's coverage is still the gold standard by which other forms of disc golf video are judged. Additionally, Jomez can continue to focus on documentary projects and other non-round content — which could appear either in front of or behind the paywall.
The Tour now can offer a variety of products to customers — a free, ad-supported Jomez video; a Jomez Patreon subscription for someone who wants more from their post-production but isn't interested in live; and a DGN subscription for someone who wants to watch live.
Will we see a new high DGN tier that offers post-production and live in the future?
What Happened to Jomez?
It's only been a couple of years since Jomez felt like the most important business in disc golf. They called the shots, got paid by TDs to cover events, got paid by viewers who watched events, and rose to massive popularity on the shoulders of BigSexy and brilliant branding. While of course their relationship with the DGPT, PDGA, and other disc golf organizations was symbiotic, Jomez had leverage and often wielded it.
The pandemic boom brought with it massive revenue increases for almost every disc golf company. Jomez's e-commerce arm — long a major source of revenue — exploded as new players flooded into watching coverage and discovering Jomez for the first time. Scarce discs meant fast sales — and there's almost no wider reach for advertising in disc golf than a Jomez YouTube video. Their YouTube subscriber count basically doubled from the start of 2020 to the end of 2021.
Meanwhile, the Jomez Patreon continued to grow into the middle of 2021. Jomez used to report its earnings but ceased sharing that information in early 2019. Assuming an average of $4-7 per patron per month, Jomez was bringing in $17-30K gross revenue a month from Patreon at its peak in mid 2021.
As a result of all the growth, Jomez expanded its head count to nearly 20 people. They committed to paying the DGPT $500,000 over two years for access to the MPO lead card. But then the music stopped.
On The Upshot yesterday, Jonathan Gomez said that e-commerce sales went off a "cliff" in early 2022. Patreon subscriptions steadily slid from a peak of ~4,200 in August 2021 to ~2,600 in April 2023 (the number of Jomez Patreon customers was public until today — the number has now been turned off on their Patreon page). YouTube video views flattened and even declined.
This wasn't just a hangover from the pull-forward in demand from COVID. There were other headwinds. The Disc Golf Network's live coverage got a whole lot better from 2020 to today. The 2021 World Championships had such an amazing finish that it set live viewership records — and thousands of people who didn't watch live may have been converted to the new religion by the Holy Shot. Nate Sexton's increased absence from the tour left the Jomez commentary feeling like it was missing something.
Plenty of people online have been discussing the slew of chase card winners this season as another pain point for Jomez. While that's true in a way, that had little to do with the bigger trends that led to the acquisition: this move was already well underway at the start of the 2023 season.
Jomez's co-owner Juan Luis Garcia — the brains behind the marketing of the company — left his position as Chief Brand Officer and stopped being involved day-to-day operations last summer.
What it meant was that Jomez was not in a position to pay its $250K rights fee — or even to continue to meet payroll obligations without layoffs. So Gomez began talks with Jeff Spring and the DGPT about an acquisition. The deal gives Gomez a chance to return to a laser focus on content creation while getting a buyout for the impressive brand that he built. He also takes on a small equity share in the DGPT to give him an incentive to stay with the Tour and help it grow.
Risks to the Tour
While the upside is obvious — the Tour absorbs the best post-production team and doubles down on media, its strongest revenue driver — there are potential risks ahead. Fans may begin to see Jomez as an arm of the Tour — which, of course, it will be — rather than an independent entity that they want to support with merch purchases and Patreon subscriptions. The DGPT's full-time staff count also takes a big jump, pushing up payroll costs. Will cost efficiencies from the acquisition and new management oversight outweigh the expenses that got Jomez into a tight spot? Certainly, the Tour thinks so.
And while the Tour may have been able to acquire Jomez at a bargain price given the situation, how does the DGPT view the declines in viewership, sales, and Patreon subs? Much of that money has flowed towards the Tour and its DGN live product, of course, but Spring says that the plan is to really push Jomez as a standalone product — more benefits to being a Patreon sub, a full continuation of the brand and the YouTube channel, Jomez merch. Business as usual. Will consumers still buy in?
My View
When I first heard rumors that Jomez was going to be acquired by the DGPT, I wasn't surprised.
This was an inevitability. Either the Tour was going to buy out Jomez, or they were going to buy out another post-pro team and start to take over lead card coverage over time. Even when the two-year deal between Jomez and the DGPT was announced last winter, there was a lot of uncertainty expressed about what would be happening in 2024.
Of course, the timelines moved up a lot, given the financial position of Jomez. The Tour has been able to use its heavily capitalized position to take over both a partner and in some ways a competitor at an opportune moment.
Now, the question is — what is the long-term future of post-production? There is unquestionably value in posting disc golf content onto a channel that might eclipse 500,000 subscribers this year. Not only do you make money from Google ads, your own ads, Patreon, etc., but you create the top of the funnel for people to become interested in even becoming a disc golf fan, finding your DGN product or events, and giving you dollars.
Just look at what the Phoenix Suns (NBA) and Mercury (WNBA) just did — they cut ties with their regional sports network (pending litigation) and plan to air games for free over-the-air and via a streaming service. This is the first major sports team to move in the direction of getting away from cable networks, who currently pay them millions or billions of dollars a year.
What's the idea here? Stratechery's Ben Thompson writes:
Remember, the amount of money an NBA owner is likely to make in franchise appreciation is likely to far outweigh even the cumulative annual profits and and losses; in that frame growing the fanbase is likely to pay off far more than squeezing out incremental revenue from TV rights, because it's the fanbase that makes those rights monetizable in the first place.

That's important to highlight because [Suns and Mercury owner Mat] Ishbia is going to lose money in the short-term: Phoenix and/or [local TV network] Gray will of course be able to sell advertising against the games, and for considerably more than Bally Sports could given the likely larger audience; Gray may also earn some small amount of money in retransmission fees (for including the over-the-air channels on cable), although given that most of these games will be on non-affiliated networks, probably not much. Still, the amount of money is almost certainly going to be a lot less than Bally Sports paid to collect affiliate fees from people who never watched the Suns, which is exactly how leagues like the NBA got so rich in the first place.

In the long run, though, regional sports networks are dying, and, absent investment of the sort Ishbia is making, the NBA risks a decline in value as well: this is the best idea I've seen yet to reverse that trend.
The DGPT — while vastly smaller than the Phoenix Suns — face a similar dilemma. How do you grow big enough to command a big valuation but still manage to fund your growth? Right now, the model has been to let YouTube creators make videos freely available, post highlights and lots of social media content, and air one round from each tournament live for free on YouTube (previously the final round, now the less desirable first round).
As a result, I do not expect to see Jomez get locked away behind the paywall for good. I think the optimal approach will be to give DGN subscribers first access to post-pro Jomez content and then to release the round coverage to YouTube after a certain number of days. Maybe 3, maybe 5, maybe 7. Enough to be painful to fans who really want to watch (to entice them to subscribe), but not enough to completely wipe the value of the product on YouTube. (The 30 day windows for USDGC and European Open feel a little too harsh).
Maybe round 1 coverage of both the live and the Jomez goes out for free, but then subsequent rounds are paywalled first before a later free release.
The Pro Tour certainly can't afford to give away all of its content for free. Plus, it has a very serious revenue stream coming in from subscriptions. This is a niche product now and maybe forever. But growth is still the ticket to profitability, major advertiser interest, and, eventually, major media interest. Selling rights to the lead card for $250,000 for a season is a lot less interesting than selling it for $25,000,000.
I think other post-production YouTube outfits need to be concerned as well. Is there a path forward to profitability covering chase card, if the DGPT even allows chase card coverage in the future? The Tour doesn't have an interest in killing off media companies that help people discover its product, but it may want to hold more of the cards for itself.
Overall, fans should be glad that the DGPT stepped in — much as owner Todd Rainwater and CEO Jeff Spring did when Steve Dodge was struggling with "Pro Tour 1.0" — and acquired Jomez. It ensures the content will continue in full, and, given that nothing about distribution is changing right now, there's nothing to complain about, at least for the rest of 2023.