[caption id="attachment_32591" align="aligncenter" width="800"]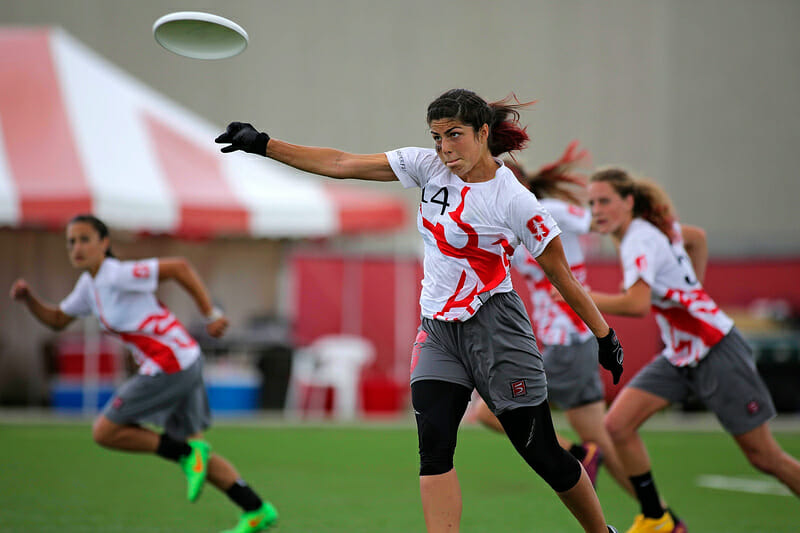 Stanford's Monisha White pulls. Photo: Alex Fraser –
UltiPhotos.com
[/caption]
Each week during the spring season, we will publish a bite-sized weekly recap of the action across the College Division. This will serve as a supplement to our standard tournament reporting and will offer a high-level look at the latest happenings and the biggest stories of the week. Expect occasional updates throughout the fall.
Want your tournament listed here? Submit a recap of what happened right here.
Men's
Stanford Tops Cal Poly SLO To Win Sean Ryan Memorial
#15 Stanford took down #12 Cal Poly SLO 11-9 in the final of the Sean Ryan Memorial Tournament in Santa Cruz to establish themselves (for yet another year) as the Southwest region frontrunner.
Stanford was a heavy favorite last season in the Southwest but took a thumping loss to Cal Poly in the Regional final. The two teams certainly hope to earn two bids for the region in the spring and avoid another showdown for just a single bid. Right now, they are clearly the two best teams in the region.
Stanford's Elliott Chartock and Cal Poly's Ian Sweeney had strong performances for their respective teams. Stay tuned for more coverage from Sean Ryan this week on Ultiworld.
Princeton Claims Fall Brawl Title
Princeton defeated West Chester 11-9 in the Fall Brawl final to win the 40 team tournament. Princeton also defeated some Metro East rivals including Columbia (12-6) and Buffalo (10-7) en route to the championship game. They lost just once, to NYU (11-9) in pool play.
Women's
Stanford Dominates At Sean Ryan
#1 Stanford Superfly blew past their Regional competitors to an easy win at the Sean Ryan Memorial.
Their closest contest came against #8 UCLA, whom they defeated 15-5 in the final. Stanford also had crushing wins over #21 USC and UC Davis.
Stanford appears well positioned to cruise to another Southwest regional title in 2017.
Ottawa Again Metro East Front Runner After Fall Brawl Win
Ottawa edged out Cornell 10-9 in the final of Fall Brawl and again stands as the favorite in the Metro East heading into the spring season. Ottawa had no other close contests.
Ottawa was last year's qualifier out of the Metro East; they went winless at Nationals.
Looking Ahead
- SoCal Warmup (San Diego, CA) and OFUDG (Eugene, OR) are on the calendar for this coming weekend.
– Full game footage from CCC (Men's) and MLC (Men's and Women's) will be available in the coming weeks, along with announcements about the 2016-2017 college video package and updates to our subscription options!

Originally published at: https://ultiworld.com/2016/11/14/college-update-sean-ryan-fall-brawl/