Originally published at: https://discgolf.ultiworld.com/2023/05/02/dgpt-acquires-jomezpro-in-major-media-consolidation/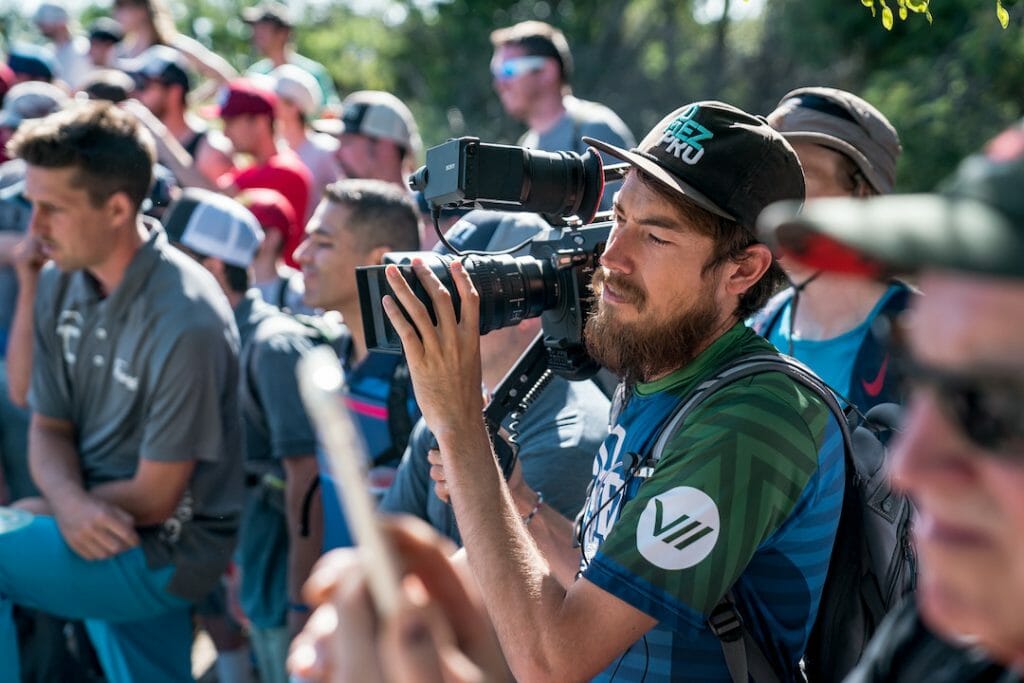 JomezPro founder Jonathan Gomez. Photo: Alyssa Van Lanen — PDGA.
After years of partnering together, the Disc Golf Pro Tour has fully acquired JomezPro, the YouTube channel, and the company's brand and other intellectual property, bringing the sport's biggest post-production media company under the same roof as its biggest livestreaming service, Disc Golf Network.
JomezPro founder Jonathan Gomez will become a DGPT employee and oversee the creative direction of the channel, which will continue to operate as it does today, with free same-day or next-day post-produced coverage of DGPT events and select majors.
"As we've grown alongside the Disc Golf Pro Tour, you can see that they have put a lot of work into the administrative side of things, the operational side of things, and it finally just came time for us to say, 'Look, we have the same vision, we have the same goals, and for us to be successful, I think it makes the most sense to start entertaining the idea of possibly combining our efforts so that we can all play to our strengths,'" said Gomez in an interview with The Upshot podcast.
DGPT CEO Jeff Spring said that there are no plans to restrict JomezPro's YouTube coverage now or in the future. "It became clear that the Disc Golf Pro Tour could support the growth and development of JomezPro through our resources, through providing recapitalization, and that's where we're at now is that we're assessing what we're going to be able to do more of," he said. "And I think in terms of the future — we're one team pretty much behind the scenes now — so we don't have necessarily like a contract for the future. We know that over the course of the next three years, for the foreseeable future, what we can anticipate is things will stay the same."
Just over a year ago, JomezPro announced a bold new deal with the DGPT, agreeing to pay $250,000 a year for two years of MPO Lead Card coverage rights. Sources tell Ultiworld Disc Golf that the rights fee was never paid as JomezPro faced financial trouble after seeing a drop in revenue during the 2022 season; Gomez said that rather than seeing e-commerce sales, a major component of Jomez's income, plateau, something they had long expected especially after the huge increase in demand in 2021,"it was like a cliff, just straight drop off basically." Jomez's Patreon subscriber count dropped nearly 40% from July 2021 to April 2023, perhaps in part due to an increasing shift in viewership towards live coverage.
So the DGPT and Jomez reworked their agreement and set out on a path towards an acquisition. This season, Jomez camera operators have been providing footage for the live broadcast, something the company had resisted in the past. Jomez also took over the coverage of FPO Lead Card at DGPT events.
"The Disc Golf Network media team and JomezPro have already taken steps to integrate and support each other this season," said DGPT Media Operations Director Sam Gaddes in a statement. "The addition of the JomezPro team will only help the continued improvement and elevation of our live product. We've aspired to work as one team, and this deal has allowed us to take a huge step forward in maximizing efficiency and delivering more content to disc golf fans. "
Terms of the acquisition were not disclosed, but Gomez has received equity in the DGPT as a part of the deal.
Spring said that this deal wasn't made with any expectation of changes down the line for other post-production partners. Currently, Gatekeeper Media covers MPO Chase Card, Ace Run Pro covers FPO Chase Card, Central Coast covers Silver events, and GK Pro does videotaped skins competitions at DGPT stops. Spring said individual discussions around media partnerships will continue in the future.
Jomez Operations Will Continue as Normal
JomezPro fans shouldn't expect many changes in the short term. The YouTube channel will continue to provide post-produced coverage of tournaments; special features like Putting Game and Practice Rounds; and commentary from the standard crew of Jeremy Koling, Paul Ulibarri, Nate Sexton, Erika Stinchcomb, and Madison Walker. Spring announced that Jomez will be doing a docu-series on Paul McBeth's upcoming trip to Europe and that other special projects are likely in the future.
Additionally, DGN condensed shot-by-shot coverage at USDGC and the European Open will now be produced by the Jomez crew rather than a patchworked internal team.
"We have so many great things that we were able to do last year, but there's also a lot of things that we had to pull back on," said Gomez. "And now we can open that back up. And I'm really excited for that, because of course, we want to continue to provide the most content. Coverage is great. We're doubling the amount of coverage, but that's not enough for us. We're not saying, 'well, that's good and everyone should be happy.' Of course, we want to provide even more than that. And this is exactly the type of benefit that we can get from the situation that we're in now."
Jomez will continue to sell its own line of merchandise and is doubling down on its Patreon subscription with new benefits, including a discount towards a DGN subscription, discounts on DGPT and Jomez merchandise, discounts or free tickets to DGPT events, and new DGPT giveaways.
"A really awesome byproduct of this deal happening is that we're able to provide even more value to those patrons that have been with us all this time since we've been independent," said Gomez.
The DGPT will oversee all business operations of Jomez moving forward. Gomez said he was thrilled to be getting back to just focusing on content creation and less on the stresses of running a small business. Because the DGPT already has internal support staff, like accounting and HR, it streamlines the Jomez acquisition.
"Clearly Jonathan is one of the like best media minds that disc golf has ever had," said Spring. "So we are just excited to allow him to look forward. Now that we're at this point, we can kind of start looking forward…Some of it will be maybe late season, but I'm looking already at 2024, 2025 — what else can we do in the media landscape that isn't just reinforcing the post-production but improving the post-production? Or, like Jonathan said, already we're seeing improvements with the live with Jomez. JomezPro has some of the best media professionals in the sport. So they're already helping workflows, helping improve our product on Disc Golf Network."