Originally published at: https://discgolf.ultiworld.com/2023/05/03/disc-golf-added-to-the-2025-world-games-program/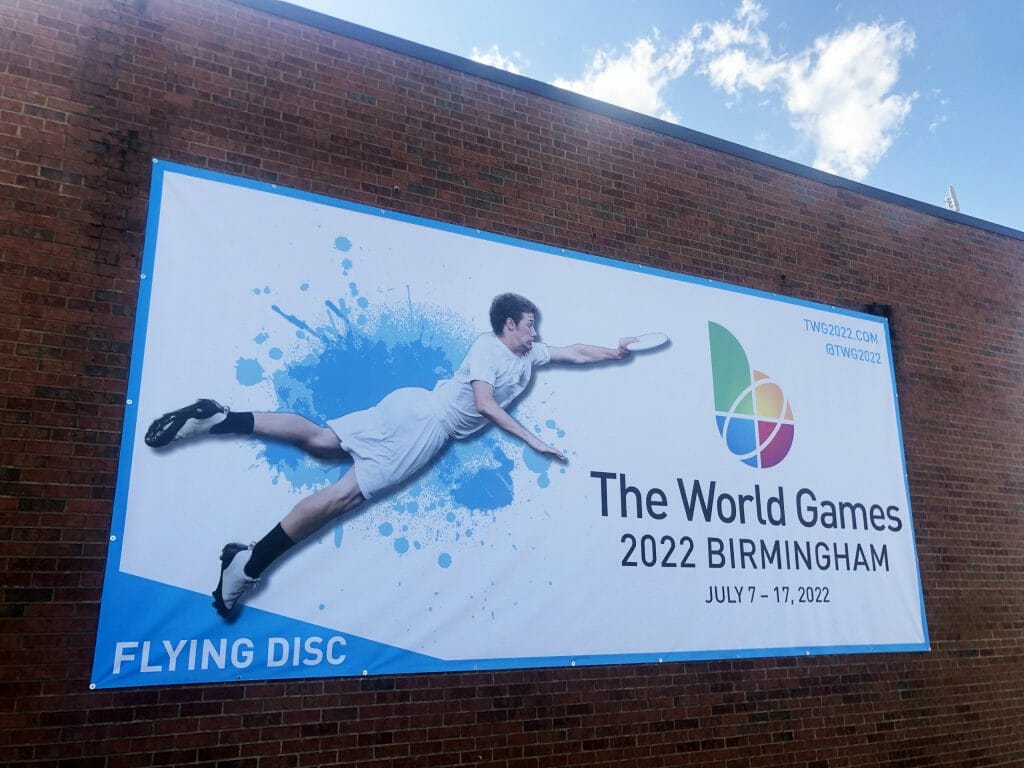 Ultimate was on the program for the 2022 World Games. Photo: World Games.
Disc golf is officially back on the international sports stage.
The International World Games Association announced during its annual meeting that disc golf would be added to the 2025 World Games program in Chengdu, China, bringing the sport back to the highest level international multi-sport event for non-Olympic sports for the first time since 2001.
The event will be organized around country-based competition, with 16 pairs of players — one male, one female — teamed up to compete for the World Games gold.
Ultimate has been on the World Games program every cycle since 2001, but disc golf was dropped after its lone appearance (Barry Schultz, representing the United States, won gold over Canada's Michael Sullivan in Akita, Japan).
"I'm really excited about it, because it's an affirmation that we have been doing all the right things," said World Flying Disc Federation (WFDF) President Robert "Nob" Rauch. "It is a return to the medal podium for disc golf. I had originally put in an application back in 1994, and in 2001, flying disc participated for the first time as medal sports…It's been a 24 year absence, but it's well deserved to get back in there, especially with what's been going on with disc golf globally."
Many details are still yet to be determined, including the competition format, qualification process, and even how the teams will be selected. "We haven't finalized the discussion, but it could very well be that we have 16 countries represented, with a mixed pair for each country," said Rauch. It is possible that multiple pairs of players from a single country could participate. The WFDF has been hosting a World Team Disc Golf Championship in recent years with a format featuring both alternate shot doubles and singles matchplay, but with teams with more than two players.
"The PDGA is pleased to see our partnership with the World Flying Disc Federation in introducing and demonstrating disc golf to the Chengdu, China, host delegation at last year's World Games in Birmingham result in this exciting development," said PDGA Director of Membership & Growth Brian Graham. "We congratulate WFDF on their successful proposal to reintroduce disc golf as a competitive sport and we look forward to continuing cooperation over the next two years to ensure that the event is a monumental success and continues to be included in future World Games competitions."
Disc golf was a demonstration sport for 10 days during the 2022 World Games in Alabama, a stepping stone towards its acceptance as a medal sport in 2025.
China has been one of the biggest hotbeds for disc sports growth since the pandemic. Ultimate has become a "fashion sport," popular with hip, young people, and disc golf is starting to get some buzz. Rauch said that the World Games competition is likely to be played on a temporary course built in a city park in Chengdu, but that the Chinese delegation has expressed interest in installing permanent courses before the event. According to UDisc, there are just 13 courses in China at the moment. Yikun is a well-known Chinese disc manufacturer that makes discs for both the domestic market as well as white-labeled discs for popular global brands like Prodigy and Discmania.
For now, disc golf is only approved to appear at the 2025 World Games. Every sport — and the disciplines within them, like disc golf — has to be reapproved for each four-year cycle. However, if the event is a success, it is likely that disc golf will remain a part of the World Games — commonly seen as a potential step towards Olympic inclusion — in the future as well.