In sociology, a tipping point refers to a moment in time when social change occurs rapidly. Tipping points happen whenever the value of something begins to increase or decrease exponentially, like the growth of bacteria, an unpaid credit card bill, or Pokémon GO.
If disc golf reached a tipping point today, the sport would be unrecognizable within a decade. Imagine office workers across the country clogging the company internet as they craft their betting-pool brackets for the United States Disc Golf Championship. Imagine college professors cancelling their classes, so that their students can catch the final round of the USDGC live. Imagine Erin Andrews interviewing Paul McBeth and Greg Gumbel breaking down the sidearm with Sarah Hokom.
We haven't made it to October Madness yet, but many disc golf enthusiasts certainly have high hopes for the future of the sport. In fact, a chorus of voices has christened disc golf the "fastest growing sport in America."
I found this (empirically questionable) statement just about everywhere: local news media, disc golf discussion boards, the website of the United States Disc Golf Championship, an article on ESPN.com, Facebook pages, a disc golf documentary, a disc golf video game, disc golf blogs, disc stores, and even the website of the U.S. Army.
Among the most knowledgeable disc golf observers, optimistic forecasts are the norm.
For instance, when PDGA Executive Director Brian Graham was recently asked by the guys at Final Round Radio, "What is the biggest challenge today facing disc golf?" he began his answer by saying, "I don't think anything is holding us back. We're growing at 20 percent a year. There are a lot of sports out there that would kill to have those numbers."
It is not likely that disc golf will reach a true tipping point anytime soon, but there is some evidence of exceptional growth.
Consider, for instance, the PDGA's growth chart below. Over a six year period, between 2006 and 2012, there was a fixed increase in active PDGA membership - about an eight-point percentage bump each year. Not bad, but this was linear growth, the less attractive brother of exponential growth.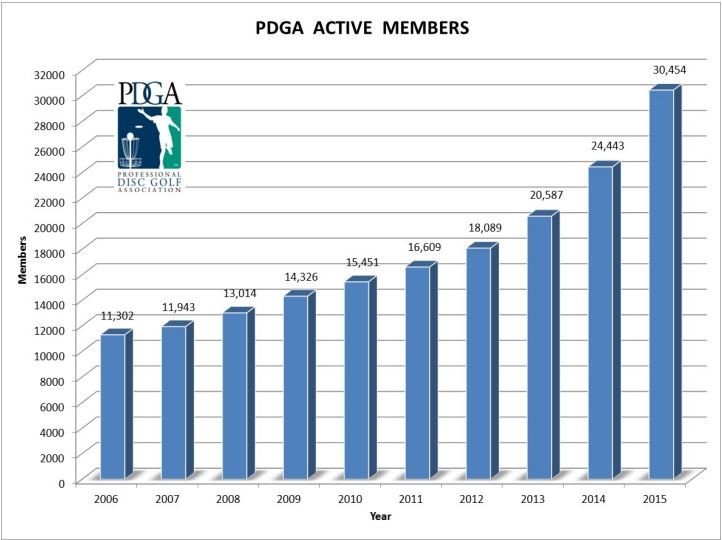 Then, in 2013, the number of members jumped by 13 percent, followed by a 19 percent increase in 2014, and then a whopper gain of 25 percent in 2015. If this growth trajectory continues, there will be roughly 200,000 active PDGA members by 2020, and disc golf will be more popular than football by 2030.
A similar trend can be seen in the construction of new disc golf courses. The number of courses being built in the United States is not simply increasing; it's growing, year to year, at an increasing rate. Back in the 1980s, according to a great study by Oldakowski and McEwen, we only saw the birth of about 25 new courses each year. By the 1990s, roughly 100 courses were established annually. Between 2007 and 2010, the annual growth rate reached 200 each year.
In short, optimism makes sense.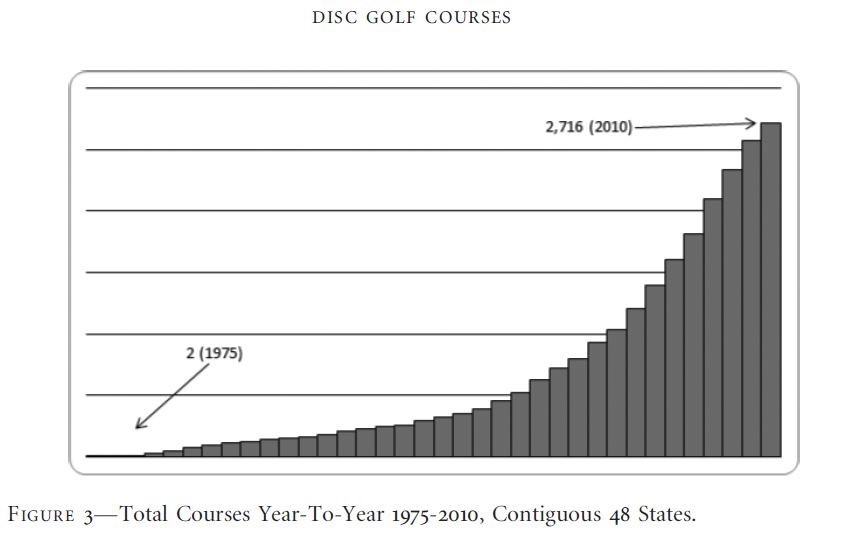 But it doesn't make that much sense. The problem is, neither PDGA membership nor new course builds is a direct measure of the total number of people who play disc golf. As I've argued previously, we don't have data on the disc golf population. For all we know, the number of disc golfers who are not PDGA members could be declining.
Another problem is, we don't have a well-developed theory to explain the sport's supposedly rapid growth. What is it about American society, right now, in the autumn of 2016, that's pushing disc golf toward a tipping point? And, conversely, what might be driving its decline?
Theories are important, because they prevent us from being taken in by flukes or statistical anomalies, and they serve as a roadmap for doing research.
In the next weeks, I'll be reviewing the existing theories of disc golf's growth, offering a few ideas from sociology, and providing some-much needed data on the disc golf population.
So please check back soon. And, in the meantime, tell us what you think. How fast or slow will disc golf grow in the next few years?

Originally published at: https://discgolf.ultiworld.com/2016/10/07/disc-golf-reached-tipping-point/