[caption id="attachment_48282" align="aligncenter" width="800"]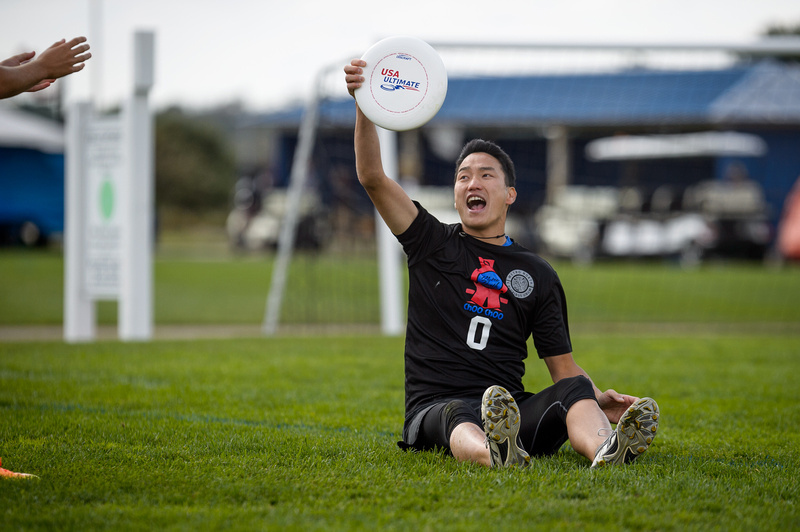 Metro North's Eugene Yum scores at Nationals. Photo: Paul Andris –
UltiPhotos.com
[/caption]
Ultiworld's coverage of the 2016 Club Championships is presented by Spin Ultimate; all opinions are those of the authors. Please support the brands that make Ultiworld possible and shop at Spin Ultimate!
Here's a bite-size look at the action from Thursday at the 2016 USA Ultimate National Championships in the Mixed Division.
There Can Only Be One
Just as in 2015, the overall #1 and #4 seeds took second place in their respective pools, while the #2 and #3 seeds went undefeated, placing the four top seeds of the tournament on the same side of the championship bracket.
#8 seeded Connecticut Metro North capitalized on their throwing prowess and veteran savvy to upend #1 seeded Philadelphia AMP 12-9 in the last round on Thursday. And #5 San Francisco Mischief caught #4 Seattle Mixtape napping, grabbing a four point lead early and never relinquishing for the 12-11 upset. Meanwhile, #2 Boston Slow White clinched their pool after just two games, and #3 Minneapolis Drag'n Thrust finished their Thursday with a convincing 14-10 win over a tenacious Cincinnati Steamboat.
While they'd love to look ahead to quarterfinals against the other division goliaths, the prequarter games for AMP and Mixtape might not be layups. AMP will face #9 seeded Fort Collins shame, a team that battled from an 11-14 deficit against Mixtape to take the lead 15-14, before losing 16-15. Shame will look to utilize a significant height advantage against a relatively short AMP. Jake Juszak and Nick Snuszka were big targets for Fort Collins and could be trouble for Philadelphia.
Meanwhile, Mixtape will play #12 seed Washington DC Ambiguous Grey, who took AMP to 11-9 in the first round of Thursday pool play. This is a rematch of 2015 quarterfinals, a game in which Grey battled ferociously before falling 15-13. Mixtape dug themselves a 4-0 hole against a Mischief team that utilized their women more than either of their previous pool opponents.
Slow White played confident all day, capitalizing on opportunities presented to them but were not challenged for the most part. They outscored opponents 44-24 on the day, the biggest margin of any team in the Mixed division. Drag'n Thrust had a similar day, playing strong team ultimate while outscoring teams 42-26. They were loose with their downwind offense, and stingy with the disc upwind but still taking the right shots.
Should the top seeds prevail in prequarters, division fans will get two storybook games in quarters. AMP will battle Slow White in a rematch of the Pro Flight Finale final. AMP will need to clean up their offensive miscues and make defensive adjustments; their play style suits their strengths in calmer conditions, but they do not have the throwing prowess in this wind to keep it up.
And no one could be disappointed for a rematch of the National championship game from the past two seasons. Mixtape and Drag'n Thrust faced off in the semifinals of US Open, a game in which Minneapolis squandered a 13-10 lead, but have not seen each other since.
Old Man Windter
In wind like we saw in Rockford today, there is no substitute for experience. Obviously the mechanics of throwing are themselves something gained through reps in different speeds and directions. But the additional knowledge of knowing when and where to cut based on how thrower's options change with the wind is something that you simply can't teach in practice.
Experience is something the two surprise pool winners both have in spades, especially against the top seeds they unseated. AMP has an average age of 25 and Metro North 30; Mischief's is 29 and Mixtape 27. Mischief also has 12 players over 30, relative to Mixtape's seven. In both upsets, the winning teams demonstrated time and time again how to play small ball in a wind that just wouldn't quit.
The bad news for Metro North is that they have only hit their floor. A team with this much experience and a season chalk full of first-day win streaks was unlikely to finish 4th. If their old legs can stay fresh through what should be a relatively easy quarterfinal, they will have to like their chances against whoever emerges from their neighboring quadrant.
After a year away, Mischief took about 1.2 games to remember what level of focus and intensity teams bring to Nationals, but once they hit their stride, they kept it going. They rode two sound wins against G-Unit and shame. into their showdown with Mixtape, earning a 4-0 lead, and although Mixtape would mount a heroic comeback, Mischief had the know-how to hold on for the win.
The last big story in the Mixed Division is #15 Minneapolis No Touching upsetting #10 Denver Love Tractor to earn a spot in the championship bracket. With an average age of 33 and two grandmasters eligible players, No Touching dominates the experience category, and their ability to move the disc seamlessly upwind, regardless of what Love Tractor's defense threw at them, may be their ticket to a surprise quarterfinal experience.
Originally published at: https://ultiworld.com/2016/09/30/heres-need-know-nationals-day-one-mixed-division/