[caption id="attachment_2899" align="aligncenter" width="1024"]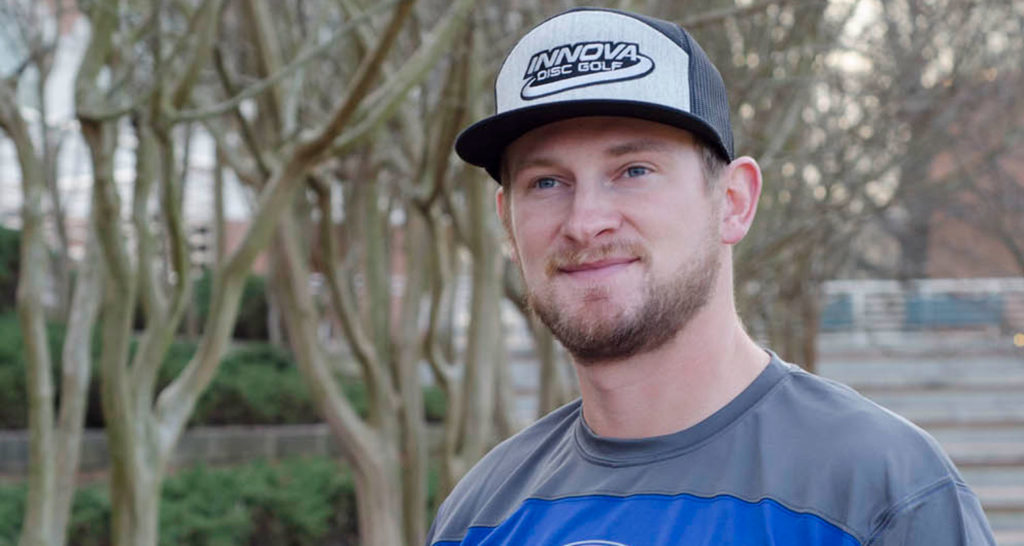 Jeremy Koling comes to Innova after a four-year stint with Prodigy Disc. Photo: Innova Discs[/caption]
Winning a United States Disc Golf Championship will open doors for a player.
For Jeremy Koling, those doors just happened to be in his backyard.
Koling, the 2016 USDGC Champion and Charlotte, North Carolina, native, signed with Innova Discs this week for the 2017 season, he announced Sunday. His placement on the company's top-tier Star Team finds the 10-year tour veteran playing for the company headquartered a mere half hour away from his stomping grounds.
"It's just all excitement, man," Koling said. "Honestly, there's no better word that I can think of that describes how I feel about Innova than excitement. Every time that I saw somebody that was kinda in the know about this before I made it official, we would smile, because I'm so pumped to be a part of this. I said on my announcement…I really feel like I'm coming home."
Two other players – Finnish women's champion Eveliina Salonen and Minnesota native Jordan Castro – also announced moves to Innova this week.
For Koling, the fit came down not only to what Innova was offering in terms of compensation – an immediate slot on the Star Team means higher bonuses, as well as profits from an upcoming Tour Series disc release – but also the bonds he has built over time with employees at the company's East Coast office in nearby Rock Hill, South Carolina.
"Really the important side, the side that makes the deal so exciting and special to me, is my relation with the people that work there," Koling said. "I have a personal relationship with almost each and every one of the members that works at the East Coast headquarters. They're all friends of mine. I've been going in and visiting the factory since 2008. I've been going in there and having a good time and talking with the guys, and they've welcomed me ever since…I'd go in there with a Discraft shirt on, you know, [or] I'd go in there with a Prodigy shirt on, and they'd look at me, and they'd razz me a little bit, but that's just what we do because we're friends."
But even with the close ties at Innova, Koling still labored a bit over the decision. He said he was wooed not only by Prodigy – the team he had played with since its beginnings in 2013 – but also Discraft, who made a bid for his services for what would have been the second time in his career.
"Discraft made a lot of sense because that was my initial first sponsor, and I still have a ton of Discraft. I never really got rid of it," Koling said. "I've maintained a great connection with those guys, and they've shown a lot of love towards me in the past and we've hung out off the course. They made it really well known that they were going after me, that I was their number one target they were going for - or at least one of the top targets they were going for."
Though he is moving on from Prodigy, he expressed gratitude to the brand for helping him build his confidence and professionalism during his time with the team.
"They offered me an opportunity before I was a name that was – you knew who I was in 2013, or the end of 2012, but I don't know," Koling said. "In my mind, I didn't know if I belonged in that 11 person roster of the best of the best, and I was really surprised and honored when they considered me to be a part of that. So that was a huge deal for me."
Now that his new deal is official, Koling is tasked with transitioning his bag over to Innova. And while he'll throw many of the company's standards – a multitude of Destroyers, some Firebirds, a Teebird, and a Roc – he is also taking advantage of Innova's molding operations for Discmania and Millennium Discs: Koling said he is currently bagging second run C-Line FDs and C-MD2s from the former, while Alex Geisinger turned him on to the Polaris LS from the latter. Additionally, he is putting with Discmania's P-P2.
"That bag will change up a little bit, but for the most part it covers all the bases for what I need right now," Koling said. "If I was gonna put a bag together and go attack any kind of course, and then need trick shots, or just straightforward wind shots, and long distance, short distance – I feel like I have everything covered with what I have right now."
And as excited as Koling is to put in the work learning new plastic, it was clear that nothing was more exciting for him than the connection he has with the people at his new company.
"Each and every single one of the members of Innova East, every time they'd, see me they would look at me and they would give me this look like, 'C'mon, you know where you should be,'" Koling said. "They didn't have to say any words. I knew exactly what they were saying, and I loved it. I really appreciated that they never thought that I wouldn't come around. I think they always kinda knew that one day, I think, I would end up there, before I ever knew it. It made sense to them before I really put the pieces together and realized how much sense it made for me."
While Koling brings a veteran presence to an already deep unit, the signings of Salonen and Castro inject Innova with some youth.
Salonen, 17, is a two-time Finnish women's champion who previously played for Prodigy Disc Europe. She is currently fifth in the PDGA's women's world rankings and snapped Catrina Allen's 14-win streak earlier this year at the Tali Open. Salonen will debut on Innova's Team Champion.
"The reasons for the move are pretty simple," Salonen said. "I have a short term and a long term plan made for myself, and I really want to focus for improvement as a player. And I want to play more with the world's best players. That also means that I have to come and play [in the] U.S."
Castro, a 1000-rated player who comes over after a three-year stint with Latitude 64, had a similar sentiment as Koling about making the move: Familiarity and connection was key.
"Growing up, my whole area used Innova," Castro said. "It was really the only company I knew about. One of my good friends was, and still is, a huge Innova fan. It was the company that was there from the beginning. These were the discs that I first learned. The amount of support I've received from the Innova family is surreal. Alex G[eisinger] definitely played a huge role in the decision. I've always been a huge fan of him. I've learned so much from him along the way, and I can't wait for what the future has in store."
Koling will make his Innova debut at the Aussie Open later this month, while Salonen will come stateside for the Gentlemen's Club Challenge in February. She will stay for The Memorial Championship, which is where Castro is slated to make his first appearance of the season.

Originally published at: https://discgolf.ultiworld.com/2017/01/03/kolings-move-innova-like-coming-home/