Originally published at: https://discgolf.ultiworld.com/2020/06/15/mailbag-dgpt-restart-is-disc-golf-pandemic-proof/


Welcome to Ultiworld Disc Golf's mailbag! You don't necessarily see my byline around here too much — I am more often behind the scenes as the publisher, but I'm still here as a co-host of the Upshot podcast with Jamie Thomas and I generally report from Worlds and USDGC every year.
Now, you'll see my thoughts in print every week in the mailbag.
Generally, the mailbag will be for subscribers only, which helps keep me committed to writing it every week. It will reward subscribers with a weekly column they can count on. And it will allow us to offer a free one-month Mini subscription for the best question, email, or comment we get and publish in the Mailbag. If you're already a subscriber, you get a free extra month (or a discount). If you're not, you can come in and check out the benefits.
You can email me anytime at mailbag@ultiworld.com with questions, comments, ideas — whatever you've got.
Q: How are things shaping up for the restart of the Disc Golf Pro Tour? Are pros going to show up? And who do you think is going to play well after the long hiatus?
– Danny C.
A: So far, so good.
There seems to plenty of enthusiasm from professional disc golfers about getting back to work, and it's hard to imagine a sport better suited to maintaining social distancing than disc golf. Registrations for the Dynamic Discs Open — the first event back — look robust: pretty much all of the big (US-based) names are going to be in attendance (no Nate Sexton, but he's not played as many events the last two years).
In a weird way, we get to kick things back off with GBO. Not with all the pomp and circumstance, certainly, but for those watching at home, it's still the world's best playing three rounds at the Emporia Country Club.
Players to watch, for me, include Kevin Jones, who's been playing (and winning) more than most other pros in the last few weeks; Ricky Wysocki, who always shoots well in Emporia and has been looking healthier of late; and, of course, Paul McBeth, who won GBO last year and just got two months to rest his ankle injury. I'm looking forward to the Paige and Catrina battle as well.
I definitely think we'll get to see which players worked on their game during quarantine and which worked on their relaxation. I expect some putting stat abnormalities, for sure.
As for the DGPT in general, isn't this quite the opportunity? The National Tour is completely shut down for the year. We're not going to have any Majors until October. There's going to be one place to go for elite disc golf. If the Tour plays its cards right, this could set it up as the long-term steward of the professional side of the sport.
It's not to say that there aren't risks. We have to acknowledge that a lot rides on the course that the coronavirus pandemic takes over the coming months. Just take Kansas: the state requires people coming from seven different states to self-quarantine for 14 days upon entry. And this is coming from a state that is solidly into its reopening plan. It is not impossible to imagine some states shutting down again in the future — or, at least, banning events, which would cause the PDGA to pull sanctioning.
I hope that doesn't happen. It would be great to see a smooth restart and full slate of tournaments in 2020. The PGA Tour's restart this past weekend was a success, so there's plenty to be optimistic about.
For now, we'll just take it an event at a time. Can't wait to see the pros get back out there.
Q: With so many reports of strong demand for discs (including on The Upshot directly from manufacturers) and lots of people at disc golf courses, are we witnessing disc golf actually emerge stronger from the pandemic?
– Jon A.
A: Obviously, without a more rigorous study, it's hard to say anything for certain, but when I hear manufacturers tell me that they have seen record high demand in the last two months, it's hard not to think that things are going really well for disc golf.
And it makes a lot of sense. There are very few activities available to people right now. The very first things to open back up in most states were golf, tennis, and disc golf. Which one of those can you do by yourself — and on the cheap?
It's no wonder that people are saying, 'Hey, I'll give it a shot. There's nothing else to do.' And we all know that a lot of those people are going to get sucked into the obsession we share because, man, disc golf is fun.
Even amid the turmoil of canceled tournaments and a heavily disrupted professional touring season, we are likely to look back on 2020 as a pivotal year. The Pro Tour seems to be accelerating, video coverage is improving across the board, and people are flocking to the sport. The short term pain of coronavirus-related event cancellations is likely to be dwarfed by the accelerated long-term growth.
Just look at the numbers: despite the coronavirus shutting down the entire sport for over two months, active PDGA memberships are actually up year-over-year: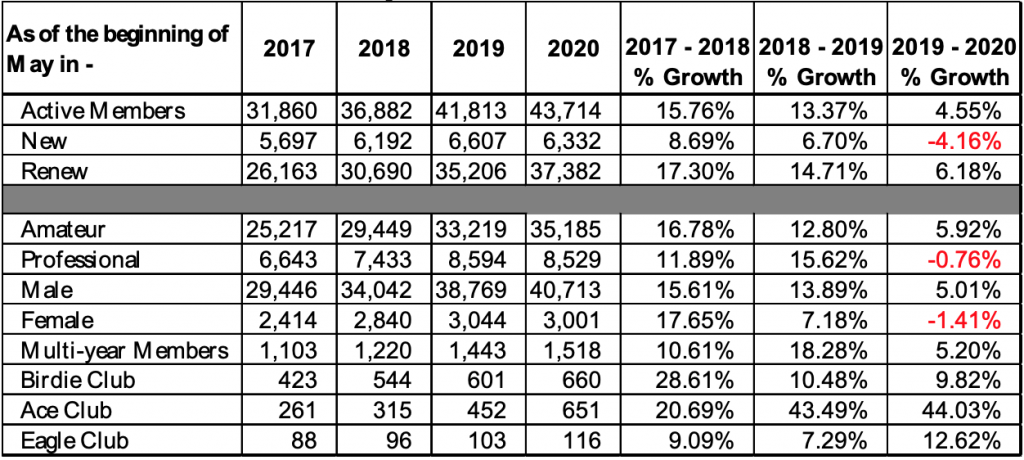 You can see the affect of coronavirus here — new memberships are down compared to 2019 and overall growth isn't on the same trend as the last two years. The PDGA wrote in the May board meeting minutes, "It is estimated ~5,500 membership orders were 'lost' post-cancellation of sanctioning. They may come in later this year."
I was expecting to see catastrophic numbers from the PDGA, a major downturn in active memberships. But no, they're up. And all of these new players? They're still recreational-only. Some of them are going to convert to PDGA members at some point when they decide to enter a tournament or sanctioned league, and we'll see these numbers swing higher.
Look at the numbers through February, pre-COVID shutdown: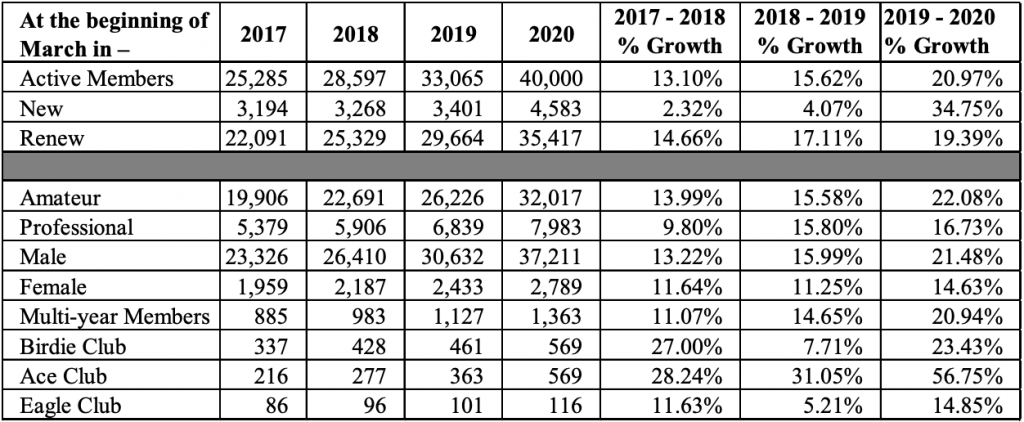 Up across the board. Huge growth.
If you have 20% annual growth for the next five years, at the start of March in 2025, you have almost 100,000 PDGA members. And if anything, we're seeing not only growth but accerlerating growth. It doesn't seem like coronavirus has done anything to slow that down.