Originally published at: https://discgolf.ultiworld.com/2020/07/17/mailbag-most-interesting-shot-in-disc-golf-lack-of-social-distancing/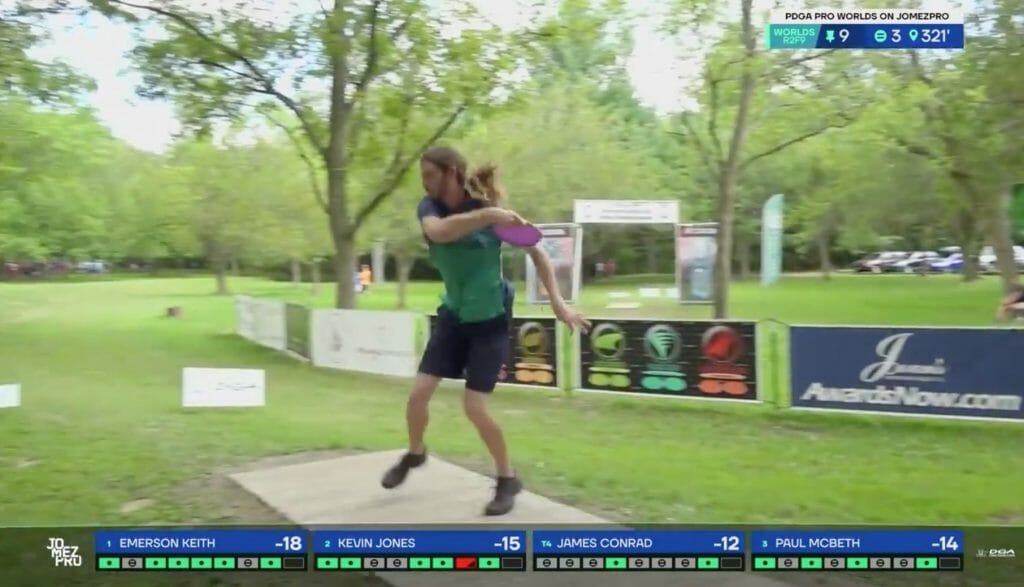 James Conrad
Welcome to Ultiworld Disc Golf's mailbag! You don't necessarily see my byline around here too much — I am more often behind the scenes as the publisher, but I'm still here as a co-host of the Upshot podcast with Jamie Thomas and I generally report from Worlds and USDGC every year.
Now, you'll see my thoughts in print every week in the mailbag.
Generally, the mailbag will be for subscribers only, which helps keep me committed to writing it every week. It will reward subscribers with a weekly column they can count on. And it will allow us to offer a free one-month Mini subscription for the best question, email, or comment we get and publish in the Mailbag. If you're already a subscriber, you get a free extra month (or a discount). If you're not, you can come in and check out the benefits.
You can email me anytime at mailbag@ultiworld.com with questions, comments, ideas — whatever you've got.
Question of the Week: What's the most interesting shot in disc golf?
– Annie C.
A: What a simple yet provocative question. Of course, the most interesting shot is in the eye of the beholder, but let's try to break this down.
I'd say we can categorize shots into a few categories: power drives, technical drives, scrambles, approaches, and putts. That seems about right, yea? The drives can include shots from the fairway as well as off the tee, and I split them into two parts because they're generally pretty different: needing a 350 foot shot in the woods is different than needing max distance in an open field.
To me, the most compelling shots are the ones that require both power and precision, especially ones that call for a very particular shot shaping that you really can only achieve with a disc. Dead straight narrow tunnel shot? A test of skill, to be sure, but not especially interesting.
No, for me, I want to see a 400′ flex shot through the trees with little room for error. Or a crazy anny forehand blind scramble shot that sets someone up for a shock chance at a birdie.
Even seemingly simple shots can be incredibly interesting: how about James Conrad's spectacular anhyzer backhand (blind) in the second round of Worlds last year?
That trajectory — and his control of a backhand turnover (duh) on a hole that almost everyone plays forehand — is captivating: the shapes you can carve in the air are the most special part of disc golf.
While I can appreciate a monstrous Simon Lizotte drive, I'd rather watch him have to hit a tight gap and flex the disc down a fairway. I'd rather watch a pitcher with a nasty slider than a guy just pumping 98 mile per hour fastballs.
There's a reason people generally find woodsy courses more interesting than ones built around golf courses: it's simply more interesting disc golf.
Q: I've been seeing a lot of pros not really seeming to care much about social distancing. They're hugging each other after tournaments, posing for photos with people, and rarely if ever wearing masks. Isn't this a problem? Should the Disc Golf Pro Tour be doing more about it?
– John P.
A: It's hard not to notice this given that so many of us are still living very constrained lives and putting on a mask when we leave the house.
From my perspective, it looks like the DGPT is being thoughtful about their approach to the issue and putting into place commonsense protocols to mitigate risk. You'll often see volunteers wearing masks, and there are rules about where media can be and how many players can be inside the circle at a time, for instance.
It's also worth recognizing the much lower risk of COVID transmission outdoors and acknowledging that James Conrad hugging Nikko after his Preserve win is probably less risky than the two of them eating dinner together inside a restaurant.
Players have agency, of course, and if they choose to go out and play at a local tournament and take pictures with fans, that's their choice. Do I think they should wear masks when interacting with people and not actively competing? Yes, I do. It's a tiny sacrifice that helps prevent the spread of the disease.
For their own sake, I think the DGPT should push players to be more mindful about this issue. If a top player gets a serious case of COVID, it seems pretty likely that that's going to disrupt the tour.
Certainly, pro players are generally young and at low risk, but that's not a guarantee that you won't get seriously ill or even die. The casualness with which a lot of players have seemed to treat the situation doesn't align with the risk.