[caption id="attachment_1641" align="aligncenter" width="1024"]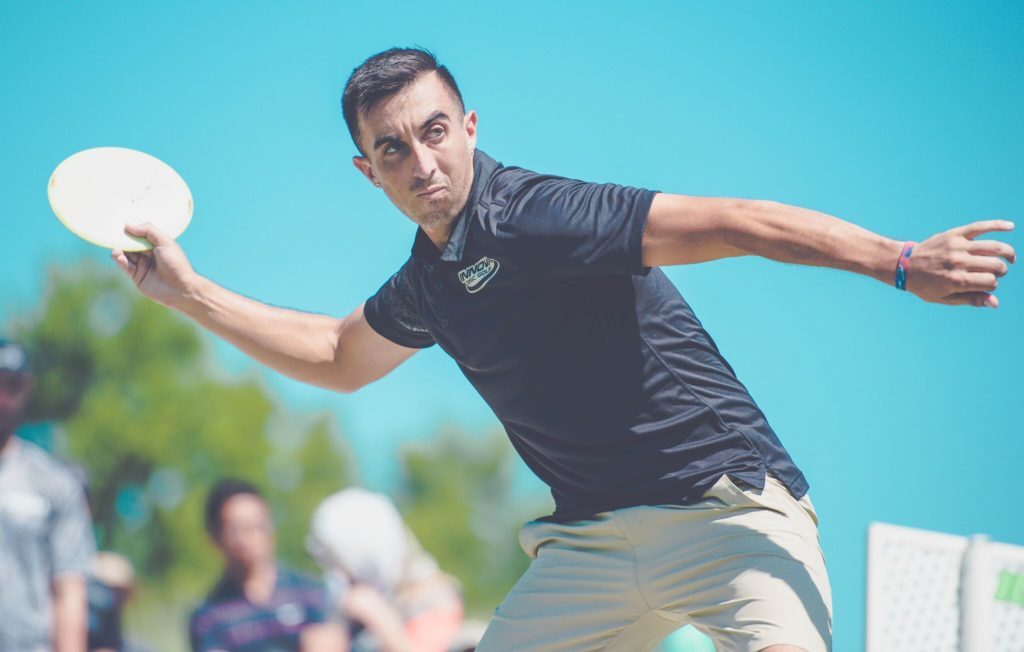 Paul McBeth carded back-to-back eagles en route to a first round lead at the PDGA Professional Disc Golf World Championships in Emporia, Kansas. Photo: Juan Luis Garcia,
Overstable Studios
[/caption]
Defending PDGA World Champion Paul McBeth entered play in Emporia, Kansas, for this week's PDGA Professional Disc Golf World Championships hoping to "quiet the noise," as he put it, about his recent play.
After an incendiary first round that saw the Huntington Beach, California, native card consecutive eagles and play bogey-free golf at Jones East Park, it's safe to say the noise has been quieted.
McBeth's 15-under par 46 was the highlight of Day One at Worlds, but Ricky Wysocki's 14-under par 47 nearly stole the show and vaulted the South Carolina product into second place and onto the lead card heading into the second round, which will also be played at Jones East. Nikko Locastro and Jeremy Koling fired off 12-under par 49s to share a tie for third place and make up the rest of Wednesday's featured group in the Open Men's division, while Devan Owens' 11-under par 50 put him in fifth place.
Catrina Allen, who won the Glass Blown Open on the same Emporia courses in April, threw a 5-under par 52 at Peter Pan Park to open up a two throw lead over defending PDGA Women's World Champion Paige Pierce, who carded a 3-under par 54 on the day. Sarah Hokom, Valarie Jenkins, and Jennifer Allen all tossed 2-under par 55s to tie for third place, with Jenkins and Allen getting the nod for lead card duties Wednesday due to their lower PDGA numbers.
McBeth's hot round clocked in at an unofficially-rated 1082, which is 28 points higher than his tour-best 1054 rating. Wysocki's 1073-rated Round One was 25 points above his own mark.
As impressive as McBeth's play was, he admitted that he left plenty of shots on the course as he struggled with accuracy from the tee on a handful of occasions.
"I had some mistakes out there," McBeth said. "Way too many OBs, honestly. I had three OBs."
McBeth made up for those errant shots early by carding an eagle on Hole 5, a 477-footer that he referred to as a "soft" Par 4. He then pured a drive beneath the low ceiling of Hole 6, another Par 4 measuring 467 feet, leaving himself fewer than 15 feet from the basket for his second easy 2. It was the first time a player has eagled consecutive holes in a PDGA Major or National Tour event since Wysocki accomplished the feat during the second round of the 2015 Ledgestone Open.
Even with the string of bigger birds bringing him to 7-under par through six holes, McBeth said his focus didn't allow him to get overly excited or self-congratulatory.
"…I don't think of it as eagle-eagle," McBeth said. "I just think of it as drive-putt, drive-putt."
He took that same mentality to the rest of his assault on the course, which then saw him card six straight birdies from Holes 8 through 13 before closing out with two more birdies on the last five holes. While the performance signified the strong start he's recently been lacking, McBeth said he still had work to do.
"My ultimate goal is to win," McBeth said. "…I guess people are like, 'He's awake, he's awake,' so…I won't be satisfied until I win."
[caption id="attachment_1645" align="aligncenter" width="1024"]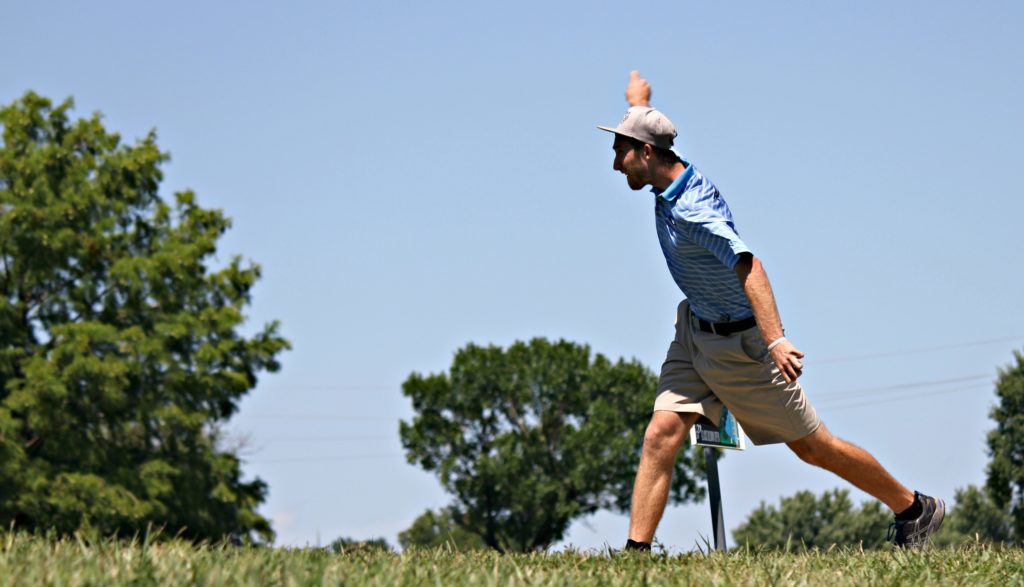 Despite being hobbled by a sprained right ankle, Ricky Wysocki shot a 14-under par first round. Photo: Rebecca Heiam[/caption]
Wysocki, meanwhile, buoyed his performance with a string of eight consecutive birdies from Holes 4 through 11 and closed out his round with another three straight. He did it all while nursing a sprained right ankle he injured in the week leading up to Worlds.
"I'm not too worried about it, I'm not going to let it affect me," Wysocki said of the injury. "I was happy about today, playing on a sprained ankle. It's healing up quickly, so it shouldn't be a problem at all."
Wysocki said he's been "babying" the ankle the past few days, using a combination of ice and Epsom salt baths to hasten his recovery. Throwing his signature sidearm was easier than throwing backhand, he said, as it required less strain on the affected limb.
"I think using it actually made it feel better," Wysocki said. "Using the muscles again [helped], because I hadn't used them for a few days."
With a Wednesday lead card that already pits the world's top-three rated PDGA players against one another - Locastro's 1032 rating is good for third overall - Wysocki said he was feeling confident that his experience would help him navigate the challenging field.
"It's always nice to battle with all these players," Wysocki said. "I feel like I have an advantage because the last four or five years I've been in the lead group at Worlds almost the whole tournament, so I know how to play with the lead or around the lead."
McBeth, meanwhile, was all business, focusing on his own play as opposed to those who would accompany him in putting on a show tomorrow from the lead card.
"I feel like if I play my game it'll be exciting enough," McBeth said. "I feel like that's what excites the crowd, when I'm playing my best, and that's my goal."
Men's lead card action kicks off tomorrow at 2:30 p.m. local time with a second round at Jones East and will be broadcast live via SmashboxxTV. The women's lead card will tackle the Emporia Country Club beginning at 10:40 a.m.

Originally published at: http://discgolf.ultiworld.com/2016/08/09/mcbeth-shreds-jones-east-capture-early-worlds-lead/