Originally published at: https://discgolf.ultiworld.com/2023/03/16/open-at-austin-preview-a-new-course/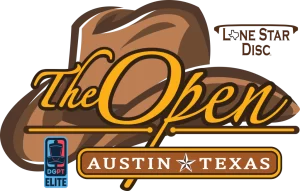 While it's technically not a new event, a new city and course will host the third stop on the Disc Golf Pro Tour Elite Series. The Open Disc Golf Championship was established in 2015, and for the last two years has been run as The Open at Belton on the DGPT Silver Series. This year, the event has been elevated to the Elite Series and moved to America's 11th largest city: Austin, Texas.
A temporary course has been set up for the week at the Harvey Penick golf campus, located just 7 miles from downtown Austin. Of course, the famous South by Southwest festivals are currently taking place in Austin, giving players and fans the chance to catch a concert or comedy show while they're in town.
Past Open at Belton Winners
[table id=249 /]
Three Things We'll Be Watching
Somehow, someway, Kristin Tattar keeps finding ways to win. After shooting a course record in the opening round at WACO, the Estonian made several big mistakes including a pair of triple bogeys in round 2. Despite a four stroke deficit going into the final three holes last weekend, Tattar managed to earn a one stroke victory and claim her first win in the state of Texas after Ella Hansen bogeyed each of the final three holes. Tattar now has seven Elite Series wins on the Disc Golf Pro Tour: her six previous wins are actually three pairs of back-to-back wins. A win in Austin this weekend would continue that impressive streak just two events into her 2023 season.
Wysocki Watch will continue for a third straight week, as Ricky Wysocki was unable to compete in Waco with ongoing wrist inflammation. In his press conference, he noted that the swelling makes it difficult to even grip a disc with enough pressure to throw effectively. The 2022 Player of the Year has once again stated via Instagram that his recovery is going well and he hopes to return to action this week in Austin. Ricky would surely like to get at least one tournament under his belt this year, especially with the Texas State Championships next week, an event he has never lost. Will he compete this weekend?
In his Waco press conference, DGPT CEO Jeff Spring commented on the length of different courses, noting that the Tour likes to see wooded courses in the 8,000-9,500 foot range and more open courses up to around 12,500 feet. The Harvey Penick course being played this weekend is a relatively open course that measures under 9,000 feet in the MPO division and under 8,000 feet for the FPO division. While on the shorter end, the course has tight OB lines, plenty of trees, and a plethora of bunker hazards to create scoring separation. We'll certainly be interested to see how the course scores, the fan reaction to it, and if both players and fans feel the venue should maintain its Elite Series status in future years.
The Course
With 10 OB golf greens and over a dozen bunker hazards, this course has plenty of danger even when players are out in the open. Over half of the course plays alongside or down into the tree lines, including a 17th hole that is tightly wooded. Harvey Penick does not compare easily to an existing Elite Series golf course — the Emporia Country Club, Swenson Park and Glendoveer are all significantly longer, while Wildhorse does not have nearly the number of trees in play here. The FPO layout is also somewhat unique in that it plays to four division-specific baskets and utilizes five separate teepads.
MPO: 8,727 Foot Par 61
FPO: 7,984 Foot Par 62
Extended Forecast
Expect clouds throughout most of the weekend with temperatures in the 50s. Friday could bring some stronger winds that calm down later into the weekend.
Friday: Cloudy early with sunshine later in the day, highs in the upper 50s. Winds 15-25mph with higher gusts possible.
Saturday: Cloudy with highs in the upper 50s. Winds 10-15mph.
Sunday: Cloudy with highs in the lower 50s. Winds 10-15mph.
Ultiworld Disc Golf Subscribers, read on for PrizePicks Lines & Best Bets…
New courses always make this difficult, and this week we only have birdie or better plays to choose from. While the Harvey Penick course is definitely scorable, it looks like wind will at least play somewhat of a factor on Friday, and the OB lines and hazards will take away birdie opportunities on some holes. The unders for Calvin Heimburg (9.5) and Paul McBeth (9.0) seem to be the most favorable, as they would each need 10 or more birdies to thwart this bet. On the FPO side, I like the over for Paige Pierce (5.5) because even if she does not score well, she should accumulate a good number or birdies on this course. For our final pick, the under on Ohn Scoggins (5.0) seems fairly safe when you consider the length of the holes on this course and the amount of danger that surrounds some of the shorter ones.
My Play: Flex play on Heimburg (U9.5), McBeth (U9.0), Pierce (O5.5) and Scoggins (U5.0) [Flex play to pay 5x on 4 right, 1.5x on 3 right]
Last Week: Our Sarah Hokom over and Kyle Klein under both hit. Gannon Buhr pushed his line, which means our 3-pick flex play turned into a 2-pick power play, earning a 3x payout!
Season Record: 1-1 [+1.0U]