Originally published at: https://discgolf.ultiworld.com/livewire/paul-mcbeth-doesnt-buy-into-inflated-player-ratings/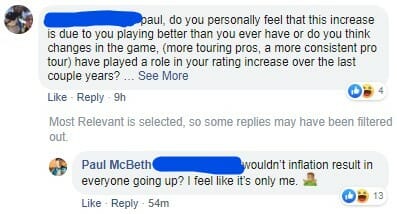 Paul McBeth set another PDGA player ratings record yesterday with the July 2020 update.
A user on Facebook asked McBeth if he believed his ratings increase was a result of inflation due to larger player fields with higher overall ratings across the board. A fair question. McBeth's reply was very on brand.
"Wouldn't inflation result in everyone going up? I feel like it's only me."
We can't really argue with Paul's logic here.