[caption id="attachment_48174" align="aligncenter" width="800"]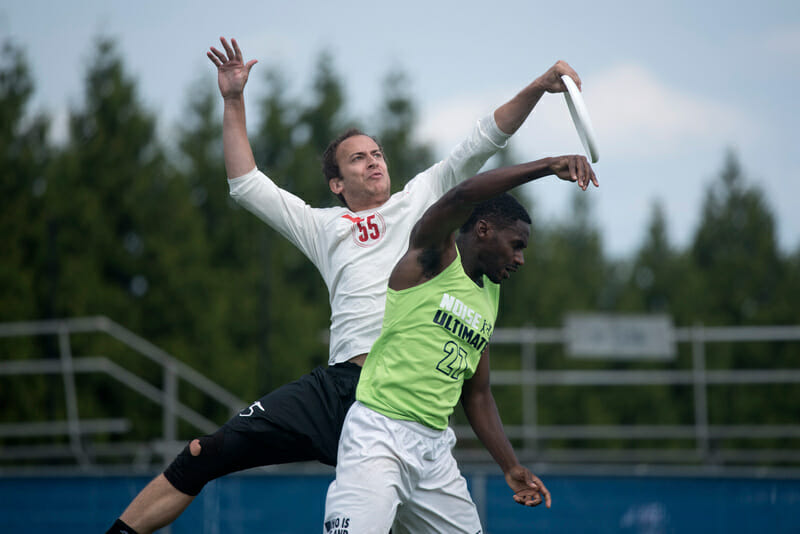 Slow White and NOISE battled at the US Open back in July. Photo: Jolie J Lang –
UltiPhotos.com
[/caption]
Ultiworld's coverage of the 2016 Club Championships is presented by Spin Ultimate; all opinions are those of the authors. Please support the brands that make Ultiworld possible and shop at Spin Ultimate!
Pool A:
Philadelphia AMP 15-9 San Francisco Blackbird
The rough, double game point loss Blackbird (overall #13, seeded A4) suffered at the hands of Metro North seemed to carry over into their second game. Although they were able to hold serve and keep the lead at 5-4, AMP (overall #1, seeded A1) tied the game on O and then turned up the pressure on defense. Blackbird cutters couldn't get breathing room as Philadelphia smothered every throwing lane and denied any easy passes. Their composure after turnovers was too much for the tired Blackbird O line, rattling off 3 straight breaks to take an 8-5 lead.
A halftime respite was not enough for Blackbird, as Philly would not let off the gas. After a trio of holds, Steve Ng found Luke Ryan with a frosty IO flick upwind to extend the lead to 11-7. AMP would tack on another couple breaks before closing the game out 15-9. Philadelphia looked sharp in this game and could be trouble for Metro North next round if they are able to keep playing at full speed.
Connecticut Metro North 11-6 Washington DC Ambiguous Grey
In a game that was never really close, Metro North (overall #8, seeded A2) rode their high from their first round thriller against Blackbird to earn a 4-1 lead against Ambiguous Grey (overall #12, seeded A3) and never looked back.
Metro played some huck and zone on downwind points, and AG was unable to move the disc quick enough to earn throwing lanes against the harsh wind. Seth Canetti caught a Callahan en route to an 11-6 win.
Pool B:
Boston Slow White 14-11 Madison NOISE
Slow White (overall #2, seeded B1) opened up their Nationals run with a solid start. Their D line earned them an upwind break and converted the downwinder to earn an 8-6 halftime lead, scoring out of half to make it 9-6.
They would earn another upwind break to go up 13-9 in a game to 14, but NOISE (overall #11, seeded B3) fought their way up the field for an upwind hold and converted the following downwind break to stay alive. But Boston scored the ensuing downwinder to seal the win 14-11. Ben Katz was a centerpiece for Slow White's offense, distributing and keeping options alive in the volatile conditions.
Dallas Public Enemy 13-12 Pittsburgh Alloy
In the only upset through two rounds in the mixed division, Public Enemy (overall #14, seeded B4) made their Nationals debut a strong one, upsetting Pittsburgh Alloy (overall #7, seeded B2).
After the teams traded to 5-5, Darius Tse found Becca Philip for the upwind break for Public Enemy. A goal from Alex Welcing to Abbey Hewitt converted the downwinder before teams traded, giving Public Enemy an 8-6 halftime lead.
After 8 more trades, with Alloy pulling at 10-12 in a game to 13, Alloy finally got their first upwind break of the game when Anson Reppermund hit Kenny Furdella. Playing stifling dump defense, Jack Hefferon forced several turnovers on the ensuing point before Isaac Smith found him to force double game point. But after several turnovers from both teams, Jarrod Hockett put a slicing forehand to space and Chris Pleshek reeled it in for the Public Enemy goal and upset.
Public Enemy captain Jess Gamwell said it was a team win, but credited their cutter defense, and their women in particular, with shutting down any chance of Alloy earning movement against the wind. Hockett finished with five assists, while Randy Howell added four goals and an assist.
Jed Farber was a machine for Alloy, tallying two goals, four assists, and four blocks. Eliana Bonifacino tallied three goals and a block as well. Expect Alloy to bring the thunder in their game against Madison NOISE next round, lest they face elimination after two rounds.
Pool D:
Seattle Mixtape 15-11 Gainesville G-Unit
For a team that narrowly avoided an upset in round one, Mixtape (overall #4, seeded D1) took their time earning a comfortable lead against G-Unit (overall #16, seeded D4). After teams traded a few points, Dominic Cavalero found Claire Revere for the first upwind break of the game, and Henry Phan hit Lexi Garrity to make it 5-3 Mixtape. But after G-Unit held, Drew Ward converted a Mixtape turnover into an Adam Carr goal to tie it up. G-Unit converted the downwinder and the teams traded to half, 8-7 G-Unit.
But in the second half, the team known for second half magic turned it on. Khalif El Salaam hit Drew Johnson on an upwind break to give Mixtape a 9-8 lead, and El Salaam got a block that led to the downwind break. Two points later, Jess Bolton ripped an upwind flick that Kahyee Fong pulled out of the sky in the red zone, and then Fong snagged a flick from Dominic Cavalero for another break. Seattle cruised from there, winning 15-11.
San Francisco Mischief 15-11 Fort Collins shame.
After digging a 3-0 hole for themselves on drops, Mischief (overall #5, seeded D2) finally remembered how to play at Nationals.
Kevin Smith anchored a 12-3 run with three assists, a run that kept Mischief 2-0 and in command of earning the pre-quarters bye, avoiding any potential of point differential. The San Francisco zone was too much for shame. (overall #9, seeded D3), whose O line was unable to get the disc back very often after turnovers.
At 14-9, shame was able to earn an upwinder when Joel Anton found John Kerns, and converted the downwinder as well, but Mischief closed them out on a score from Gina Schumacher to Preeti Nalavade. Jackie Wang and Adam Brown finished the game with two goals apiece for Mischief.

Originally published at: https://ultiworld.com/2016/09/29/round-2-recap-mixed-2016-club-championships/