[caption id="attachment_48264" align="aligncenter" width="800"]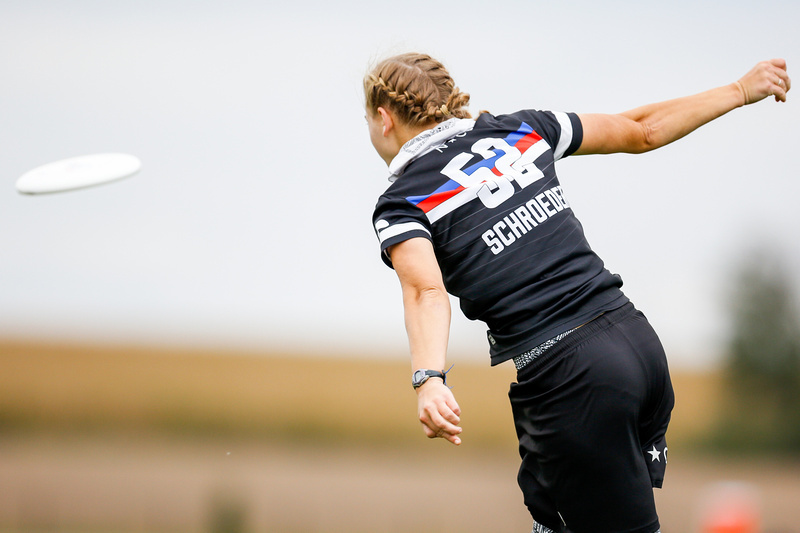 Erynn Schroeder (Phoenix
#52
) pulls during Pool Play at the USA Ultimate Club National Championships. Photo: Paul Rutherford –
UltiPhotos.com
[/caption]
Ultiworld's coverage of the 2016 Club Championships is presented by Spin Ultimate; all opinions are those of the authors. Please support the brands that make Ultiworld possible and shop at Spin Ultimate!
Pool B:
Boston Brute Squad 15-3 San Diego Wildfire
Brute Squad (overall #2, seeded B1) finished a near-perfect Thursday with a dominant win over Wildfire (overall #7, seeded B2). Brute Squad stuck to its game plan of playing to the conditions by relying on its elite defense and employing a volume based offense.
Wildfire may have felt a little demoralized by losing two close games and already being eliminated from bracket contention, but Brute's performance was complete and dominating regardless. Boston's desire to win in emphatic fashion was especially admirable considering they had already locked up the top spot in Pool B.
It was a strong performance from the entire Brute Squad roster, but Kami Groom led the way statistically with three assists and a goal. Alexa Cohen led the way for Wildfire with two goals.
Brute now looks to build on possibly the most impressive day had by any team in the division after their bye into quarters tomorrow, while San Diego will try to rebound from a tough day in consolation play.
Columbus Rival 14-13 Texas Showdown
Rival (overall #14, seeded B4) and Showdown (overall #11, seeded B3) played a terrific final game in Pool B. The teams had both beaten Wildfire and lost to Brute Squad earlier in the day and were thus playing for second in the pool and a theoretically easier matchup in prequarters.
It was evident that both teams were evenly matched from the beginning of the game as both teams traded holds and a break each in the first half.
After Rival took half at 8-7, the teams again traded holds to 11-11. Both teams had break chances, but getting upwind breaks proved difficult, as it did for nearly every team in the division all day long.
For a brief moment, the wind died down, and Showdown took advantage. A rare upwind break so late in the game seemed like it would be a deathblow for Rival's chances. But the young team responded well and broke on their very next opportunity. A Showdown hold set up a thrilling ending on double game point.
From about midfield, Sara Scott launched a flick huck into the end zone that appeared to have a bit too much on it. But Sophia Knowles a monstrous, chest-high bid to make an incredible one-handed grab. The play was easily one of the best plays of the day in one of the biggest moments of the day.
The Scott to Knowles combo was an absolutely lethal one for Rival at the end of the game. The duo combined for the team's final three goals, Scott assisting on all three. Scott also scored the point before the duo's run of scores and tallied five points for the game.
The thrilling win locked up second place in the pool for Rival, an impressive feat for a team in their first year attending Nationals. Their reward for that is getting to play overall six seed Vancouver Traffic in prequarters, but Rival certainly has a lot to be proud of from their first ever day of Nationals play.
Showdown's weekend is not over, as they finish third in the pool. The Texas team will take on North Carolina Phoenix in prequarters.
Pool C:
Denver Molly Brown 15-10 Vancouver Traffic
Molly Brown (overall #3, seeded C1) secured their spot in quarters with a dominant performance over Traffic (overall #6, seeded C2), winning 15-10.
All day the full Molly Brown roster has exhibited comfort in the high winds. Their around breaks are near perfect, and frequently a curving backhand break from Opi Payne or Lauren Baecher caught Traffic on their heels.
Low throws and close person defense earned Molly early breaks and a healthy margin over Traffic, and Molly Brown half 8-4. Traffic's throws were steadier than in their previous game against Phoenix, but the long game showed in their legs during the final round. Ellen Au-Young, Collefas Mot and Naomi Morcilla still churned downfield, but the wind kept the team's pace measured.
Traffic secured a break in the second half, but they weren't able to contain Molly Brown's firepower, and Molly Brown worked their way to victory.
Raleigh Phoenix 15-10 Philadelphia Green Means Go
Phoenix (overall #10, seeded C3) finished out pool play with a 15-10 win over Green Means Go (overall #15, seeded C4).
Phoenix broke three times in the first half. They were no doubt tired from their windy battle with Traffic in the third round, but they would maintain this healthy margin throughout the game.
Jessi Jones took a break from throwing assists to score 3 of Phoenix's goals, and Katelyn Travaglini scored 8 of the team's goals.
The game got sloppy late, but Phoenix closed out the game with two breaks to advance to the prequarterfinals.
Pool D:
San Francisco Fury 14-10 Washington DC Scandal
In the biggest rematch of pool play, Fury (overall #4, seeded D1) defeated Scandal (overall #5, seeded D2) 14-10 and advanced to the quarterfinals.
The wind made a lot of talented teams sloppy today, but that would not be the case for these elite rivals. Scandal opened the game with an audacious huck from Jesse Shofner to Sandy Jorgensen, and Fury answered quickly with their signature patience, space, and skill.
Fury broke twice early with focused handling from Alex Snyder, Anna Nazarov, and Meeri Chang. Scandal pushed hard to move the chain, but Fury stayed in their pockets downfield and tried to contain Jenny Fey's movement around the disc. Sandy Jorgensen was ever present in the endzone, and she would score half of Scandal's goals.
Fury and Scandal traded blows until an 8-6 half with no further breaks but plenty of opportunities for both teams. Claire Desmond and Jenny Fey tested each other for the full length of the field, with Ness Fajardo taking on Jesse Shofner.
Even in the wind, Fury's efficiency was undeniable. Their D-line cranked out another matching set of breaks early in the second half, with Carolyn Finney scoring the upwind point and Lakshmi Narayan securing the downwind goal. Under pressure Fury would just swing and explore the field until they saw an opportunity in the endzone.
Portland Schwa 11-10 Atlanta Ozone
Schwa (overall #16, seeded D4) and Ozone (overall #9, seeded D3) both had tough losses behind them and could have shoulder-shrugged this last game. Instead, their battle for survival turned into one of the biggest battles of the final round, with Schwa breaking seed and knocking Ozone out of the bracket.
Contrary to most of pool play today, the first 6 points were scored upwind.
Schwa and Ozone traded long points, with Sophie Darch and Katherine Wooten behind many of Ozone's long balls.
First-year Clea Poklemba, Julia Sherwood, and Ella Hansen had a lot of touches for Schwa behind the disc, particularly in Ozone's smothering zone.
Jenny Tibbals attacked the air with military determination, and she nearly always won the disc.
Each team broke upwind in the first half, pushing against aggressive defenses and shifting marks. Schwa took half 8-7, and then broke quickly in the second half to pull a 10-7 lead. But Ozone refused to give them the easy march to victory.
The Atlanta team's close zone forced a lot of turns out of Schwa, and Atlanta tied the game at 10-10 before Schwa could punch in a final point to advance.

Originally published at: https://ultiworld.com/2016/09/29/round-4-recap-womens-2016-club-championships/