Originally published at: https://discgolf.ultiworld.com/2023/05/09/ryan-seeking-to-play-in-otb-open-files-for-temporary-restraining-order-against-dgpt-pdga/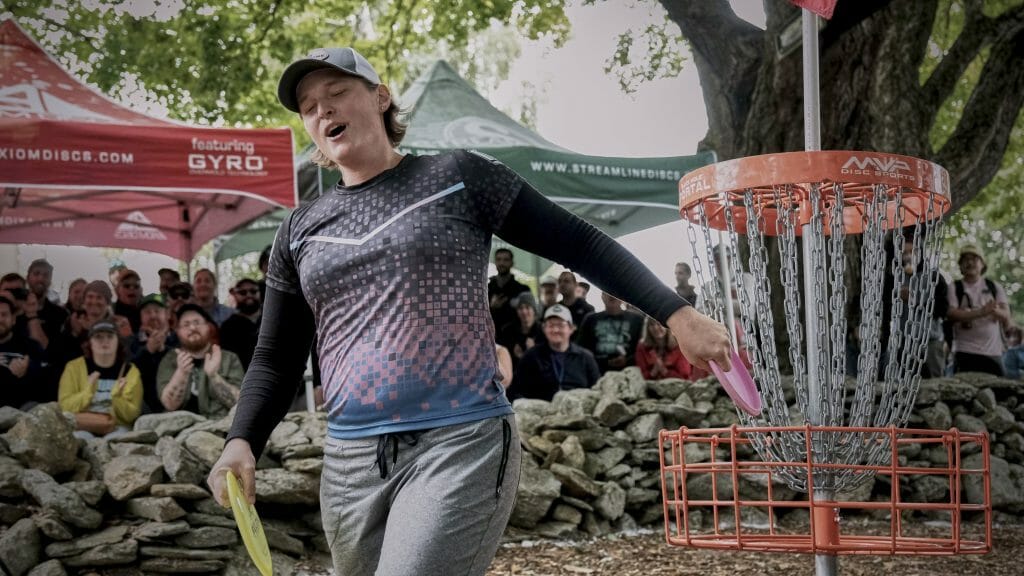 Natalie Ryan after tapping in to win the 2022 MVP Open. Photo: DGPT
Natalie Ryan's lawsuit against the DGPT and PDGA on the basis of her transgender status has again picked up steam ahead of the weekend's OTB Open in Stockton, California. The parties are set for a Wednesday hearing in Sacramento that will determine whether Ryan is eligible to participate at the Pro Tour event.
The case, which stems from PDGA policies enacted late last year, has been relatively quiet. Ryan's lawyers initially filed claims against the DGPT, PDGA, and 1000 Rated Productions (the organizer of the OTB Open) in late February. We were awaiting a formal defense filing sometime in mid-June. But things accelerated last week when Ryan's lawyers filed a motion requesting a temporary restraining order to allow her to play at the OTB Open.
As we covered in our initial analysis piece, Ryan's complaint against the PDGA involves a number of substantive discrimination claims — effectively alleging that she is being discriminated against on the basis of being transgender, and that such discrimination is contrary to California state law.
However, the latest set of filings are more procedural in nature and unlikely to result in a definitive or final legal victory for either side.
At the heart of Ryan's latest filings is a request for the District Court to issue a temporary restraining order that would allow her to play at the OTB Open. Ryan's attorney argues that she will be irreparably harmed if the Tour's discriminatory policies remain in place and she's not allowed to compete at OTB; he's also argued that Ryan previously indicated to DGPT would seek such injunctive relief.
The DGPT asserted a number of arguments opposing Ryan's claim — many of them boil down to asking the court to adhere to a typical litigation schedule, and not accelerate the case by issuing the temporary restraining order. Generally speaking, courts require a high burden from plaintiffs before issuing a temporary restraining order — and DGPT argues Ryan hasn't met that burden. In particular, DGPT suggests that Ryan had plenty of time to file a request for an injunction at any of the five prior Tour events; instead, Ryan waited until the week before the OTB Open and asserted the emergency filing. Another procedural wrinkle that DGPT argued in defense is that the parties had originally set a June 13 date for DGPT's response to Ryan's lawsuit, and that the court should adhere to that original timeline. There are additional procedural defenses asserted by DGPT, including alleged service of process failures by Ryan's legal team and claims that the California court lacks jurisdiction to hear the case.
Given the number of procedural arguments that developed in the past week over the case, and how many relate to the OTB Open, we expect that any ruling tomorrow will focus on those issues and is less likely to represent a final ruling or even be in favor of the ultimate prevailing party. In particular for Ryan, she could lose on some claims related to the restraining order but then later find traction in her substantive discrimination briefs, especially if she is able to keep the case in California or win the argument that California's anti-discrimination laws apply to her. If, however, the DGPT were to suffer a loss at this early stage — when they appear to have credible arguments around possible procedural defects — it would foreshadow a tough road ahead for them. The latest filings from the DGPT also indicate an increased level of legal investment in their defense: They've hired a new law firm with experience in sports law litigation and have also begun asserting the ultimate legality of their eligibility rules based on those purportedly adopted by other sports organizations.
The latest filings from the DGPT also indicate an increased level of legal investment in their defense: They've hired a new law firm with experience in sports law litigation. That law firm began laying out the ultimate legality defense for DGPT's eligibility rules, including arguments that their gender policy is lawful.
Ultiworld Disc Golf Subscribers, read on for more on the PDGA/DGPT filings and what they signal about the arguments they will make in the case moving forward.
We had been waiting and curious to see the PDGA's substantive answer to Ryan's claims (as you may recall, our initial article covered the legal uncertainty on transgender inclusion in professional sports).
Here are some of the arguments that have been laid out:
The gender policy adopted by the Tour last year was not motivated by discriminatory animus, but rather was adopted following a review from a medical subcommittee.
The medical subcommittee relied upon reports and papers finding there are sports performance gaps between males and females; the degree of the performance gap varies depending on the sport (according to these papers), and PDGA cites graphs from these secondary sources.
Other sports organizations (including World Athletics and World Aquatics, which governs water polo) have adopted policies that are, according to the PDGA, similar to PDGA's gender policy.
Because the PDGA's policy is both reasonable and evidence-based, it was not based on gender stereotyping and, accordingly, California's anti-discrimination laws (the Unruh Act) was not violated by the gender policy.
The PDGA argues that the eligibility policy "is founded upon objective criteria that are rooted in well established, peer reviewed, scientific analysis…[and] does not discriminate by setting objective eligibility criteria in competitive professional sport."
PDGA's filings also argue that "[a] sport organization must be free to set eligibility standards based on objective criteria otherwise sport cannot be fair" and "lines must be drawn to protect fair competition." They note that their policy "still permit[s] some individuals born male who now identify as transgender to compete in the FPO division (those who transition before puberty) but not all," and argue "[t]here is nothing wrong with where the line was drawn as it was based on objective criteria and not on discrimination."
The filings also include a statement opposing transgender participation in FPO signed by 33 touring FPO players, including Catrina Allen, Sarah Hokom, Kat Mertsch, and more.
While the PDGA filing indicates those defenses, at this early stage of the proceedings, they are still vague on the connection between PDGA's factual record (i.e., their gender policy, the process and record behind its formation, the purported medical justification, etc.) and the legal standards that should govern non-discrimination in this case. As mentioned in our earlier article, legal rules are still being developed in transgender contexts such as professional and student-athlete sports.
While it is not surprising that DGPT focused most of their time and attention on the procedural issues for this week's hearing, going forward we expect to see them further develop points on how applicable law applies to DGPT. Similarly, expect to see Ryan's legal team continue to cite recent cases (as well as laws and regulations) that have found in favor of transgender athletes, and use those data points to refute the DGPT's assertion that the tour eligibility policies are non-discriminatory.