Originally published at: https://discgolf.ultiworld.com/2019/08/16/salonen-steals-back-lead-allen-dramatic-final-hole/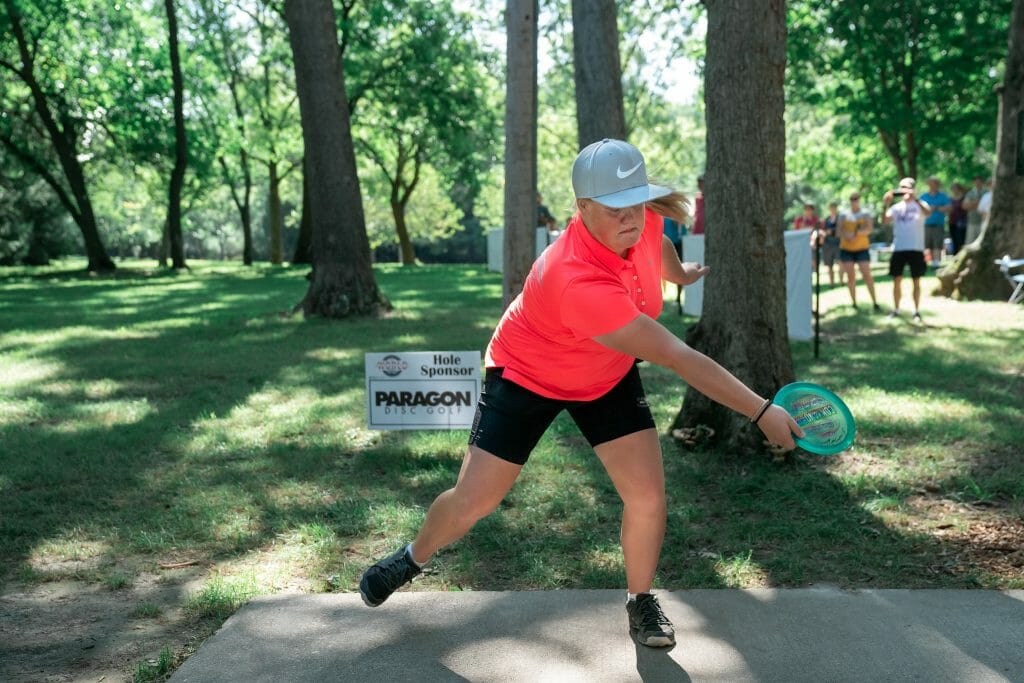 Eveliina Salonen. Photo: Alyssa Van Lanen — PDGA.
PEORIA, Ill. — After mostly uninspiring performances from the FPO division in the first round, the whole field improved on their second time out on Northwood Blue. The average score from the division was more than a full stroke better, but the top of the field, in particular, upped their game.
There was just one change to the makeup of the lead card ahead of round four, but the dramatic battle between Catrina Allen and Eveliina Salonen defined day three. Paige Pierce asserted her position as a shark in the water behind them as well, but a big swing on the final hole of the round was the biggest development of the day.
Drastic Swing on 18
Heading to hole 18, Allen was set to take a multi-stroke lead into the fourth round. With the final two rounds both taking place at the Sunset Hills course that she demolished in round two, any type of lead would have had her sitting in a very favorable position to take home her second world title. But a three stroke swing between her and Salonen flipped the round upside down on the final hole.
Through 17 holes, Allen was -4 and tied for the best round of the day. She was hitting her circle 1x putts at a much higher rate than she had through rounds ones and two and continued to get off the tee well, as she has all week. The biggest contrast with her round one performance, though, was how strong she was playing down the stretch.
On 17, a hole that she double bogeyed on Tuesday, she laced her drive up the hill, and then buried a 60 foot putt to get a second straight birdie. It was the only birdie on 17 that anyone in the FPO division managed in either round at Northwood. But on 18, the wheels inexplicably fell off. She hit an early branch off the tee that nullified her drive. Her second shot put her in a good place to save the par, but her third shot was short and left her about 45 feet out. She missed the bid badly, leaving her a tester to save bogey. Her second putt hit the cage, ballooning her score to a six.
At the same time, Salonen played the hole expertly and simply had to tap out from five feet for birdie. She fully capitalized on Allen's capitulation and changed the entire feel of the round. Through 17 holes, the day's narrative was how Allen's improved performance at Northwood had her perfectly positioned to win the championship. Salonen had put together another nice round, but she hadn't done enough to close the gap on a course where it felt like she needed to.
Instead, Allen fell behind Salonen in a blink of an eye, and Salonen again finished with the hot round. Salonen said she didn't keep track of scores, and she had no idea that she'd retaken the lead until after official scores were tallied. She did, however, know she'd played 18 well. "This round felt harder [than the first round at Northwood.] I felt like I didn't make any birdies," she said. "Only the last hole felt good."
Allen is probably still the favorite to win it all. She was eight strokes better than Salonen in the first Sunset Hills round. But because of the way the two played 18, Salonen once again has a head start as the field switches back to the other course.
Pierce Finding Her Groove
While Allen and Salonen were responsible for the drama on Thursday, Pierce quietly continued her ascent up the leaderboard. Pierce finished one back of Salonen's hot round and moved into third place. Pierce, after an inconsistent first round, is slowly building steam and etching away at the lead.
Pierce said that her improved play has been a result of tournament's atmosphere intensifying since the opening round. "We're all focused a little bit more. I know, for me, round one was difficult to find the motivation and the fire because I had zero spectators and it was on a Tuesday in Peoria, not many people watching. So it just kinda felt like I was playing with some friends and it didn't really feel like the World Championship to me," she said. "It was nice today with the big crowd and I think we were all kinda fueled by that."
Pierce clearly upped her game on day three, but it wasn't a perfect round either. She only found the fairway on 68% of her tee shots, which tied for eighth in the division on the day. A couple of those fairway hits came from some fortunate tree kicks, too. When she missed the fairway, she successfully scrambled only 63% of the time. But where Pierce excelled was circle 1x putting, where she led the field at an 88% clip, and hitting circle one in regulation, where she tied for second in the division at 44%.
Needing to make up strokes to position herself for a charge at the title through the last two rounds, Pierce had to put together a solid day. "Today I was hoping for four to six under," she said. "I thought that would move me closer to the lead I knew I wouldn't take the lead with that score, but I thought would make up a couple strokes."
She was able to do that, without playing her best golf. She had enough moments, though, and avoided enough mistakes to give the impression that a big round is bubbling for Pierce.
"I feel pretty good," she said. "[There's] two more rounds, and I think I'm the best player in the tournament. I know they feel me coming. I wish we had another round today. I'm ready to keep going."
Bloomroos Surge Continues
Quietly, Henna Blomroos has maybe been the best, or at least mthe ost consistent, player in the field through rounds two and three. For the second consecutive round, she posted the second best score and now finds herself in fourth place.
If it weren't for her opening round +4 dragging her score down, she'd be probably be considered a true contender right now. At just 19 years old, Blomroos is making her first ever Worlds appearance, but she said it wasn't nerves that caused her to get off to the rough start.
"I don't know what happened on the first day," she said. "Everything was going so bad. I don't know what happened."
But she didn't let the bad first round ruin her tournament. Over the last two rounds, she's a combined -10, which is the second best score over that span behind Allen's -11. "I just feel so good throwing, and don't think about anything," she said. The stats back up how she felt about her throwing, too. She led the field in finding Circle 1 in regulation in round three, hitting the target 56% of the time. She tied for the lead with Salonen in Circle 2 hits in regulation at 78%.
Blomroos has kept the pressure and nerves at bay and played exceptional golf through the last two rounds. She's positioned herself to have a real run at the lead over the next two rounds. She's already proven that she has the throwing talent to keep up with the other players on the lead card; now she must prove that she has the mettle to cope with the added pressure that comes with playing on the lead card at Worlds.