[caption id="attachment_48491" align="aligncenter" width="800"]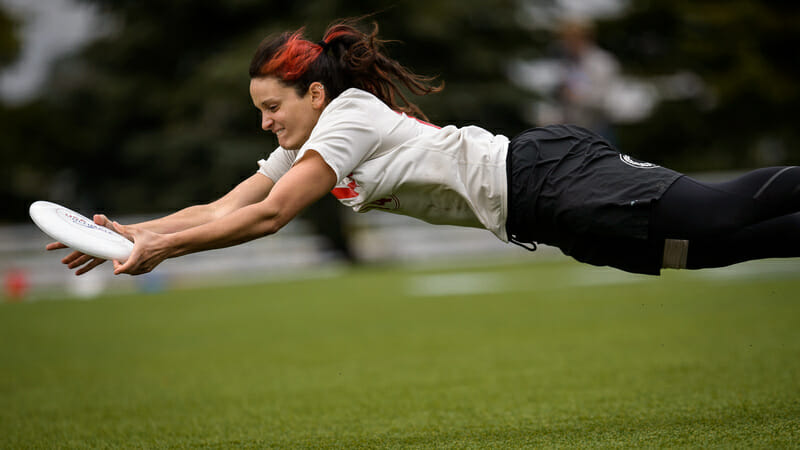 Slow White's Hannah Baranes gets horizontal. Photo: Paul Andris –
UltiPhotos.com
[/caption]
Ultiworld's coverage of the 2016 Club Championships is presented by Spin Ultimate; all opinions are those of the authors. Please support the brands that make Ultiworld possible and shop at Spin Ultimate!
ROCKFORD, Ill. – As with any fairy tale, the heroes must always endure a challenge before getting their storybook ending.
After crushing the competition in their first five games, Slow White was finally tested in the first half of the championship game against Metro North. They capitalized on three Connecticut mistakes to build a 3-0 lead, but let it slip away on turfed throws and unguarded drops, falling behind 8-6 at halftime.
But then came the magic.
Boston put together a second half for the ages, as they quickly tied and later took the lead on two Annie Fisher goals. They would not look back as their-D line broke three times to win 15-11 and bring home that elusive National championship that has been twelve years in the making.
Metro North player Billy Olli said before the game they did not have one specific game plan, and would allow their familiarity with Slow White's players and systems to shape their play. "We have at least a dozen difference defenses and you can expect to see at least six of them today," he said.
They opened the game on offense with a textbook huck and zone defense, as a Chris Mazur huck tailed a little too far and Miles Montgomery-Butler was able to body John Korber out to earn Slow White a chance for a break to start the game. Boston showed patient offense for a couple minutes before Davis Whitehead fired a cross field goal line scoober to Kirsten Lundquist for the lead, 1-0.
Having seen Slow's ability to work through the zone, Metro North came out more patient on the second point, working it on 12 passes all the way to the goal lie. But again it was Mazur with the turnover, putting an end zone look just behind his receiver and allowing Boston's Julie Sussman to get a fingertip on it for the block. Again Slow White worked it up with short passes, this time against a person defense. Slow White captain Hannah Baranes made a fantastic layout catch to save possession then hit Andy Schachter on an up line cut who found Ben Katz for the 2-0 lead.
The third time would not be the charm for Metro North, as Shaun Dougherty laid out for the block on a short pass to Mazur. Montgomery-Butler sliced a 50 yard crossfield bomb to Olivia Hampton for break number three.
Metro North finally held as Mazur found Kendra Frederick in the end zone, although Julie Sussman almost got another layout D on the pass. On the next point Dan Patisteas dropped the disc at midfield allowing Metro-North too fast break and score the goal, Alex Grintsvayg to Ben Ivers.
Slow White held their second O point, as Todd Herman hit Jeff Smith with a crafty backhand. But Boston's Tannor Johnson fell to the ground clutching his ankle during the play and had to be taken off the field.
Metro North work the disc down the field with lots of short, zippy handler cuts and Andrew Bosco threw the assist to Dave Tedayan.
With Johnson getting his ankle looked at on the sideline, Boston's offense dropped a second pass, and Connecticut converted the break on a Eugene Yum lefty backhand up to Lucas Murphy who did an acrobatic barrel roll layout for the catch and score.
Slow White worked it patiently into the red zone but Vinny Fiacco saved a goal with a defensive block. Herman barely missed on a layout bid, but the attempt opened up a throwing lane that lead to the Alex Grintsvayg huck to Lauren Doyle, as Metro North took their first lead of the game, 5-4.
After sitting out two offensive points, Tannor Johnson went back on the field, only to throw two turnovers before Slow White was able to punch in the hold, Smith to Lexi Zalk. Boston had several chances to break on the following point, including a run through catch block by Sussman as she poached a throw to Mazur, but the Metro North O-line stepped up their defensive pressure through the five minute point and earned it back each time. They worked it 70 yards, mostly through Mazur and Seth Canetti, before Tedayan threaded the needle into the end zone for Canetti it's a sliding goal.
Boston offense came back with a hold in three passes, set up by an Alex Trahey huck to Patisteas. Connecticut answered back as Mazur led Taylor Simpson into space, giving Metro North the chance to break for half. Slow White worked it down the field, and Trahey skied a floaty pass through contact, but attempted an ill-advised low backhand that Patisteas couldn't quite get to. Metro North's male handlers then move the disc back-and-forth before Mazur roasted Trahey deep for a John Geraghty huck and the 8-6 halftime lead.
"We've been able to limit Tannor Johnson, and put pressure on their handlers," Canetti said about Metro North's first half performance. "Smitty [Jeff Smith] and Trahey both look tired, I mean Alex was walking on that last one." And he wasn't wrong about that. As most of Snow White played "In & Out Box" to shake off their first half miscues, Trahey, Johnson, and Patisteas sat looking tired on the bench.
"We're not done," Canetti added with a smile.
Smith was optimistic about Boston's second half chances. "It's just drops and throwaways right now," he said. "We just need to go out there and focus. Our D-line is playing ferocious and getting unlucky on some things."
Slow White opened the half with a Herman turnover, but Korber returned the favor and allowed Boston to hold on a Patisteas flip to Smith. Boston's D-line brought intense pressure, forcing a huck that Ben Katz tipped for the turnover. Montgomery-Butler then blasted a full field huck to Whitehead who found Fisher for the layout goal.
Metro-North was able to hold on a Mazur assist and then Smith went full field to Johnson before Steve Sullivan put a pretty backhand to Smith to make it 9-9.
Mazur again showed some struggles not apparent during his tremendous semifinal performance as he put a high huck to Korber that sailed out the back of the end zone. Two injury calls brought O-line stalwarts Smith and Johnson onto the field, who helped work against the Metro North zone. Fisher again got the goal from Johnson for the break and the lead.
At this point, the spell was cast and Boston's curse was all but faded. Tenacious defense forced Connecticut to work 14 passes under pressure before holding. Slow White answered right away as Herman skied his defender on a Trahey huck and Johnson found Smith his fourth goal of the game. Another long Metro North hold was followed by a quick Boston score.
The suffocating Boston pressure finally took its toll on the Connecticut team known to wear down deep in tournaments. A simple in-cut drop by Metro North went out of bounds, and Montgomery-Butler brought it to the sideline and showed the no-fear attitude of a champion, rifling it to the end zone to Whitehead for the break. On the ensuing point, Canetti had a miscommunication with Mazur and threw a turnover that went 20 yards backwards. Chris Waite immediately put a throw in the end zone that Canetti mistimed his jump on, allowing Katz to haul in the standing catch.
Slow White closed the final chapter in this season as Shaun Krieger got a run-through catch block on a first pass, flipped it to Montgomery-Butler who put it across the end zone to Dave Truesdale for the game-winner and the Slow White national championship.
In the post-game spirit circle, Slow captain Hannah Baranes mentioned the high level of respect for Metro North. "We wouldn't want to play against anyone else here," she said. "You guys gave us our toughest game of weekend."
"Let's do this again next year," she added.
Olli was choking up after the game but had nothing but praise for Boston's performance, noting they also wouldn't want to lose to anyone besides their regional rival. The teams did a joint cheer of "Northeast!" as they parted ways. 2016 marks the first year a Northeast team has won the Mixed Division title.
Smith credited the win to Boston's focus on fundamentals in the second half. "In the first half, we were trying to score earlier than was possible," he said. "Our coach, Marshall Goff, had us play In and Out Box during halftime to keep us lose and help us focus on doing what we've been doing."
Smith noted the spectacular play, especially on defense from Ben Katz, Julie Sussman, and Erin Rea, as well as rookie Tannor Johnson who "did it all season for us." Perhaps most notable, though, was Annie Fisher. "She was always in the right place on D and on O, providing great hustle including the layout grab for a break in the second half," he said.
Slow White will enjoy their championship with fellow Boston teams Ironside and Brute Squad, who won gold in the men's and women's divisions, respectively, for the city sweep.

Originally published at: https://ultiworld.com/2016/10/03/slow-white-wins-first-ever-title-13-seasons-program/