[caption id="attachment_49180" align="aligncenter" width="800"]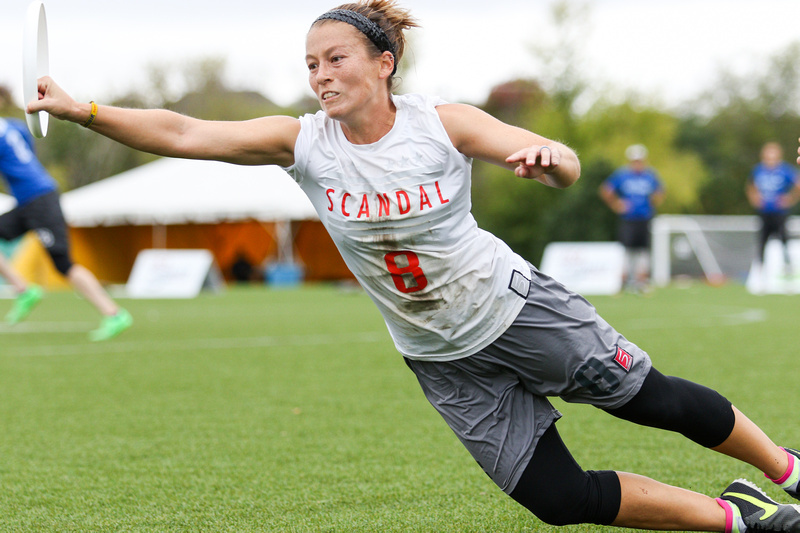 Scandal's Kristin Franke laying out for a goal at the 2016 Club Championships: Photo: Paul Rutherford –
UltiPhotos.com
[/caption]
This article was written by guest author Kristin Franke and is sponsored by Ultimate Athlete Project. Please support that brands that make Ultiworld possible.
I started playing elite ultimate in 2013, and I had no idea how to work out for it. Prior to 2013, I played a lot of pickup and league ultimate, as well as playing in tournaments a few times a year. Since no one was giving me direct advice about how to work out, I did what I knew how to do from my years as a high school cross country runner and swimmer: run three miles a day, do some circuit lifting on machines at a standard fitness center, play a lot of pickup and league ultimate.
I have never had a problem with the discipline of working out, or of getting myself to the gym. I'm also very good at doing exactly what someone else tells me will be good for me, because I don't have very much experience in fitness planning, strength training, or scheduling. During my first few years on my current team, I made sure to do every workout that was sent to our email group. That worked well for the six months of the season, but left me in the lurch as soon as Nationals was over.
After Nationals 2015, I had started thinking about the offseason, knowing that I wanted to put in some time doing strength training, as I had heard through the grapevine that this would be good for me. However, I had no idea how to go about that! I had acquired some very basic knowledge about lifting, but no ways to structure or plan it.
About that time, a review of the Ultimate Athlete Project was published by Skyd. At the bargain rate of $.50 to try it out, I figured I couldn't go wrong. I also had free access to a (limited but acceptable) gym through my work, so $15/month seemed a reasonable price to pay for months of programming.
Here's what I found about the format of the Ultimate Athlete Project:
When you sign up for the program, you have to do a little bit of work to learn how to read the PDF's, and understand the timing. Once you take those 10 minutes to read the introductions and watch the introductory videos, the layout of the PDF's and schedules stays the same throughout, so you're familiar with how to read the program. The introductory videos in particular do a great job explaining how to understand eccentric, concentric, and isometric movements to someone unfamiliar with the terms.
If you're someone who wants to read the end of a book before the beginning, the UAP won't let you do that. Upon signup, you have access only to the prep phase and then only to Off-season 1. After 3-4 weeks, you can see Off-season 2. So no cheating the program and skipping ahead! There's a small sense of anticipation about wondering what will be next, which gives some satisfaction when that new phase is open.
The videos, written cues, and guidelines were helpful for learning new exercises. I may have never heard of a pullover prior to UAP, but seeing it done, and reading the cues, I could go to the gym and do it myself.
I've just seen the new mobile interface in the last few weeks, and it looks really helpful!
For someone who has very little experience in strength training, or in fitness planning, here's what I found about the UAP workouts and how they affected me: ((Keep in mind this is all anecdotal, and not scientifically proven!))
Walking into the gym with a plan gave me a sense of purpose that helped me overcome the, "I'm a small woman in the midst of (mostly male) serious lifters" feeling. It helped that my work gym was relatively small, and I got to know many of the regulars there, but having a plan made me feel like I belonged and wasn't an imposter.
Workouts fit perfectly during my hour-long lunch break. Just enough time to workout and quick shower before heading back to my desk!
In the dead of winter, a friend told me that I was looking really fast at indoor league. That was mind-boggling to me, because I hadn't been running at all, only doing the strength training and some amount of agility work as space permitted.
The Pre-season conditioning workouts were awesome, helping translate the strength gains into more ultimate specific training.
When this season's tryouts came, I realized I was moving more quickly and jumping higher than in previous years. That feeling remained through a long season, including a week at Worlds where I didn't experience any soreness and very little fatigue.
The in-season workouts helped maintain the gains I made in the off-season, without overtaxing myself to the point of burnout.
When I had a question, the UAP Facebook group was very quick to respond and help out, and Melissa herself was very approachable and accessible.
And lastly, a few observations to be prepared for:
I can never find the UAP login page without the bookmark on my browser. If I find myself in the gym needing to look something up, I have to search through my email to find the new login page. I'm pretty certain this could be an easy fix, but right now it's not an intuitive website URL.
I found it easy to adapt for equipment I didn't have (bosu ball, stability ball, etc), but you do need a squat rack, decent set of dumbbells and barbells, and preferably a cable column to make this work.
For workouts that called for a quick move from a lift to a plyometric exercise (e.g., 10 seconds between a set of back squats and a set of broad jumps), you may struggle to find the space in your gym. The same can be true of the circuit nature of some lifting workouts, alternating between two pieces of equipment, in a gym where space is at a premium. Be prepared to adapt as needed!
It took a mental shift to adapt to the conditioning workouts of the UAP. My previous experience of ultimate track workouts or shuttle workouts is to be so gassed at the end that I can barely move, let alone sprint that last rep. The UAP conditioning workouts seem to emphasize maintaining form during shorter, high-intensity bursts, particularly during the season.
I don't have any comparisons against the other ultimate-specific training programs out there, but the UAP worked for me, given my training background and ultimate goals. I'm planning to start my second year of UAP off-season training soon. I've got a pile of past workout sheets to compare some progress against, so we'll see how year two feels!
---
The Ultimate Athlete Project is open to new members now through November 10th. This opening period is the last – we repeat, last – opportunity to secure a $15/month rate for the full life of your membership in the project.
The UAP is growing, and so are our plans to deliver the awesomeness. We'll be scooching up our prices in January to better serve our rapidly growing, worldwide community.

Originally published at: https://ultiworld.com/2016/11/08/benefits-offseason-training-ultimate-athlete-project/