Originally published at: https://discgolf.ultiworld.com/2020/07/09/tournament-talk-missy-gannons-arrival-preserve-course-reax/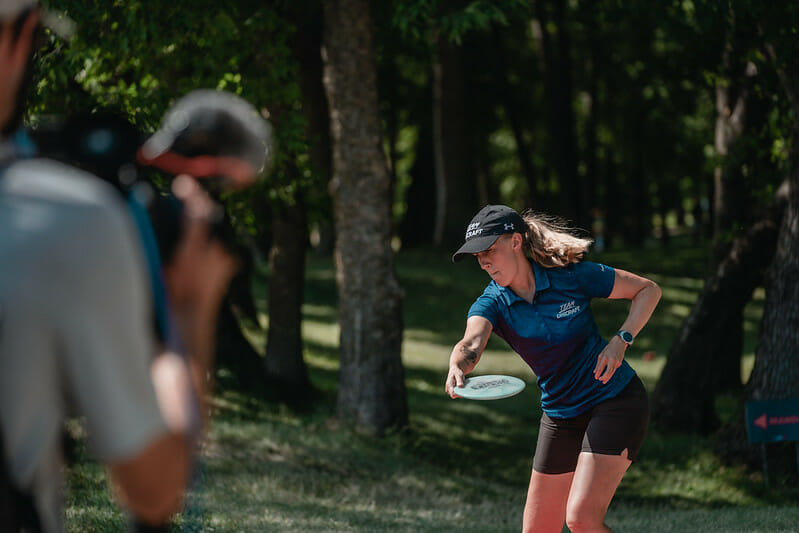 Missy Gannon at the 2020 Preserve Championship. Photo: Alyssa Van Lanen – DGPT
The lead-up to the inaugural Preserve Championship at Airborn Disc Golf Preserve was all about "making history."
To its credit, we did get a very good tournament. One for the ages? Time will tell. But we at least got some important footnotes.
The Rise of Missy Gannon
Over the past two weeks, we have witnessed the ascendance of a new challenger in the Open Women's division. Missy Gannon's back-to-back podium finishes at the Dynamic Discs Open and Preserve Champion have injected new life into the conversation surrounding the American FPO field.
So much of the conversation over the past several years has been focused on the triumvirate of Paige Pierce, Catrina Allen, and Sarah Hokom, and rightly so. The only other active player in FPO with a world title in this decade is Paige Shue. Players like Rebecca Cox and Jessica Weese have had strong performances and big wins, but they haven't been able to consistently challenge for the podium on a week-in, week-out basis. It's true that at least one member of the European contingency of Henna Blomroos, Kristin Tattar, and Eveliina Salonen has made the podium in almost every Elite series event they have shown up for, but they haven't been mainstays on tour (with obvious limiting factors in the way this year).
Still, Missy Gannon looks like she might be on track to be a player who can show up and challenge for the podium every time she plays.
What makes Gannon different? Why has she been able to put up the sort of performances these past two weeks?
To borrow a phrase from Jamie Thomas, Gannon passes the eye test. She plays with confidence, especially on the green. She plays like an athlete in the broader sense of the term, like she is used to competition, and knows how to move past the breaks, both good and bad.
She's been putting up the statistical marks to match — no surprise given her top three finishes. Gannon is in the top 10 for every statistical category tracked by UDisc Live in the current, shortened season: most notably, she is third in fairway hits at 72% and fourth in Circle 1X putting at 75%. She's also only thrown OB off the tee on 11 of her 237 throws. We begin to get a clear picture of a simple and effective game plan: be accurate, hit putts.
Her play isn't flashy, she's not parking many of her drives (5%), or massively outdriving her competition (she only reaches Circle 2 in regulation 55% of the time), but she doesn't really need to do those things because she isn't bleeding unnecessary strokes to OB or being forced to scramble.
Let's do a quick comparison to Catrina Allen. Allen is also accurate off the tee, finding the fairway 72% of the time. Allen is a crusher, reaching C1 in regulation at 40%, and C2 at 63%. Those indicators would suggest that Allen should be crushing Gannon, but Allen has a tendency to lose ground on the green. Every green is an opportunity for Gannon to pick up strokes on her competition with her world champion putting stroke.
By the stats, the player Gannon is most readily compared to is Sarah Hokom in 2018, and Hokom only missed the podium twice at elite events that year. If Gannon is able to maintain her stroke on the putting green and keep the disc on the fairway, she'll be well positioned to be one of the brightest stars of 2020. Luckily for Gannon, the rest of the season will take place on largely open courses reminiscent of Emporia and Clearwater.
We'll see how she handles the woods at Idlewild, Maple Hill, and Brewster Ridge.
Looks Go a Long Way
There was plenty of conversation about the Airborn Preserve course being "too easy," and while discussing "par" is always up for debate, let's also consider how beautiful the course looked. If those scores were showing up at, say, Lake Eureka, it'd be hard for me to get excited about watching that event, but the Preserve serves up eye-candy a plenty, and I'll look forward to seeing it again next year if it makes the Tour cut.
In that regard, the Preserve is quite similar to the Beaver State Fling. The Open field was around 5-under par per round at the Preserve. In 2019, the Open field averaged about 3-under par every round at Milo McIver, but you don't see a lot of people complaining about making the trek to BSF every season because it's "too easy."
It doesn't sound like we'll hear those complaints about Clearwater either.
Nikko Keeps it Together
Pretty wild that Nikko hadn't won an "Elite" event since 2011, and frankly his win at the Preserve was refreshing. As the sport becomes more mainstream in how the stars present themselves, watching someone so unrestrained take down the W on their own terms was worth the wait.