Originally published at: https://discgolf.ultiworld.com/2021/08/13/ultiworld-disc-golf-fpo-power-rankings-us-edition-august-13-2021/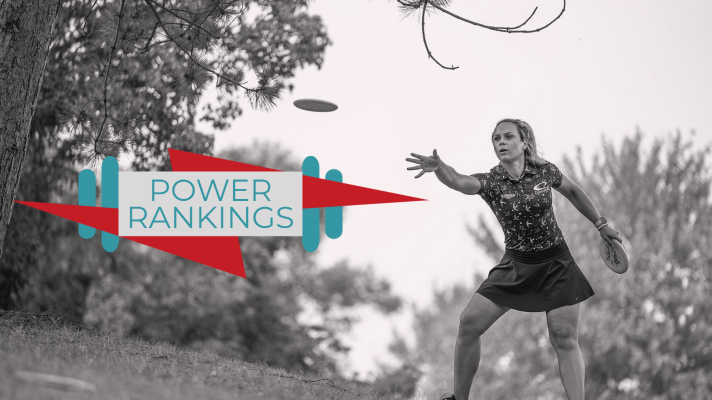 The power rankings did not wait for reigning world champions to get some time in the top spot before the Tour ramped back up and pushed down the importance of that big piece of hardware.
Catrina Allen would never exchange a 2021 Pro Worlds title for first in our rankings, but either way the voters had to acknowledge that others had surpassed her in the month and change since Utah. The last couple of weeks have been a grind on tour with new courses and extreme heat and weather patterns causing a ruckus. That's not even including Kristin Tattar's cameo in the States to keep the American players honest and remind them there's another contingent of players we haven't seen regularly in 18 months that would also like to be fighting for Elite Series championships as well.
Paige Pierce is looking to break her own DGPT regular season points record she set in 2017, and who's going to challenge her the rest of the way as the courses gets tighter and a bit more technical?
They're ready to play. We've got 'em ranked. Who else is in our top 25? Here's how they stack up heading into the Idlewild Open.
Note: while COVID travel restrictions remain in place, this list considers players based in America. We will break out an international top 10 once the season gets underway across the pond.
Methodology: We combine an algorithmic objective ranking with subjective ballots submitted by UWDG staff. The algorithm uses a standardized scoring model to compare elite events, awards competition and cash bonuses, and features a decay function that gradually phases out past results. For the second regular season ranking, staff considered the following criteria: 1. results from the 2021 Elite and Silver Series events, 2. UDisc and PDGA statistical measures, 3. the previous UWDG Power Rankings, and 4. their super subjective vibes, gut feelings, and premonitions heading into Idlewild.
FPO Power Rankings
Full breakdowns for each player continue below.
1. Kristin Tattar – On her mini stateside tour, Tattar proved she's in the conversation for top women's player in the world by winning four of the six events she entered, including back-to-back Elite Series wins at The Preserve Championship and Great Lakes Open. Now she's back to playing on her home continent and must face Eveliina Salonen and Henna Blomroos at the European Disc Golf Championship. However this weekend shakes out at EDGC, Tattar made a strong statement in 2021.
2. Paige Pierce – Ledgestone was her first win since the Worlds warm-up at the Utah Open, but Pierce has been just as consistent as ever by finishing second three times and adding another podium finish in Des Moines. Pierce has dominated Idlewild in the past and will try to forget last season's disappointing placement in Kentucky.
3. Catrina Allen – She'll continue to be the reigning world champion for another dozen months, give or take, except that's not what we're judging in the power ranx. Since Utah there's only been a single podium and a finish as low as seventh. Sometimes it's hard to turn things around in the moments and compose yourself, so Idlewild may not be the week she gets off the schneid.
4. Missy Gannon – Gannon is now an Elite Series winner after a DMC victory and an added second place finish at Ledgestone should be doing a lot for the New Yorkers confidence heading into the east coast swing.
5. Hailey King – King is back to her mercurial ways. Besides a short break from competition, her last four events including Pro Worlds have all been top five efforts, she just hasn't had a complete tournament in a while. She'll throw a hot round here and there but the consistency is fleeting.
6. Sarah Hokom – An injury sidelined Hokom leading into Pro Worlds and a reworked lightweight bag has been doing the trick for the forehand dominant player since she's returned to the course. Ledgestone was her first podium since April's Jonesboro Open.
7. Heather Young – Another player who hasn't been with the Tour all year, when Young is in the field, however, she's probably leading the division in putting. Her Circle 1X percentage is trailing only Ohn Scoggins for best in FPO for 2021 at 84%, and her ability to pick up strokes on the green compared to the field makes up for her relative lack in distance off the tee.
8. Maria Oliva – The Texan has come out hot with big C2 makes and long drives at the events she's been able to make this season. Top five at Ledgestone was a career-best Elite Series finish for Oliva and she's purchased a tour vehicle, so expect to see her making more lead cards in the future.
9. Juliana Korver – It's been a pleasure to watch Korver's return to play and Tour. While she doesn't always have the power to keep up with the top throwers, a move to the shorter more technical tracks should also mean more top 10 finishes for the world champ.
10. Lisa Fajkus – After a solid podium finish in Utah at Pro Worlds, Fajkus hasn't been on the main circuit consistently but has captured an A-tier win all the same. She'll be back in the mix starting this weekend at Idlewild.
11. Deann Carey – Since winning the Resistance Discs Open, Carey has been playing quality golf, even if she isn't always on the round coverage after the event. She has four top 10 finishes at Elite Series events so far in 2021.
12. Jessica Weese – Another hot-and-cold player, Weese squeezed in a fourth place finish at the Preserve in between a 14th and 15th finish at the Great Lakes Open and Ledgestone.
13. Kona Panis – Maybe it's the year starting to weigh down on her, but Panis has gone from consistent top 10 finishes earlier in the season to those outside the top 10. It's all mental for Panis as we know she's got the arm to keep up with the best.
14. Ella Hansen – Hansen was improving before our very eyes on the west coast swing. A brief hiatus after Worlds may have gotten her off her rhythm.
15. Ohn Scoggins – The new Pro Masters World Champion has found her stride since a sixth place finish at Pro Worlds, and will be bringing the energy back to the Tour starting at Idlewild.
16. Valerie Mandujano – Mandujano is still settling into Tour life and a final day rally to get into the top five at Ledgestone could be a boost for her to get into the next rankings top 10.
17. Alexis Mandujano – Like her sister, Alexis has the top 10 talent but doesn't always put it together for an entire tournament.
18. Cynthia Ricciotti – Ricciotti was a breakout candidate for 2021 in her first full season on tour but the results haven't come in yet. Ledgestone was her first top 10 at an Elite Series event this season.
19. Holly Finley – Expect Finley to move up this list as we move to more technical courses on the east coast.
20. Sai Ananda – Ananda does her work out on the west coast and we most likely won't see her on Tour again until 2022.
21. Kat Mertsch – Similar to Ricciotti, maybe we were too quick to think Mertsch would make the jump in her first full season on the road. Three straight top 10s between Clash of the Canyons and the Great Lakes Open had us hoping it was on the right track.
22. Madison Walker – If only an EDGE Skillshot title from Pro Worlds counted to the power ranx. Walker hasn't made a top 10 at an Elite Series event since Portland.
23. Alex Benson – Benson cleans up in her home state of Vermont, and has performed well when she's made it to Elite Series events. She was eighth at the Great Lakes Open, and is going to be on Tour for the next couple of events.
24. Ragna Bygde Lewis – It's the time of year where we get to remember Lewis' abilities when she plays her local Elite Series event in Michigan. She finished ninth at DGLO.
25. Callie McMorran – McMorran has her own tour going on, running flex start events all around the country and not always hitting Tour stops. She performed well, all things considered, at DGLO and Ledgestone though.