Originally published at: https://discgolf.ultiworld.com/2021/09/10/ultiworld-disc-golf-fpo-power-rankings-us-edition-september-10-2021/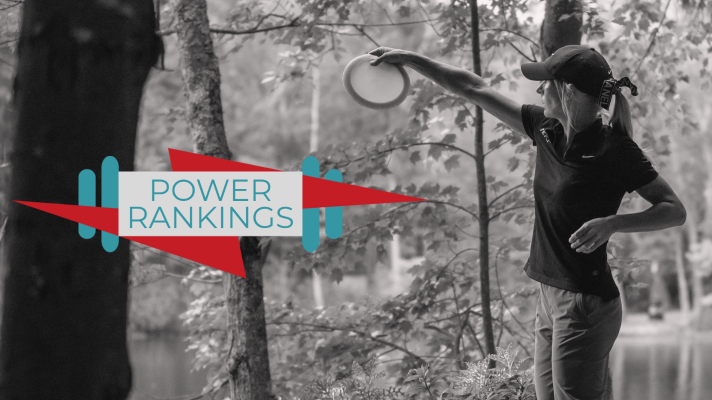 The final march toward the end of the 2021 season is upon us, and the battle at the top of the FPO Power Rankings is intense. Surprising nobody, it's Catrina Allen and Paige Pierce, neck and neck. Pierce took back-to-back victories at the Ledgestone Insurance Open and Idlewild Open, then Allen turned in a double dub of her own, taking down the Delaware Disc Golf Challenge and the MVP Open. While Allen comes out on top of this edition of the Ultiworld Disc Golf Power Rankings, Pierce probably holds a slight edge in the season-long rankings. Pierce has six Elite Series wins and a Major in 2021. Allen has four Elite Series wins and the crown jewel Major. Pierce's average finish at DGPTs, NTs, and Majors is 2.56; Allen's average is 3.06. The race for POY is too close to call.
While Allen and Pierce are assuredly locks at #1 and #2, the year-end 3-spot is definitely up for grabs, and the cadre rounding out our top 5—Missy Gannon, Sarah Hokom, Hailey King—hope to grab some late-season hardware. King took down the Texas State Championship and Dynamic Discs Open, Gannon claimed victory at the Des Moines Challenge and Stafford Open, and Hokom rolled at the Vintage Open. Who's your pick?
They're ready to play. We've got 'em ranked. Read on to see who else made our top 25 heading into the Green Mountain Championship.
Methodology: We combine an algorithmic objective ranking with subjective ballots submitted by UWDG staff. The algorithm uses a standardized scoring model to compare elite events, awards competition and cash bonuses, and features a decay function that gradually phases out past results. For the ranking, staff considered the following criteria: 1. results from the 2021 Elite and Silver Series events, 2. UDisc and PDGA statistical measures, 3. the previous UWDG Power Rankings, and 4. their super subjective vibes, gut feelings, and premonitions.
FPO Power Rankings
Full breakdowns for each player continue below.
1. Catrina Allen looked like a world-beater during the final round of the Delaware Disc Golf Challenge. Her course record 11-under-par 59 earned an unofficial 1030 rating. Amazingly, it fell twelve points shy of her 1042-rated, 12-under-par 54 second round at the Jonesboro Open. Chalk it up to recency bias if you like, but I rate her performance at Iron Hill higher: such immaculate precision tee to green and a killer day (to cap a killer tournament) on the green. She backed up that W with a seven-stroke victory and a jump in the pond at the MVP Open, where she averaged 993-rated golf for the weekend, 8 points higher than her three-day average at the DDGC.
2. Paige Pierce took a well-earned break after back-to-back wins at the Ledgestone Insurance Open and Idlewild Open, but despite the additional rest and reps at Maple Hill, she looked out of sorts at the MVP Open. Relatively speaking, of course, because even though Pierce was off her game, she still led the field in Fairway Hits, C2 in regulation, and Birdie Percentage. It's been a question which Pierce we're going to get week-in and week-out this season, sometimes even round-to-round. For better or for worse, I still view her uneven performance at the Las Vegas Challenge as a harbinger for the season writ large. There she averaged 993-rated golf over 4 rounds with both 1031- and 948-rated rounds.
3. Missy Gannon is on a heater. Before the World Championship, she only made the podium once in twelve attempts when she finished third at The Open at Belton, a DGPT Silver Series event. Since Worlds, she has three top-2 finishes at Elite Series events, including her first DGPT win at the Des Moines Challenge. Gannon also picked up the dub at the Stafford Open on the Silver Series. Only once in her last seven tournaments has she missed the top 10, and her average finish over the past month dating back to the Ledgestone Insurance Open is 2.5th place.
4. Sarah Hokom is rounding into peak late-season form. She hasn't missed the top 7 since Worlds and has three podium finishes at Elite Series events over the past month. To start the second half of the season, Hokom turned in good performances on a trio of longer, more open courses with back-to-back-to-back sixth-place finishes at the Des Moines Challenge, Great Lakes Open, and The Preserve Championship. But she truly thrives in the woods, and her recent results bear testament to her technical proficiency. Don't let her seventh-place finish at the MVP Open fool you because Hokom only missed the top 5 by one stroke.
5. Hailey King has oodles of talent—as evidenced by her early-season, Elite Series wins—but she still strikes me as a bit of a loose cannon. For example, King led the field in C1 in regulation (37%), tied Allen and Pierce for first in birdie percentage (26%), and carded the only hole-in-one in the women's field at the MVP Open. But she also recorded six double bogeys and nine out-of-bounds strokes. If you trade the double bogeys for single bogeys and give her the field average seven OB strokes, King finishes in solo second-place, three strokes behind Allen. Consistency is king.
6. Kona Star Panis is back in our top 10 after two, stellar weekends in the woods. She finished in sixth-place at the DDGC and second at the MVPO. A down stretch beginning with Worlds culminated in a crisis of faith on the putting green, which led her to revamp her swing mid-season. If she can figure things out inside of 10 meters, she'll start battling for wins on the regular. I remain bullish on Panis.
7. Heather Young is starting to hit her stride after a bumpy first half of the season and hasn't missed the top 10 since Worlds. However, in those five tournaments, she hasn't truly contended for a win either. Beginning with the Great Lakes Open, Young's best scoring finish relative to the winning total was a ten-stroke deficit to Pierce at Idlewild. She remains the best overall putter and scrambler on tour, but ranks outside the top 30 in the driving categories.
8. Ohn Scoggins has only played two Elite Series tournaments in the second half of the season: she finished in fifth-place at Idlewild and tenth at the MVPO. Of course, she also took the first week of August off to crush the field by 23 strokes at the Masters World Championships. Related note: $2K for the winner is a weak-sauce payout for a Major Championship. I hope Scoggins got an extra-fat bonus from Innova to make up for her paltry winnings in Johnson City.
9. Ellen Widboom-shakalaka outta nowhere into the top 10! After a four-month hiatus from our top 25, she's like a Phoenix reborn! But also, her post-Worlds results are considerably improved from the first half of the season, when she struggled to crack the top 20 at Elite Series tournaments. Her last three outings represent her best finishes all year: 11th at Idlewild, 4th at the DDGC, and 11th at the MVPO. Her previous best finish at a DGPT or NT tournament was 15th at the Masters Cup. Like Hokom, Widboom thrives on courses that minimize the need for tee-to-green distance and reward steady putting and par-saves.
10. Rebecca Cox currently ranks ninth in DGPT tour points, tenth here, 12th in the National Tour points, and 20th in the UDisc World Rankings. The latter seems low (granted, UDisc tries to factor in the Europeans). Since taking eighth-place at The Preserve Championship, Cox hasn't finished worse than 13th and has two top 10s. One of my favorite players to root for, I'm hesitant to rank her much higher until she figures things out on the putting green.
11. Ella Hansen didn't play well at the Ledgestone Insurance Open, where she finished 27th. Her worst result this year. She finished twenty spots better at the MVP Open. Pendulum swings: that's the mark of a true rookie—new to the game, new to tour—in my opinion. Curiously, she's struggled at DGPT tournaments featuring two or more courses (LVC & Ledgestone) but not at the Majors. What type of performance will she turn in this weekend in Vermont?
12. Maria Oliva is ranked too low, in my opinion. Her worst finish since Worlds was 12th at the MVP Open. Sure, she's only played three Elite Series tournaments since June (roughly one per month), but she notched top 10s at the other two. While she only ranks in the top 10 in one UDisc statistical category, it's an important one: birdie percentage. Cashing in on 22% of holes secures the 8-spot. Oliva has a bright future.
13. Holly Finley picked up her second podium finish of the year at an Elite Series event in Delaware, where she finished in third place. She's averaging a 14th-place finish across seven Elite Series events since Worlds, and barring a catastrophic meltdown at the GMC, she'll hold onto the 16-spot in DGPT tour points to qualify for the championship.
14. Kristin Tattar stays in the top 25 despite returning to Europe after The Preserve Championship because winning on tour matters! Owing entirely to her absence, she received zero top 10 votes from the Ultiworld Staff, but our trusty algorithm keeps her in the mix. Hopefully she makes it back to the states for the Throw Pink Championship and the DGPT Tour Championship so we can bump her back into the top 3 where she belongs.
15. Madison Walker is back on track with three consecutive top 12 finishes after a lackluster stretch mid-season. And by back on track, I mean, Walker opened the season: 11-11-13-13-13. Average finish: 12. Her last three: 12-11-12. Average finish: 12.
16. Deann Carey wants another crack at Idlewild. Her 21st-place finish there is a clear outlier when compared to the rest of her results from the second half of the season. Bridging the World Championships she notched six straight top 10 finishes at DGPT events starting with the Portland Open and including a Silver Series win at the Resistance Discs Open. Carey has fallen a bit off the pace since, but is back within striking distance after consecutive 12th-place finishes at Elite Series tournaments in Delaware and Massachusetts.
17. Alexis Mandujano put together a solid run of three tournaments from DGLO to Idlewild, and was trending in the right direction the whole time taking 16th, ninth, and seventh over that span. Unfortunately for her, despite the late season push, she didn't quite earn enough DGPT points to qualify for the Tour Championship, finishing in 18th position, 47 points behind Holly Finley. She rejoins the tour in Nashville for the Music City Open.
18. Jessica Weese has been riding the roller coaster of late, popping up in the top ten this week, finishing in the mid teens the next. Her drop in the rankings can be directly attributed to her 21st-place showing at the MVP Open, her worst finish this year. She continues to be a top-10 player tee-to-green, only let down by her sub-60% C1X and sub-10% C2 putting.
19. Lisa Fajkus took nearly a month away from the tour after her 3rd place showing at Worlds. I know Worlds is two-and-a-half months in the rear view mirror now, but I still find myself thinking about hole 16 in the final round. Fajkus was so close to winning. She looked a bit rusty in Milford, MI, but found her stride again in her last two outings, finishing ninth at Idlewild and 12th at the MVPO.
20. Tiger Borth, a fourth-year pro from Clarkston, Michigan, joined the pro tour in earnest for the first time after Worlds. After some middling starts in Michigan and Minnesota and a forgettable finish in Peoria, she cashed in at the MVP Open. This past weekend Borth shot 63 points above above her 896 rating, good for a 959 tournament average, and tied Missy Gannon for fifth place.
21. Natalie Ryan is another new face on the scene, beginning her late-season tour at the Idlewild Open. Hailing from Richmond, VA, the 928-rated Ryan challenged for the W at the Stafford Open, a Silver Series Tournament, finishing tied for second with Michelle Frazer two strokes behind Missy Gannon. Following a DNF in Delaware, she bounced back with a 12th-place showing at Maple Hill. She can huck a driver over 400-feet, which should play well on Fox Run at the GMC.
22. Juliana Korver cooled off after a promising start to the second half of the season. Following back-to-back top-10 finishes at the Clash at the Canyons and the Des Moines Challenge, Korver only has one top 10 since and is generally trending down. Not the time of year to find yourself in a slump, what with the Throw Pink Championship and DGPT Tour Championship on the horizon. Curiously, though Korver is qualified for both events, she has not yet registered for either.
23. Kat Mertsch is another young player with a high ceiling but inconsistent results. Generally, she grooves in the mid teens, but has fallen off that pace of late. This is her first full season on tour, so mercurial results aren't unexpected. She recently achieved her highest rating to date, 916, and is qualified for the DGPT Championship.
24. Valerie Mandujano came into the 2021 season with high expectations, and I think it's fair to say that things haven't exactly gone to plan. Though she boasts the eighth highest player rating in America, she hasn't found the podium at an Elite Series event this year, and like her sister, she just missed out on the opportunity to play for the big bucks in Charlotte.
25. Erica Johnson finished 23rd at the MVP Open and cracks our top 25. Hailing from Cape Cod, the Massachusetts pro is a stalwart at Maple Hill, and has only missed the event once since 2014. A solid regional pro, she boasts 48 wins in 100 career events.