Originally published at: https://discgolf.ultiworld.com/2021/08/13/ultiworld-disc-golf-mpo-power-rankings-us-edition-august-13-2021/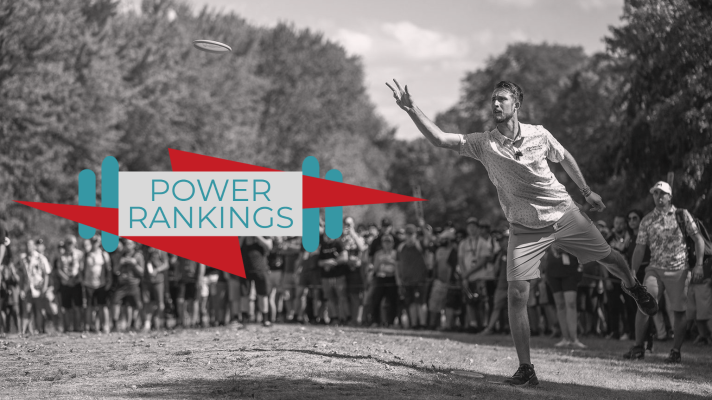 The power rankings did not wait for reigning world champions to get some time in the top spot before the Tour ramped back up and pushed down the importance of that big piece of hardware.
James Conrad hasn't slipped far, but since the Holy Shot in Utah a couple of 1050 bois have done their best to reclaim the no. 1 spot. Eagle McMahon has been playing as well as anyone since Worlds and even became the highest-rated player in the world with the most recent update, yet someone else has the momentum, and that's what this exercise is all about. What player is really feeling it.
Ricky Wysocki is feeling it. Two consecutive wins, which both came with some adverse weather conditions, and Raptor Legs is on a roll. Meanwhile, another 1050 Club Member, Paul McBeth uncharacteristically struggled at Ledgestone, turning in his lowest finish since an injury-plagued 2019 USDGC.
While the usual suspects remain up top of the rankings, new blood has come into the bottom of the pile. Teenagers Gannon Buhr and Cole Redalen make their Power Ranx debuts, and as long as they continue to play on Tour they have the skillsets to maintain those positions.
They're ready to play. We've got 'em ranked. Who else is in our top 25? Here's how they stack up heading into the Idlewild Open.
Note: while COVID travel restrictions remain in place, this list considers players based in America. We will break out an international top 10 once the season gets underway across the pond.
Methodology: We combine an algorithmic objective ranking with subjective ballots submitted by UWDG staff. The algorithm uses a standardized scoring model to compare elite events, awards competition and cash bonuses, and features a decay function that gradually phases out past results. For the second regular season ranking, staff considered the following criteria: 1. results from the 2021 Elite and Silver Series events, 2. UDisc and PDGA statistical measures, 3. the previous UWDG Power Rankings, and 4. their super subjective vibes, gut feelings, and premonitions heading into Idlewild.
MPO Power Rankings
Full breakdowns for each player continue below.
1. Ricky Wysocki – Wysocki is back on top of our rankings thanks to back-to-back wins at Elite Series events. Wysocki took down The Preserve Championship, and split the win with Calvin Heimburg at Ledgestone. Wysocki looked like the player we saw early in the season when he won four of the first eight events of the season. Wysocki now has six wins on the season.
2. Eagle McMahon – McMahon hasn't missed the podium since Worlds, and his win at DGLO is perhaps even more impressive in hindsight, given what we have seen out of Kyle Klein lately. McMahon has been consistently excellent all season long, and played exceptionally well at Northwood Black…but, wait, isn't Northwood…wooded? Yes, it is, and McMahon shot back-to-back rounds of 4-under par, 1048-rated rounds at the most wooded course on the planet, and only finished one shot back of the leaders. Aside from Wysocki, there is no better player on the planet right now.
3. Paul McBeth – McBeth stays in our top three despite a poor showing at Ledgestone. McBeth bounced back from a heartbreaking finish at Worlds with a win at Des Moines, but has been a bit up and down overall. That being said, if "up and down" means only one finish outside the top ten all season, that tells you something about the caliber of player that Paul McBeth is.
4. Kyle Klein – In the early part of the season, Kyle Klein was on the radar as one of the up and coming talents on tour, but he had been perhaps a little outshined by the rest of Les Enfants Terrible. That is decidedly no longer the case. Klein has been playing with a hot hand, nearly chasing down McMahon for the win at DGLO, and had the weather gods not interfered, it's entirely possible he would have taken down the win at Ledgestone thanks to a jaw dropping 8-under at Northwoods during round 3. We've seen some of the youngsters pop up and flair out over the course of the season, but it's better to peak late than early in the season. We'll be curious to see how Klein handles the east coast swing.
5. James Conrad – You'd think a world championship would count for more than fifth place, but the world is cruel and power rankings are a serious, sober thing and the truth of the matter is that since his win in Utah, Conrad has been a bit inconsistent with his finishes, which is actual consistent with his season so far. Conrad has not made the podium since Worlds, and has missed the top 10 twice over the past five events. Good news for Conrad fans, though, the east coast swing is where he makes hay.
6. Kevin Jones – Jones seems to have found his footing since Worlds, only missing the top 10 once in the last five events. By way of comparison, Jones only made the top 10 at five out of the 11 events prior to Worlds. Jones' statistics are interesting because he somehow scores better than the sum of his parts. Jones is only in the top 10 of three major statistical categories. He is eighth in parked percentage, 10th in Circle 1 in regulation, but 6th in birdie percentage. How about that.
7. Calvin Heimburg – Heimburg collected his second win of the season at Ledgestone, but he had to share it with Wysocki. Either way, $8,250 probably feels pretty nice for a weekend's work. Heimburg has, like many other players we've mentioned so far, has been really up and down since Worlds. Heimburg came in second at Des Moines, missed the top 10 at DGLO and The Preserve, and then as mentioned, won at Ledgestone. Considering he hadn't missed the top five for the first three months of the season, one has to wonder if fatigue is a factor.
8. Chris Dickerson – Per the usual, Dickerson's schedule is a unique schedule, and he has only played in two DGPT events since Worlds. Dickerson finished 13th at DGLO, but seventh at Ledgestone which is good enough to keep him in our top 10.
9. Matt Orum – It's simple, Orum shows up at DGPT events, he makes our power rankings. Orum showed up and played well at The Preserve and Ledgestone with back to back top 10 finishes. Orum will stay on tour for the east coast swing and should be climbing our rankings as the season winds down.
10. Gavin Rathbun – Rathbun snagged his first Elite Series podium finish at Des Moines, but has failed to finish in the top 10 at the four events he has played since then. Rathbun rounds out our top 10, and we won't see him on tour again for a while.
11. Drew Gibson – Gibson has stumbled a bit since Masters Cup, probably owed to an injury he has been battling. Gibson hadn't finished in the top 25 since Santa Cruz but looked in great form at Ledgestone where he reminded us that he may be the best pure thrower of the disc out there. Gibson's orange Buzzz absolutely carved up the lines at Northwood Black and was fun to watch.
12. Nikko Locastro – A ninth place finish at Ledgestone helps balance out missing the top 15 at his past five events.
13. Ezra Aderhold – Aderhold has quietly resurrected a season which started scorching hot, and then got ice cold. Since Worlds, Aderhold has four top 15 finishes, but struggled at Ledgestone, specifically at Northwoods. Aderhold shot a 1043-rated round one at Lake Eureka, but shot 1011- and 1020-rated rounds at Northwoods.
14. Emerson Keith – Keith had a DNF at The Preserve which absolutely tanked his ranking here, but don't let his 14th place spot with us mislead you. Keith has been playing exceptionally well since Worlds. Excluding the DNF at The Preserve, Keith has only missed the top 10 once since Utah, a 22nd place finish at Ledgestone.
15. Adam Hammes – Hammes has struggled since DGLO, with a 45th place finish at The Preserve and a 54th landing at Ledgestone. These are quite uncharacteristic finishes for Hammes, who hadn't missed the top 25 since Waco.
16. Nate Sexton – It's easy to forget that Sexton took third at Worlds given how the top two finishers ended the event. Sexton has been picky about the events he plays in recent years. He probably wishes he played better at Cale Leiviska's event, The Preserve, but should be plenty pleased with an 11th place finish at Ledgestone.
17. Joel Freeman – Freeman is probably a little annoyed with Wysocki for edging in on his Whale monopoly, but his appearance on our power rankings should help that medicine go down. Freeman has been playing solid since Worlds, an 11th place finish at DGLO and a 14th at Ledgestone are solid showings in the ever deepening MPO field.
18. Chris Clemons – Eighth at Des Moines is Clemon's best finish since Waco, and good enough to keep him in our rankings.
19. Andrew Marwede – Marwede has played well at some off tour events since Worlds, and a fourth place finish at Ledgestone ain't bad either.
20. Mason Ford – For has three straight top 20 finishes and won the Mixed Doubles championship at Worlds alongside Valerie Mandujano.
21. Austin Hannum – Hannum snagged a 15th place finish in Des Moines, and only fallen below 26th once since Worlds.
22. Garrett Gurthie – GG finished third at The Majestic, and has strung together three straight top 25 finishes for the first time this season.
23. Anthony Barela – One of the most entertaining golfers on tour took seventh at The Preserve, but fell out of the top 50 at Des Moines and DGLO>
24. Cole Redalen – 49th at Worlds and 7th at Ledgestone, not bad for the youngster who was playing under 15 Juniors in 2019.
25. Gannon Buhr – Buhr has been on and off tour this year, sticking to events in the midwest and in those events he has done a good job of convincing us that we need to convince him to be out on tour full time in 2022. Convince.