Originally published at: https://discgolf.ultiworld.com/2021/09/10/ultiworld-disc-golf-mpo-power-rankings-us-edition-september-10-2021/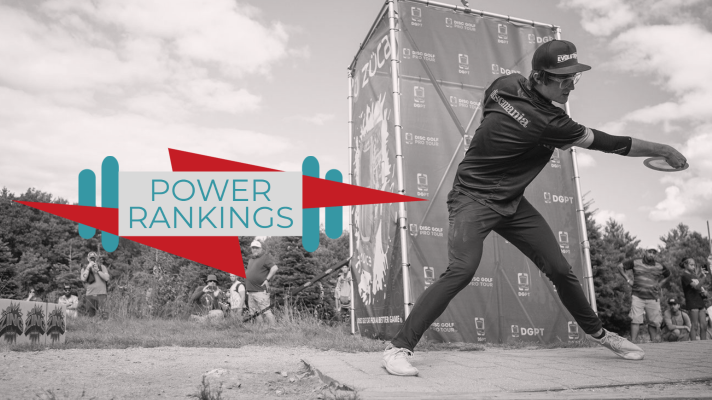 For the Open division, this may be the most volatile power rankings in history.
That's what another month of back-to-back Elite Series events can do. Voters were looking at performances from Ledgestone, Idlewild, Delaware, and MVP, meaning there were four separate champions, two first-time Elite Series winners (including one player who had never been ranked before), and only three players who finished on the podium more than once.
Despite not winning anything outright over the past month, Ricky Wysocki and Eagle McMahon stayed 1-2 in the polls due to repeatable performances. Wysocki shared a title with Calvin Heimburg at the weather-shortened Ledgestone and had two other second place finishes to go with it. McMahon remains tied with Wysocki for highest-ranked player in the world and was in position for W's at several stops.
Below those two, however, it was mayhem. Adam Hammes, Andrew Marwede, and Joel Freeman all made double-digit jumps up the rankings into the top seven, and eight players went from unranked and into the top 25. Matt Bell's fourth place showing at MVP helped him go from 0 to 11th, and Connor O'Reilly's win at Delaware gave him his Power Rankings debut at no. 14. Raven Newsom (18th), Corey Ellis (21st), and Alden Harris (25th) were other players making their first appearances in the rankings.
With one round down at the Green Mountain Championship, players are ready to shake up next month's ranx even more. Here's how the rest of the top 25 shakes out.
Methodology: We combine an algorithmic objective ranking with subjective ballots submitted by UWDG staff. The algorithm uses a standardized scoring model to compare elite events, awards competition and cash bonuses, and features a decay function that gradually phases out past results. For the ranking, staff considered the following criteria: 1. results from the 2021 Elite and Silver Series events, 2. UDisc and PDGA statistical measures, 3. the previous UWDG Power Rankings, and 4. their super subjective vibes, gut feelings, and premonitions heading into Green Mountain.
MPO Power Rankings
Full breakdowns for each player continue below.
1. Ricky Wysocki was having an incredible season before the tour headed east, but since DGLO he has two wins, two runner ups, and a seventh place finish to his name. No need to guild the lilly: Wysocki is the best disc golfer in the world right now.
2. Eagle McMahon's run in recent weeks is similar to Wysocki's in many ways, except he only has one win and missed the top ten at the Idlewild Open. We take those sort of things seriously here. And seriously, McMahon is going to win at Maple Hill one of these days.
3. Adam Hammes's win at the MVP Open this past weekend wasn't surprising, but perhaps it should have been? Hammes hadn't finished inside the top 10 since DGLO, and a 15th-place finish at Idlewild usually doesn't bode well for your chances at Maple Hill. Yet here we are. Hammes is easily one of the top 5 players in the world, but is he? It's very confusing and we hope you yell at us in the comments.
4. Andrew Marwede is playing well enough right now that he feels overdue for a win. He has taken a more conservative approach to touring this season, really only hopping in for the Midwest and East Coast swing, which makes what he's done all the more impressive. Marwede is a complete player who might struggle to adapt to tour life once he goes full time, but once he gets his sea legs, he may be a generational talent.
5. Speaking of generational talent, Calvin Heimburg is back on his top five finish roll. He probably would have preferred to win Ledgestone all himself, but a dub is a dub. Heimburg can definitely separate himself from the pack at Smuggs and should be a favorite this weekend.
6. What'd we say last time? Matt Orum plays, Matt Orum makes list. Nobody announces themselves on tour quite like Orum. Since Worlds he has only missed the top ten once. Honestly, those nasty rollers on hole 3 at Maple should be sufficient to put him on this list.
7. Joel Freeman wrested the "most underrated season" title from Drew Gibson, with a stretch of four straight top ten finishes. Freeman has the sort of complete, well rounded game the back end of the season requires.
8. Paul McBeth. Eighth. Wowee. But the numbers don't lie. In five events since winning the Des Moines Challenge, he's averaging a tenth-place finish.
9. Kyle Klein hasn't finished outside the top 25 since Vegas where he finished 43rd. At MVP, Klein dropped another stinker: 40th. Considering he was the toast of the town just a couple short weeks ago, we hope the young man has learned his lesson and will do better next time.
10. Kevin Jones has yet to crack the top 20 at Maple Hill, which is surprising given his success at Idlewild and the Green Mountain Champoonship in years past. Also surprising, Jones's third place finish at Idlewild was only his second podium finish at an Elite Series event this season.
11. Matt Bell's fourth place finish at the MVP Open was his best at an Elite Series event this season, and he seems to be truly enjoying the east coast swing so far. His last three events: sixth at Stafford, 11th at Delaware, and fourth at MVP. It's the best stretch of finishes he's had this season.
12. Chris Dickerson has missed the top 10 three time in a row,and the top 15 twice in row. When was the last time that happened, you may be wondering. Not so long ago, actually: 2016. That year he finished 17th at Worlds, 13th at World Mixed Doubles, and 16th at Ledgestone. But, does mixed doubles count as an event? Other than that, Dickerson has never had a stretch like this.
13. James Conrad has missed the top 20 four events in a row, which is just wild, especially given that he is struggling on courses where he usually excels. Don't shed a tear for Conrad, though, he's doing just fine. MVP prints money for the guy. after all.
14. Win an NT, make our rankings. Delaware Disc Golf Challenge champion, Connor O'Reilly, could become a household name. Did you know that he has played fewer than three years in the Open division? And this is his first year touring. In other words, he's got plenty to learn about competing at the highest levels, but he's clearly got a strong base (and a big win) to build on.
15. Nikko Locastro has only cracked the top 10 at an Elite Event once since June when he took home a ninth place finish at Ledgestone. Glancing at his UDisc stats, he just seems a little out of sorts: Locastro doesn't rank in the top 20 in any single category.
16. Drew Gibson might have surrendered the most underrated season title to Freeman but he is still playing exceptionally well. Fourth at Ledgestone and third at Idlewild ain't nothin' to sneeze at. However, Gibson only has one top 25 finish in his other three outings since Worlds.
17. Chris Clemons posted back to back top 20 finishes for the first time this season at Ledgestone and Idlewild. He seems like he should finish in the top 20 more regularly. What will it take for him to find the next gear?
18. Raven Newsom, aka "The Happiest Man in Disc Golf," debuts (I think?) on our list thanks to his eighth place finish at Delaware. The youngster definitely has a bright future as a player and fan favorite thanks to his on the course demeanor. His C2 archery celebration is the best thing since Albert Tamm and the bazooka.
19. Gregg Barsby generally fares better at more technically demanding courses. After sa string of finishes in the thirty-somethings, Barsby put together back to back top 20 finishes in Delaware and Massachusetts.
20. Jeremy Koling usually does well at Maple Hill. His 12th place finish is his best Elite Series result since Santa Cruz.
21. Corey Ellis probably flies under the radar for most folks, but that should change given his performances at Idlewild and Delaware. Dude can catch fire in a heartbeat.
22. I briefly met Ezra Aderhold in the parking lot at Maple Hill and he is as jacked as you think he is. He also has two straight top 25 finishes and a DGPT Championship invite.
23. Nathan Queen bagged a second place finish at the Stafford Open, and and is tearing up the off-weekend A Tiers in general. While he isn't getting great finishes at Elite Series events, he isn't stinking up the joint.
24. It feels like we haven't seen much of Garrett Gurthie of late. Since taking fifth place at Texas States, his best finish at an Elite Series tournament is 15th. His average finish in that same span is 26th. GG did make chase card at Maple Hill for round two, but fell off the pace and settled for 29th.
25. Alden Harris is enjoying his rookie season full time on tour, and back to back top 20 finishes help him make his inaugural power rankings.