[caption id="attachment_2407" align="aligncenter" width="999"]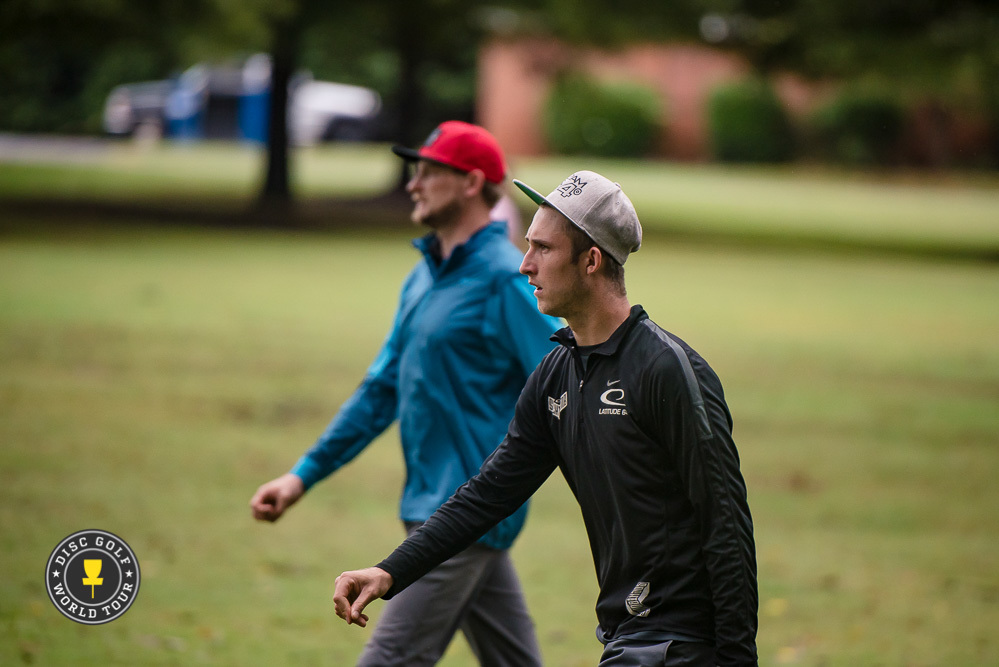 Ricky Wysocki and Jeremy Koling ended the season on a high note at the United States Disc Golf Championship. Photo: Eino Ansio, Disc Golf World Tour[/caption]
What a year.
With all of the PDGA Majors, as well as the fledgling tours, in the books for 2016, it's time to see where disc golf's best rank heading into the offseason. And, just as we've seen for much of the year, volatility is the norm, with the United States Disc Golf Championship and United States Women's Disc Golf Championship tossing some challenges in the way of the favorites.
Sure, we've got Ricky Wysocki at the top, but did anyone expect Paul McBeth and Catrina Allen - after their monster seasons - to end up outside the Top 3 at year's end? Something tells us they won't take their finishes to the season lightly and will come out swinging in 2017.
At the same time, 2016 treated us to some surprise newcomers and some resurgent performances from veteran golfers. 2017 can't come soon enough.
[uw_ranking id="2395" prior="2162" title="true"]
He didn't win the USDGC, but Ricky Wysocki's third place finish - along with an ace and the Disc Golf World Tour points series championship - puts the cherry on top of the Year of the Sockibomb.


Jeremy Koling was steady all week at the USDGC. After a 2016 in which he admitted he did not live up to his own standards, he's going out on a high note.


Nikko Locastro was one rain-soaked day away from claiming his first Major in six years. His weight room is going to be fire this winter.

Not only is Michael Johansen ending the season in the Top5 of the Power Rankings, but he's also number one in our "most calming presence on a card" rankings.


Eagle McMahon is five years younger than Wysocki, eight years younger than McBeth, and 13 years younger than Koling. Disc golf's future is bright.


We wouldn't have believed you if you told us Paul Ulibarri would be the top-ranked Paul on this list at season's end. But he earned it, with consistent play throughout the year and yet another Top 10 USDGC finish.


Paul McBeth's offseason gym may be right behind Locastro's on the fire scale. A full winter of healthy training should make the rest of the tour shiver.


It's a shame we won't see Nate Doss on tour as much next season, as he and Valarie Jenkins start up their brewery dream. But something tells us he'll still be in the Top 10 whenever he does show up.


Europe's seventh-ranked player, Teemu Nissinen, came in seventh at the USDGC. That's consistency.


Alex Geisinger said he found a little bad luck on hole 17 at the USDGC, but he showed well at almost every event he played this season. With family and work as priorities he doesn't get on tour as much, but he's always fun to watch when he does.


Matt Orum may have yo-yoed on and off this list more than anyone else this season, but an eighth place USDGC finish puts him on the upswing.


Take away Nate Sexton's 982-rated second round at Winthrop Gold last week, and we're having a different conversation here.


Another Major, another Top 10 finish for K.J. Nybo, who said he'll be selling Christmas trees in Copenhagen this offseason if you're in the market for one. No word on if he'll don a Santa suit, but his beard game is on point.


Cam Todd: story of the year?

Another player who doesn't make it out on the road, Steve Brinster has Winthrop dialed in.


Our offseason advice to readers: Follow Drew Gibson on Twitter. You may not always agree with him, but you will be entertained.


As tough as it is to knock someone from the Top 5 down to the bottom, Cale Leiviska wasn't a lock to make the list after not playing USDGC. His Disc Golf Pro Tour finishes, though, could not be ignored.


Zach Melton played all three rounds of the USDGC above his rating.


Chris Dickerson did not, but he'll be another member of disc golf's youth movement to watch in 2017.


James Conrad rebounded from a 993-rated first round at Winthrop to finish the event tied for 25th place. He was another pleasant surprise this year.

[uw_ranking id="2397" prior="2167" title="true"]
Another player who battled injury much of the year, it was wonderful seeing Sarah Hokom finish on top at the USWDGC.


One of the biggest questions of the offseason: What happens with Paige Pierce's sponsorship deal, and how will it affect 2017?

This was Madison Walker's second full season on tour. With plans to go all-in on training this winter, she could make even more noise next year.


While 2016 ended in disappointing fashion for Catrina Allen, let's not forget how much she utterly dominated for 90 percent of the season.


No USWDGC for Valarie Jenkins, but her lowest finish all season in any PDGA event was fifth place. Wow.


Holly Finley with a fourth place tie at the USWDGC? Get her on the road next year!


The repeat USWDGC victory eluded Hannah Leatherman, as she finished in sixth place in Sabattus, Maine.


Zoe Andyke's seventh place USWDGC finish found her playing three of four rounds above her rating.


Eveliina Salonen: Get her to the States in 2017, please.


Michelle Frazer's eighth place USWDGC showing puts her on the rankings to close 2016.


Originally published at: https://discgolf.ultiworld.com/2016/10/13/ultiworld-disc-golf-power-rankings-end-2016-season-october-13-2016/