[caption id="attachment_2006" align="aligncenter" width="636"]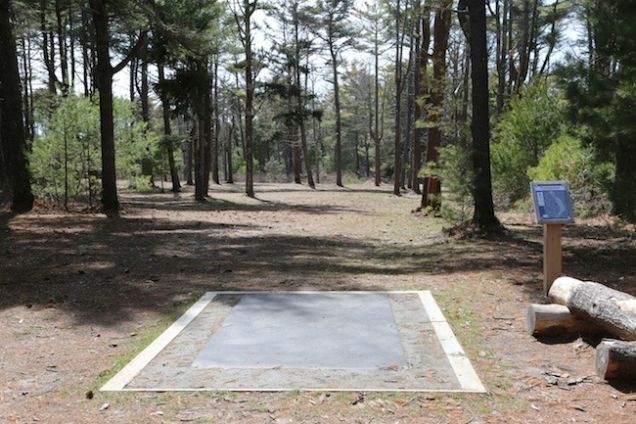 Hole 6 at Nantucket Disc Golf Course.[/caption]
This weekend sees disc golf's top pros spread out across a number of A- and B-Tier tournaments, while some Masters-eligible pros are in California for the Tim Selinske U.S. Masters Championship.
Primary Tournaments
The
2016 Tim Selinske US Masters Championship
--a PDGA Major event--will be played from September 9th through 11th in Stockton, California. A field of 284 competitors will take on two courses: Oak Grove Park and the Lockeford Springs Golf Course, a ball golf course.
Patrick Brown, Don Smith, Jonathan Baldwin, and Shasta Criss–all over 1000 rated pros from California–are some of the more familiar names in attendance. Baldwin is a former Masters World Champion in 2011, and Don Smith has enjoyed a successful season in his first year of Masters eligibility.
2016 will mark only the second time since 2010 that someone other than Barry Schultz–who won the last two in Charlotte and Tulsa, respectively, but is not currently registered–has won this PDGA Major.
Perhaps the highest profile field of the weekend is at the Nantucket Disc Golf Open–a one-day, two round B-Tier taking place this Saturday. This is the fourth year the tournament has been held at the John Houck-designed course on Nantucket Island. Competitors in MPO include touring pros Paul McBeth, Jeremy Koling, Paul Ulibarri, Drew Gibson, Zach Melton, Steve Brinster, Dustin Keegan, and Jordan Castro, in addition to New England regular Jason Dore. McBeth is the obvious favorite, while Brinster and Ulibarri are past winners of the event.
The FPO field contains many familiar names as well, with Catrina Allen, Paige Pierce, Sarah Hokom, Des Reading, Madison Walker and Zoe Andyke in attendance. Allen won the event in 2014.
SmashboxxTV is at the event and plans to attempt live coverage. If cell service works in their favor, watch for that; if it does not, watch for post-produced coverage on their YouTube channel in the coming weeks.
Other Tournaments In North America
Two 2-day A-Tier tournaments round out the weekend's action in the United States. The
Lake Superior Open
in Superior, Wisconsin, features last year's winner Alex Geisinger, Chris Heeren, and Justin Lammers; while the
Gifford Pinchot Classic
in southern Pennsylvania sees Cam Todd, Matt Dollar, James Conrad, past winner Mike Moser, and Devin Fredrick in attendance, with Hannah Leatherman headlining the FPO field.
European Tournaments
Europe has two B-Tier events taking place--the
Strudengau Open
in Austria, and the
Tallinn Open
in Estonia. Seppo Paju, Juho Parviainen and Eveliina Salonen take on the MPO and FPO fields in Austria, while Silver Lätt, Ville Piippo and Juho Rantalaiho compete in Tallinn.
Check back on Monday for recaps of this weekend's events.

Originally published at: http://discgolf.ultiworld.com/2016/09/09/weekend-preview-u-s-masters-nantucket/