[caption id="attachment_2045" align="aligncenter" width="1024"]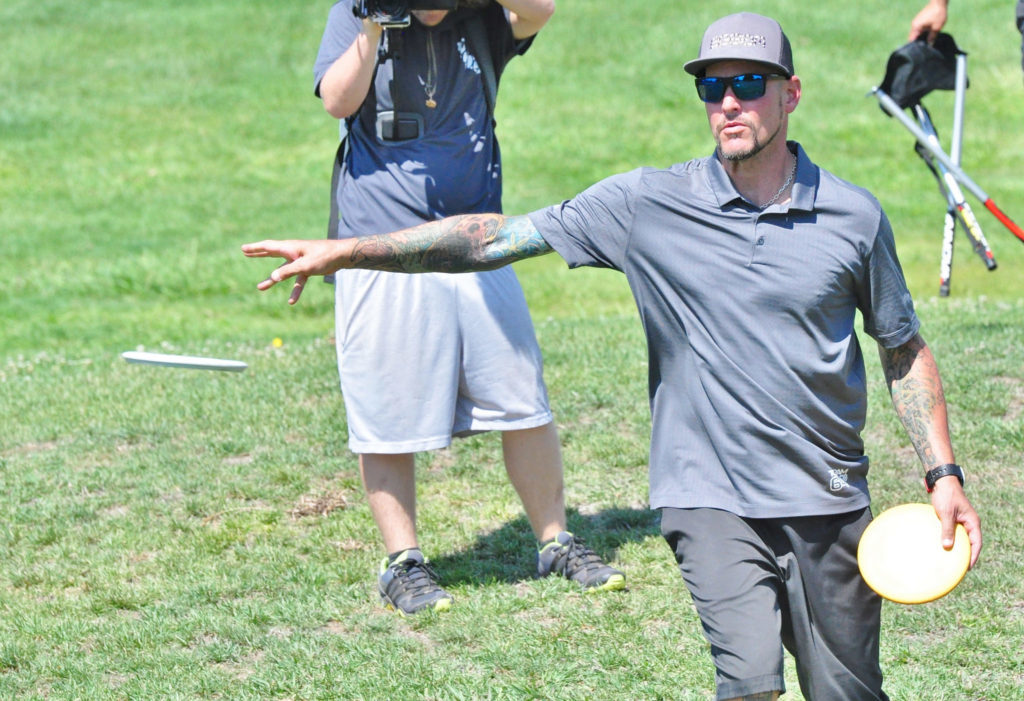 Patrick Brown won his first PDGA Major at the Tim Selinske U.S. Masters Disc Golf Championship in Stockton, Calif. Photo: PDGA[/caption]
While most of the disc golf world spent its weekend focused on all the off-the-course action, some pros did hit the course for tournaments in North American and Europe. Let's see how they did.
Main Events

The 2016 Tim Selinske U.S. Masters Championship saw Patrick Brown lead from the first to the last round to take the win with a 39-under par 202, carding hot rounds in the first and second. Brown recorded a mere six bogeys through 72 holes of golf en route to the commanding victory, which was his first PDGA Major win.
Finishing in a tie for second was Jonathan Baldwin and Robert Bainbridge with a 33-under par 208. Jeffery Yunker, Shasta Criss and Bill Kohler rounded out the top five, with the latter two tied for fifth.
Paul Ulibarri - whose finger injury has seemingly cleared up - took down the win at the Nantucket Open with a 24-under par 112. Finishing in second - in what could very well be his last PDGA non-Major tournament for quite some time - was Paul McBeth with a 20-under par 116. The two entered the second round at 12-under par 56, both tied for first. To begin the second round Ulibarri got off to a hot start with birdies on the first eight holes. Despite McBeth's impressive eagle on the par 5, 811-foot hole 5, he was not able to maintain the birdie pace set by Ulibarri and seemed to rush many of his shots, especially while putting. The win was Ulibarri's second at the Nantucket Open.
Rounding out the top five in order of finish was Jeremy Koling, Dustin Keegan, and Jordan Castro. Check out SmashboxxTV for coverage of MPO rounds 1 and 2.
Sarah Hokom took the win in FPO, finishing with an 8-under par 128 and carding the lowest score in both rounds, both of which were well above her current rating. Finishing second was Paige Pierce after scoring an even par 136.
Other North American Tournaments

After two hot rounds to start the event, Matt Dollar won the Gifford Pinchot Classic with a 27-under par 210, five strokes ahead of second place finisher James Cole. Rounding out the top five, in order of finish, were Devin Frederick, James Conrad and Dylan Horst.
Alex Geisinger took off with an early lead in round one at the Lake Superior Open and managed to hang on for the win with a final score of 13-under par 160, four strokes ahead of second place. Adam Hammes and Mitchell Privette were the only other competitors able to remain under par, finishing second and third respectively.
European Tournaments

The MPO side of the Strudengau Open was neck-and-neck the whole way. Juho Parviainen outlasted Seppo Paju by a mere stroke by the end of three rounds and a Final 9; the two were never separated by more than two strokes throughout. Parviainen ended the tournament with a 25-under par 177, while Paju finished with a 24-under par 178.
In FPO Natalie Holloköi took the win with a 10-over par 212, while Eveliina Salonen and Katka Bodová tied for second with a 14-over par 216. This was only the second tournament in 2016 that Salonen has not won.
The Tallinn Open went to a playoff after both Ville Piippo and Silver Lätt finished at 17-under par 166, with Piippo taking the win.

Originally published at: http://discgolf.ultiworld.com/2016/09/13/weekend-recap-brown-masters-stockton-ulibarri-takes-nantucket-title/