Originally published at: https://discgolf.ultiworld.com/2020/02/08/goes-making-simon-lizottes-vlogs/


One of the true joys of the 2019-2020 offseason has been the return of Simon Lizotte's vlogs, oftentimes co-starring Massachusetts native, Casey White.
Programming note: If you haven't seen any of the vlogs stop reading and check out Simon's YouTube channel. Once you're back we can proceed.
I messaged Simon and his vlogging partner, suggesting that we hit up a course in southeast Massachusetts to play a round, have some fun, and see what happens. What followed was easily the best day of my disc golfing winter.
We settled on playing at Sunnymeade DGC in Middleboro, Massachusetts. Sunnymeade is one of few publicly-known, privately-owned, open to the public courses in southeastern Massachusetts. The course is best known for having a 50/50 mix of excellent holes, fun holes, pretty holes, and holes that could be better. Most holes offer two pin positions with Prodigy baskets. Greens are short, blues are long.
If you want to know about what actually happened during the day, check out the video. It was a lot of fun, and as we all know, the value and fun of a day on the course goes beyond and is more important than what the scorecard or highlight reel might suggest.
At the risk of beating Iowa for sheer corn production, isn't the real ace run the friends we made along the way?
Once we've all arrived, the first thing Simon asks is, "So what's the plan?" This question frames up the day nicely, as you'll soon find out.
The plan I have is simple: watch, chat, play, observe, ask some direct questions when and if appropriate. Simon and Casey are the story, my job is to stay out of the way. I tell them as much. We all throw some practice shots off the first tee, and soon enough we have a small group of players asking to join us, including Josh Quackenbush, who helped design the course along with the property owner. We oblige and our initial group of three turns into a fivesome.
Before we start up, Simon and Casey spend a fair bit of time going back and forth about how they want to approach the vlog production portion of the day. Should we play Battle Golf on the front nine and shoot B-roll and slo-mo on the back nine? Should we do commentary later, or while we play? Casey asks, which holes do we want to focus on? Some of them are really tight wooded holes that might not look great on film, some are wide open, and some are really unique.
They settle on starting with Battle Golf, a format similar to match play in which the winner of a hole selects a disc from their opponent's bag to remove for the remainder of the round. On a push, both players lose a disc from their bag. It is conceivable that one player will only have one disc in their bag by the end of the round.
Four holes in, a flaw in the plan is revealed. Both Casey and Simon have well over 20 discs in their bag, with duplicate molds galore, which kind of kills the point of Battle Golf. We audible, and the front nine is sourced for extra footage.
This decision changes up their approach to camera work. Instead of the standard over-the-shoulder action angle most often utilized on disc golf coverage, Simon and Casey start getting creative about the shots they want to get.
"Always filming, always recording. We might get something cool and it's easy to edit out the stuff we don't want," Simon tells Casey.
Since "we" aren't playing for keeps anymore, this allows for Simon to, as the kids say, Do Simon Things© much to the delight of the group of locals who have joined us. In this instance, Simon puts a high speed driver on a slight hyzer. It rips out, flips up to flat, rides to the right over the top of a small shed that shelters the shorter basket, and gently lands about 3 feet short of the long pin position which is about 500 feet away. I've seen him do things like this in person more than a couple times and, I tell ya, it never gets old.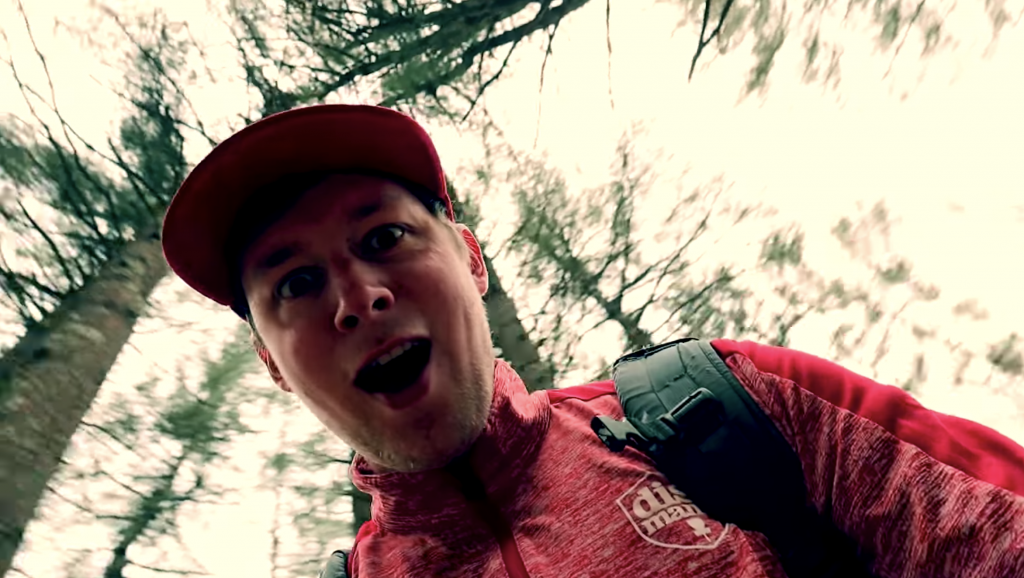 Screenshot: Simon Lizotte
Once people have picked their jaws up off the floor, we move on. Our merry gang of locals are feeling more comfortable and approach Simon to ask him some questions, and talk about their own disc golfing lives. I mention to Josh that this is like if David Ortiz happened across you and your buddies playing wiffle ball and joined it.
I overhear one of the players, a young guy named Dylan who plays for the Borderland Bombers in the New England Team Challenge (by the way, he absolutely crushes a disc), say, "This is a once in a lifetime opportunity, I'm not going to pass it up."
On the next tee, a 450-ish foot drive over an open field with the basket sitting behind a rock wall and guardian trees which form a gap 400 feet down range, Casey tees off and Simon basically chases him off the box with the camera on slo-mo mode right behind him. Casey's shot is one I would take every day of the week and twice on Sunday, but he clearly wasn't expecting Simon to do that. After he gets over his surprise, he watches the footage on the camera and smiles. "Yeah, that's dope." He says, and takes the camera and gets in position to give Simon's drive the same treatment.
"Make sure you get in nice and close, it looks way cooler the closer you get," Simon says.
Once we get into the more wooded portion of the course, and getting the shot becomes more of an involved process, Simon and Casey's collaborative chemistry really starts to shine. There are two shots involved here: one with the disc, and one with the camera, and they approach the former with the latter in mind, and vice versa. Sometimes they will select a shot with the disc because it will look better on film. They are careful to position themselves, both when throwing and filming, in such a way that the full flight will always be in frame.
On a 250-foot uphill shot through some truly dense trees, Casey's drive lands about 70-80 feet short thanks to interference from an unaccounted for tree limb. Simon positions himself behind Casey and to the left.
"You better hit this," eggs Simon.
Casey grins, and does just that, firing his P2 on a line straight into the heart of the chains. There is plenty of whooping and celebrating until Simon tells us that on his follow through and side hop to see the disc finish, he blocked the shot of the disc going in. Casey is instantly just as bummed as he was excited just a moment before.
"Rookie," Simon says with equal measures good-natured-ribbing and earnest annoyance in his voice. Casey tries a couple more times to duplicate the effort, but no dice.
---
We get to the back nine portion of the course and Casey and Simon ditch half their bags for the Battle Golf portion of the round. Quackenbush spirits their extra discs off to a safe place while they record the intro for the video. This requires a couple takes. For the first take, Casey only took out nine discs instead of 10. They re-shoot with the correct amount of plastic. This time, Simon realizes they recorded it in slo-mo. They re-shoot. Simon stumbles over his words a little bit but it's good enough to use.
They tee off and we trail along behind, making sure to stay out of frame as best we can. At one point Simon says to me, "This is exhausting!" And for a moment I'm a little incredulous, but then I realize that not only is he playing, he is producing and hosting a show, and with the group that has joined us, he is Simon Lizotte©, the brand.
"All these people watching me is making me nervous, there's so much pressure. Tournaments are a way different feeling," he says.
To his credit, Simon carries this off spectacularly. He is the first to recognize and appreciate a well-thrown shot and willing to put on the show that people, rightly or wrongly, have come to expect from him.
It is also important to remember that Simon is here to do his job. As he noted on The UpShot, he recently monetized his vlog and has been making a fair bit of cash from it. This is something he takes seriously and all of those cool shots and camera angles don't happen by accident or without a significant amount of attention to detail. Each shot is important, and Simon and Casey spend more time deliberating on what will look the best for the vlog than they do lining up their throws. Everything you see on the vlog is the result of a deliberate decision-making process and as they say, teamwork makes the dream work.
For his part, Casey is no slouch on the course. If you've seen the vlog, you've seen what Casey is capable of. He's taller than me, but not towering. He is lean and quick with explosive power and impressive accuracy. Casey reaches back and in, generating an impressive amount of power on a backhand. He also has a powerful and accurate flick he can utilize from anywhere on the course. He carries himself with confidence, and why shouldn't he?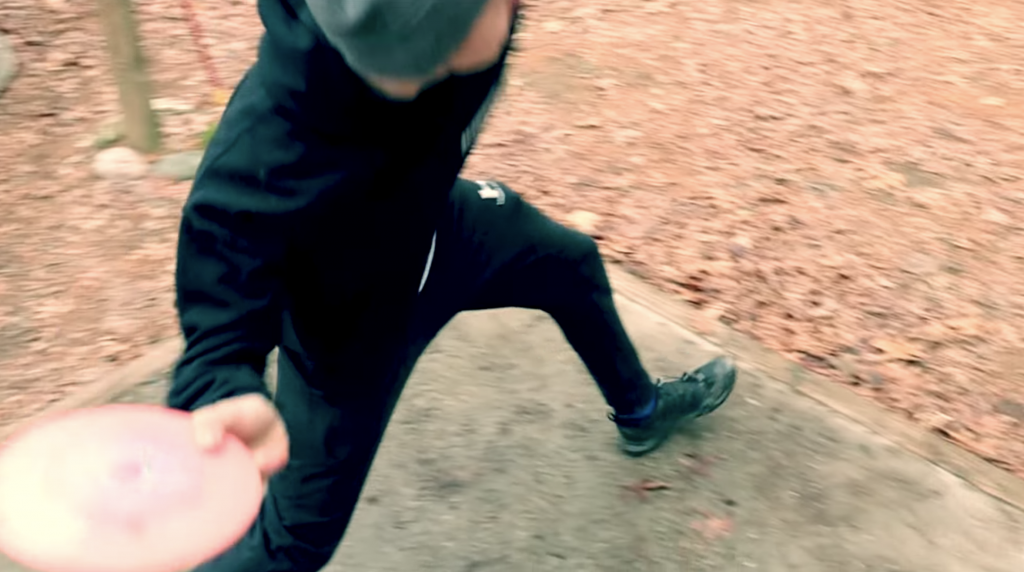 Casey White. Screenshot: Simon Lizotte
Another thing about Casey that is worth noting: he takes this seriously.
After doing so many videos together, Simon and Casey are an effective and efficient team. Before many throws, I hear Casey ask, "Framed?"
"Good," Simon will reply.
I wouldn't go so far as to suggest that Simon and Casey are the Cohen Brothers of disc golf, but it is clear that they have spent a fair bit of time together collaborating not only on the actual playing in front of the camera, but also in conversation about what makes interesting content and how they can make the most of the opportunities they have.
"I mostly just smile and nod," Casey demures when I compliment him on his apparent ease being on camera. And while it's true that he is much more talkative off screen than on, I don't think it would be going too far to suggest that as much as Simon is the draw for the eyeballs, Casey's involvement might be the secret sauce at work behind the scenes. There is a mutual respect that comes through as it so often does in a competitive setting: friendly shit-talking, gamesmanship, and admiration for one another's talents and abilities.
---
We finish up the round. I have to scram, but Simon and Casey hang around. Simon signs discs, the locals are all grinning ear to ear. It has been a good day on the course.
Watch the final product: