[caption id="attachment_2671" align="aligncenter" width="1024"]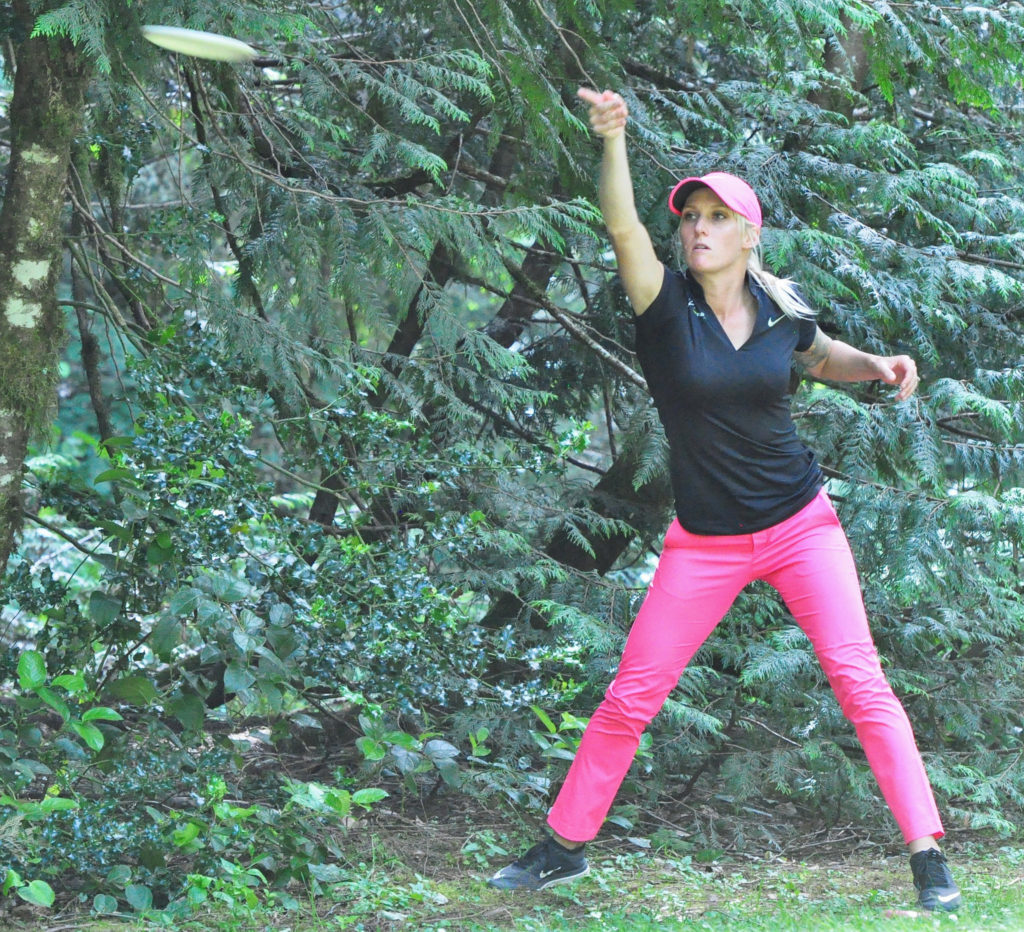 Catrina Allen won 19 of the 24 Women's Open tournaments she played in 2016. Photo: PDGA[/caption]
Catrina Allen is our Women's Player of the Year, but how does her season stack up against some of the best Open Women's seasons ever?
Catrina Allen Has Won 19 Tournaments This Season
There is no question Catrina Allen had an excellent 2016. While Allen's impressive season has reached a relative endpoint, it's probably time to posit a relevant question: How does this season compare to some of the best FPO seasons in the history of professional disc golf?
This is certainly a question worth examination, specifically because one of the ways to more fully understand and appreciate contemporary sports figures and what they do is to compare present accomplishments to those from the past. But before we get there, we need to lay out the specifics of Allen's 2016 season.
As of today, Allen has competed in the Open Women's division in 24 PDGA tournaments in 2016, winning 19 of them for an overall winning percentage of 0.792. Notably, she failed to win either of the two PDGA Majors, but won an impressive six of seven National Tour stops—something that hadn't been done since Valarie Jenkins did it in 2009—and seven of the nine A-Tier events she played in. Her lowest finish in all events was fourth place—once—and her average finish across all events was 1.292. Below, you will see a table with data from Allen's last six seasons. With these figures, and a few others that will come up later, it's time to explore how this season compares to the best and most dominant from other top pros.
[table id=18 /]
Catrina Allen's Season in Context
Comparing this season to those from other eras isn't necessarily easy. For instance, the National Tour hasn't been around forever (not before 2003), certain big tournaments come and go, the frequency of A-Tiers change, and the feasibility of touring can be up in the air for any pro with jobs and family. Those are just some of the reasons, amongst many, that might affect one's ability to play disc golf at all, let alone participate in all the events they might want to.
Furthermore, the coverage of professional disc golf has never been more extensive than it is now. So, without being able to see much of what went on before, there is always the possibility of privileging the present in one's analysis. And finally, perhaps the most direct reasons we'll see that make this comparison challenging is simply the difference in the size of the game and the spottiness of recordkeeping. Disc golf is a larger game, with larger fields than even 10 years ago—let alone 20 or 25—and recordkeeping for tournaments is hit-or-miss preceding the early 2000s; indeed, the PDGA's disclaimer on the win totals for players who competed during this time states that those figures "may not include all wins from 1998 and 2001."
But even with all those possible pitfalls, what better sports debate is there than one that pits today's success against accomplishments from the past? Those kinds of problems don't stop good-natured, speculative discussion about whether Barry Bonds' home run record should stand up against Roger Maris' or Babe Ruth's, or if teams from the New England Patriots' dynasty could hang with the '70s Steelers or the '80s 49ers. Why should they hamstring similar discussions in disc golf?
Let's start by going back in time to the early 1990s, when Elaine King was the player to beat.
[table id=19 /]
Here's where a lot of those caveats mentioned earlier come into play. King's seasons between 1989 and 1994, while certainly outstanding, lack the overall number of tournaments and number of higher-level events we see players competing in today. This diminishes their use for this exercise of comparison, since there just are not enough common variables. This time predates PDGA Major classification and the National Tour; while there are some A-Tier tournaments, they were certainly fewer in number. You will notice the 'S-Tier' designation (SuperTour) from the PDGA for the World Championship during this time. The S-Tier level equates to roughly what we'd consider an A-Tier level event today, and was used as a place holder for larger events when the PDGA was digitizing its records from before the earlier 2000s.
This brings us to King's 1997, 1998, and 2000 seasons. More total tournaments were played, making these years somewhat more comparable, but there are still many of the same problems with a general lack of comparable variables we saw in earlier seasons. Additionally, even though there were more events played in these years, there's still the issue of just fewer players playing in them and how competitive those fields were. There's no doubt an undefeated season is most impressive, regardless, like King's 1997. But again, there is the issue of recordkeeping to consider: Does the PDGA or anyone have a complete accounting of all tournaments played in that year, or really any year before, say, 1999 or 2000? That's just not something that's immediately, or maybe even ever fully knowable. Unfortunately, for these reasons, I feel like we'll have to remove the 1997 and 2000 seasons here just because they seem to be outliers, at least compared to the kinds of seasons current touring professionals have. We'll keep 1998 for the higher number of 19 tournaments played, just to see where it'll fit in.
Now it's time to move on chronologically to the next most dominant player, Juliana Korver.
[table id=20 /]
Here we see some of the best seasons ever put up by an FPO player. Korver's 1999 and 2001 seasons are particularly notable for having the highest winning percentage and average finish of any seasons on record, short of Elaine King's undefeated season. Both of these years saw Korver win the three Majors she competed in. Additionally—since both years predated the National Tour—in 1999 she won all 19 of the A-Tier events she competed in, and 20 of 21 in 2001. Her 2000 season was also impressive, with a .903 winning percentage and 1.129 average finish. All three of these phenomenal seasons came before the creation of the National Tour and before seasons where there were more than just one or two Major championships.
Now is the time to see all of these best seasons in one place to see how they compare. And, specifically, where Allen's 2016 season fits in.
[table id=21 /]
After Korver, Des Reading, Valarie Jenkins and Paige Pierce have all had seasons where they've won significant Majors and NTs while racking up high winning percentages and low average finishes. And, they've done it during times of deeper pro fields and increased competition. This is reflected, to a degree, by the 'points' totals the PDGA has been tracking since 2001. Points are awarded for each competitor you beat or tie in your division. This reflects, in a sense, how many other players you beat in a tournament—the more points you get, the more people you've played against and had success. In the early years of points tracking, competitors could not accrue points from all tournaments. But, even considering for that, the higher points totals in more recent years reflect larger fields and the potential for increasingly difficult competition. Another number we can use to illuminate the increasing quality of play is the PDGA's own ratings numbers, since their objective is to gauge the quality of play across time.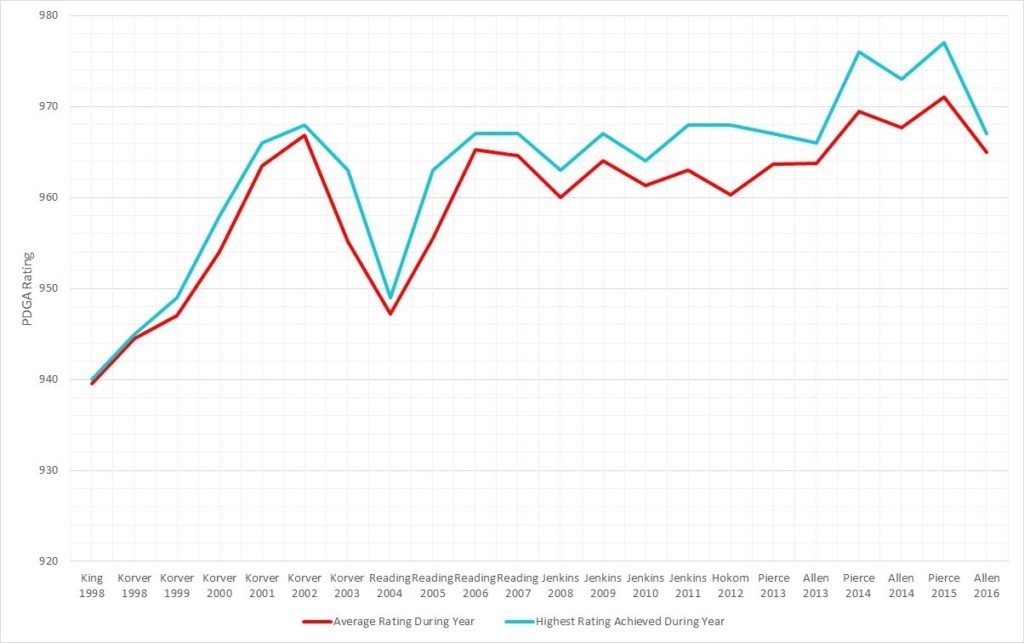 [caption id="attachment_2668" align="aligncenter" width="1024"]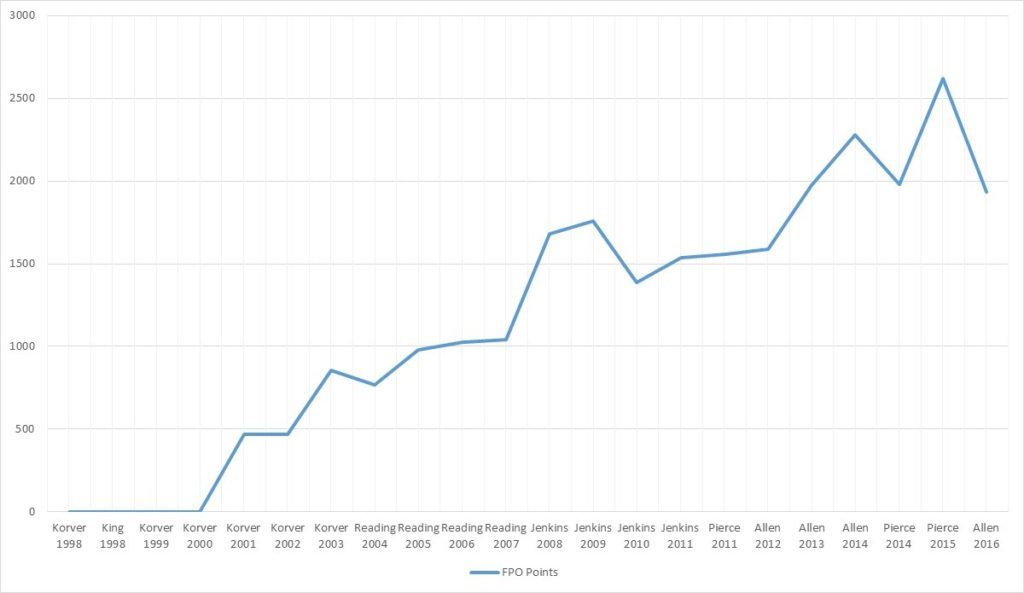 A look at FPO ratings (top) and points (bottom) over time.[/caption]
With the addition of these figures, it is plausible to say the level of competition is higher today than it was in the past. So, where does Allen's season rank on the list of best FPO seasons ever? Better quantification than I can create, and certainly qualitative statements from those with that knowledge, could more definitively find its place. I think it is comfortably in the top ten best ever. And, I think cogent arguments could be made for its place in the top five.
Allen's season shares a lot in common with Korver's 2003 season, Reading's 2004 and 2008 seasons, and Jenkins' 2008 season when considering NT and A-Tier wins and winning percentage and average finish. One key differentiator, though, is Allen's lack of a win in either of the two Majors. Indeed, this is likely to go down as one of the best, and most dominant, seasons without one. But 2016 was the first season since 2005 (when there just weren't as many tournaments to begin with) that there were only two PDGA Majors with available FPO divisions. So it isn't necessarily all on Allen when the opportunities to collect PDGA Major wins have dwindled to their lowest levels in ten years, even as the professional side of the sport seems to be enjoying unprecedented growth with more high profile events than ever.
Will we ever see winning percentages higher than .850 again? Or season-end average finishes in the 1.1s? Perhaps, but it seems unlikely given the still-evolving and expanding FPO fields and the depth of talent. It is possible (because nothing is impossible), and what we just saw Allen do to this point in 2016 really wasn't that far off. Consider: Before her lowest finish of the year—fourth place at the USWDGC—in her only other four finishes that weren't wins—where she finished second each time—she lost by only one stroke in one of the events, two strokes in another two, and was tied for the lead with nine holes to play at the World Championship.
Give her two wins out of her four second place finishes, and her winning percentage jumps to .875. Give her three wins, and her average finish is up to 1.167, which would have been the lowest since Korver's 1.032 in 2001 and more than a tenth of a point better than her own stellar 2014 season. So close. Just a handful of strokes away. But still the most dominant in 2016 by a longshot.
If Allen's great 2016 season does anything, most significantly, we can hope it inspires more women's participation and inclusion at all levels of the sport. Furthermore, we can hope it spurs some interest in not only contextualizing future disc golf accomplishments with greater statistics and recordkeeping, but also recognizing more thoroughly the players and records from the past that tomorrow's pros will want to break.

Originally published at: https://discgolf.ultiworld.com/2016/11/30/catrina-allens-season-rank-among-best-ever/