[caption id="attachment_1410" align="aligncenter" width="1000"]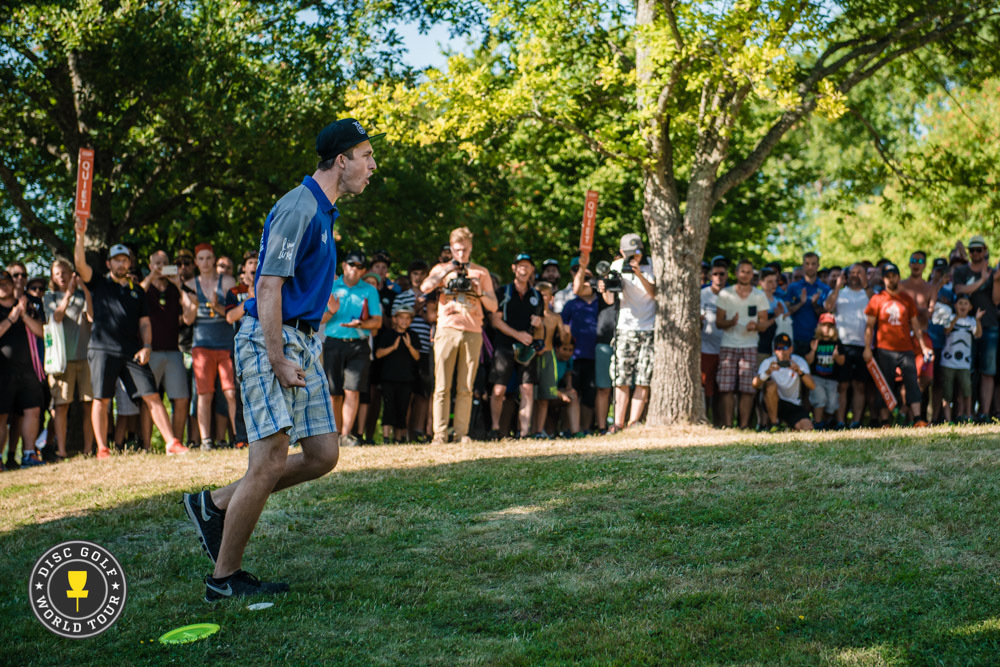 Ricky Wysocki led from start to finish - minus a couple holes during the final round - at the European Masters in Stockholm, Sweden. Photo: Eino Ansio, Disc Golf World Tour[/caption]
A Scandinavian setting.
A final round comeback.
An 18th hole duel between two rivals to settle the tournament.
If it all sounds familiar, it's because this weekend's European Masters played out in eerily similar fashion to last month's European Open. Save the course – this one was at Järva DiscGolfPark in Stockholm, Sweden, instead of Finland's Nokia DiscGolfPark – and the scores – 22-under par was good for the win at the Open, while it took a 24-under performance to clinch the Masters – the events were virtual mirror images.
Oh, except for the winner. This time, the winner was different.
Paul McBeth went down swinging with a 10-under par final round, but his European Masters title defense came up short after Ricky Wysocki – nearly reeling after three bogeys in the first eight holes – birdied eight of the final 10 to take home a one throw victory and the first PDGA Major of the season.
Wysocki's late recovery – which included consecutive birdies on Holes 17 and 18 to McBeth's consecutive pars – brought him to a 24-under par 165 for the event, while McBeth's 23-under 166 left him in second place. Paul Ulibarri and Eagle McMahon both finished with 20-under par 169s after regulation, with McMahon besting Ulibarri in a two-hole playoff to take third place on the Disc Golf World Tour podium. An inconsistent final round dropped K.J. Nybo to fifth place after his 18-under par 171 showing for the weekend.
The late round fireworks and its similarities to the past were not lost on Wysocki.
"We're always battling," Wysocki said. "It seems like no matter where [McBeth] is or where I'm at on the leaderboard, it seems like coming down the last few holes it's always me and him and we're always pushing each other. It's good for both of us, really, to elevate our games. You really have to play well to win. It seems like a reoccurring thing."
While the European Open saw McBeth start slow on the way to a vintage comeback win, Saturday's European Masters final round was the opposite. Entering play four throws behind Wysocki, McBeth started off by hitting the green on each of the first four holes and converting those into birdies. Wysocki answered with a par, a bogey, and two birdies on the same opening stretch, then carded another bogey on Hole 5 to see his lead evaporate to a tie.
"The front nine I just didn't have that much fire," Wysocki said. "I didn't have the mental determination, really, and in the back nine I started to realize if I want to win, I've got to really kick it into gear. And that's what I did."
The pair traded pars on Hole 6, then McBeth followed with a birdie-par combination on Holes 7 and 8 to Wysocki's par-bogey to take a two throw lead. The two carded matching birdies as McBeth kept that lead to close the front nine, and it looked like a familiar script written by the defending PDGA world champion.
Instead, Wysocki took the pen and made the story his own.
After hitting his only putt from outside the 10-meter circle for a birdie on Hole 10, Wysocki chipped away at McBeth's lead with a turkey from Holes 12 through 14. McBeth, meanwhile, slowed a bit from his torrid opening pace, scoring pars on 12 and 13, but then rebounded with three straight birdies of his own from 14 to 16. Another Wysocki birdie and another McBeth par on Hole 17 brought the duo to same situation it faced not only in Finland, but also in Santa Cruz earlier this season: tied heading into Hole 18.
But instead of pulling his drive too far right as he did at the Masters Cup, or releasing it too early like at the European Open, Wysocki delivered off the tee. He crushed a long flex shot and, as soon as it left his hand, clapped excitedly at his prospects of success. McBeth followed with a slightly shorter drive, then pulled his upshot too far right of the pin, leaving him outside the circle for a look at birdie.
Wysocki, meanwhile, pured a forehand upshot to within 20 feet of the basket, putting the pressure on McBeth to answer with what would have been his fourth outside-the-circle make of the day.
Instead, McBeth's bid hit low on the right side of the chains, his putter fell to the turf, and he covered his face in dismay. A quick tap-in for Wysocki, and he walked away with the third Major of his career.
[caption id="attachment_1411" align="aligncenter" width="1000"]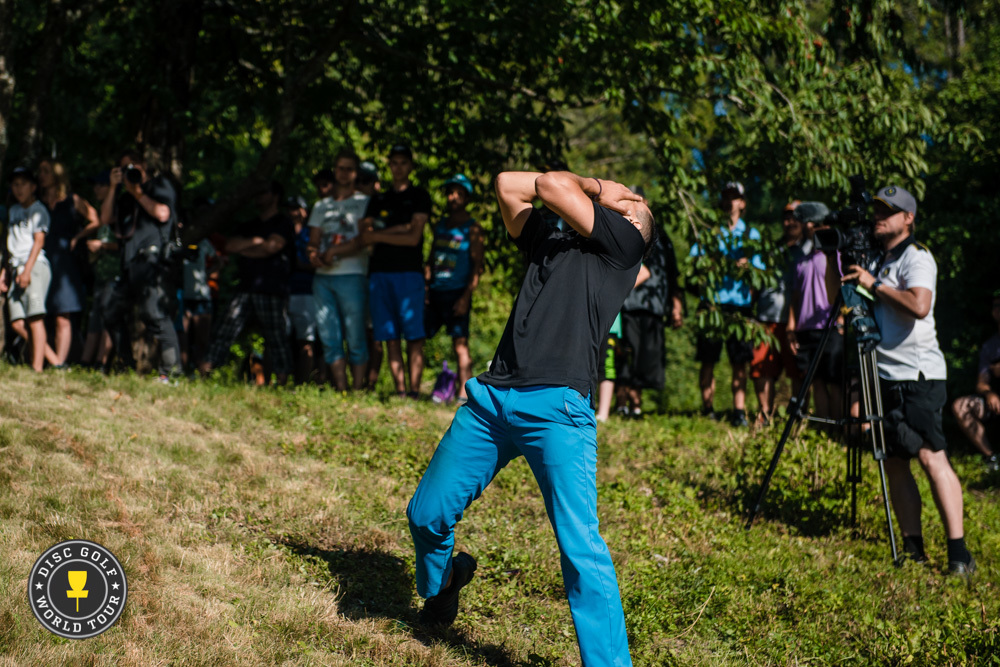 Paul McBeth reacts to his missed putt on Hole 18 of the final round of the European Masters. Photo: Eino Ansio, Disc Golf World Tour[/caption]
While the final round drama made for good viewing, Wysocki said he didn't want to make the nail-biting finishes a habit.
"I definitely don't want to keep waiting until the last second," Wysocki said. "I was able to manage and fight back from it, but I'm definitely not planning on stuff like that, starting off as slow as I did. I'm just learning from every tournament I play, and every big tournament I'm learning I need to light my fire before the round starts instead of mid-round, which is what I've been doing lately."
McBeth, meanwhile, alluded to his 18th hole defeat to Wysocki at the Masters Cup when assessing the damage post-round.
"It's the same story for the two tournaments I lost on the last hole," McBeth said. "It's just finishing par-par, can't do that since he finished birdie-birdie. Same story, different tournament."
Even with the second place finish, McBeth is still atop the Disc Golf World Tour standings, as his 2,263 points accumulated over four events gives him an advantage over Wysocki's 1,763 amassed during three stops. And he was undeterred as he prepared to head back stateside to aim for his fifth consecutive world title.
"I'm never worried when I'm behind," McBeth said. "I know what I'm capable of doing. It's definitely motivation. I'm heading straight to the gym after this and going to work to get ready for Worlds."
McMahon - who stormed through his first career Major by setting a new course record and ranking first in greens hit in regulation - was hoping his performance this weekend would catapult him into strong showings for the rest of the season.
"This is kind of what I needed," McMahon said. "All year I felt like I've been doing decent, but I haven't played my full potential. And this is kind of that spark, this mid-year spark. I got it last year because I went home and started winning tournaments, so I'm hoping this is the spark for the rest of the year."
The Disc Golf World Tour now takes a long hiatus until its finale at the United States Disc Golf Championships in October, while the PDGA Professional Disc Golf World Championships start August 9 in Emporia, Kansas.

Originally published at: http://discgolf.ultiworld.com/2016/07/25/wysocki-edges-mcbeth-european-masters-showdown-ages/